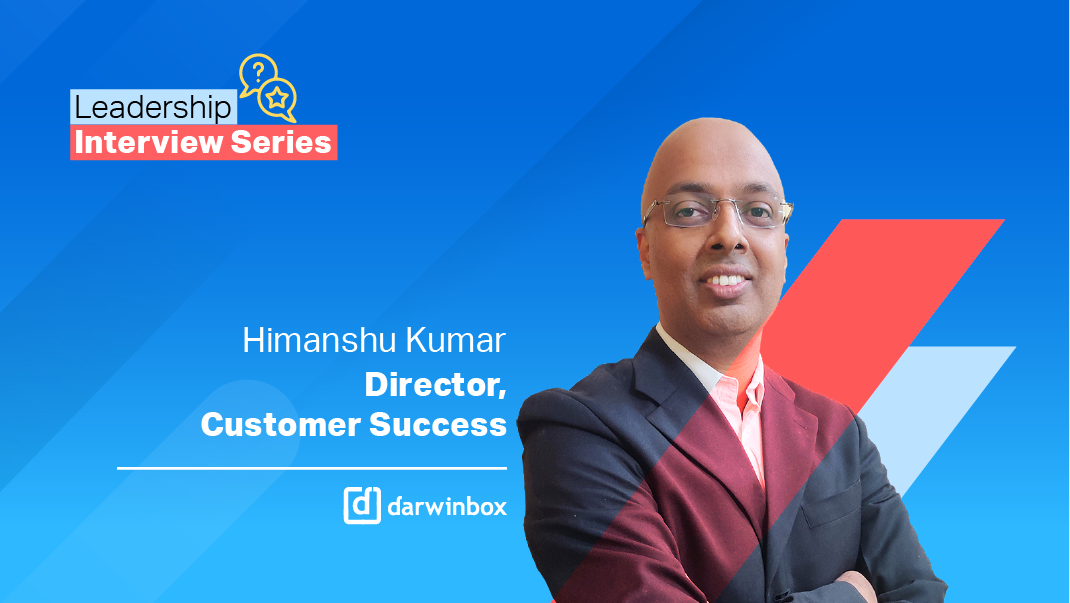 We stand at a pivotal timestamp in the technical revolution. Everything is changing at a rapid pace, improving work, workplace and the workforce along the way. Today's work tech is more adaptive, intuitive, and responsive to the varied needs of the users. With employee experience, upskilling, continuous feedback as the epicenter of all HR functions, HRMS tools need more than just technology; they need a human connect that binds the people and the organization to their tech stack. A value deeply grounded in our Customer Success team led by Himanshu Kumar.

With rich experience working in the business sector, Himanshu has donned many hats over the years, as a consultant, a marketing pioneer, and now, the Director of Customer Success at Darwinbox. He brings an air of innovation and conviction every day to work and his insight into how users function and how customers respond is invaluable, to say the least. Himanshu found his roots in organizations such as EY and TATA where he gathered hands-on experience that he translates into major business gains every passing day, both for us and our users. At Darwinbox, he has efficaciously set up a Customer Success team that, true to its name, ensures total value realization and success for all users.
We sat down with Himanshu to talk about the internal framework of the HR revolution that can be seen within organizations adopting Darwinbox as their HCM suite. Here are some excerpts from the same:

Darwinbox: As the world of work continues to evolve, how can HR leaders move the needle on the new normal business mandates by aligning to outcomes rather than tech requirements alone?
Himanshu: I find this question a bit askew since it goes with the presumption that HR, as a function, never aligned to outcomes and was more focused on technicalities. Depending on business maturity and external ecosystem HR has focused on various outcomes over time, be it as straight forward as compliance to the labor laws or as ambiguous as 'Building an outcome focused organisation' or employee wellbeing/ employee engagement and others.
In the past 5 years, the business environment has evolved exponentially, and we have witnessed it at an accelerated pace during the pandemic. These tech trends, mixed with the ever-changing needs of the employees, have expanded some of the outcomes that HR has been focusing on. HR leaders are increasingly focusing on Employee Experience and Continuous learning/upskilling to impact key business outcomes and condition the way that the workforce looks at work.
Talking about focus on Employee EX, many organizations are undergoing an internal transformation, which has been accelerated by the pandemic, and are looking to focus on the employee experience in a hybrid workplace. I have observed (in my interaction with multiple organizations) that every HR function today is looking to find the right balance between procedural ask vs. employee experience. .
However, what does that essentially mean?
It means that the focus today, be it a hiring process that enhances the candidate experience (to ensure projection of EVP) or a performance management process that relies on continuous feedback and regular check-ins, or the employee exit process that ensures a smoother, faster, and a more transparent separation, is to look from the eyes of the employee and deliver the 'right' outcomes for the employee.
A recent research paper by the World Economic Forum says that half-life of an average professional skill is 5 years. This means that after every 5 years, your skills become half as valuable as they used to be when you first acquired them. Furthermore, the report revealed that one out of four people say that there is a mismatch between the skill they have and the skill they need to do their job. This emphasizes the need to focus on skilling, upskilling, and reskilling, and this has been recognized by many of the technology providers including us (Darwinbox).
Even research firms like Gartner included Skills Ontology in their Hype Cycle in the year 2020. Businesses are looking to HR to provide skilled employees at the right time and the right place and HR leaders are continuously working to meet this goal, with their teams, new processes and the right technology.
Darwinbox: How can Customer Success enable organizations to sustain/ accelerate their HR transformation?
Himanshu: HR transformation for any organization means change interventions at multiple levels depending on the current maturity of people, processes, and technology. While many of the organizations do successfully bring in innovative technology, they fail to ensure change at the ground level through people and process change and continuous improvement over a period. This is the job of the Customer Success organization in Darwinbox.
We partner closely with the client HR teams to jointly define objectives towards continuous improvement. We tactfully combine this with the product upgradation (monthly releases) and sharing of leading practices with the HR teams to enable a constant evolution for our customers' HR processes with the ultimate objective of delivering the optimal employee experience. The objectives do vary, again depending on the context and maturity of HR processes, from driving operational efficiency (cost and time parameters) to delivering effectiveness in terms of optimized processes with the right controls at multiple touchpoints.
Our aim is to bring to the table our expertise in the industry in addition to our market exposure leading operations with the best practices to enable organizations with a seamless journey through and through.
There is another highly important aspect where Customer Success plays a major role, it is that of being the voice of the customer to functions like product, engineering, customer support, finance, marketing, and even sales. It is our job to ensure that we resolve every last challenge the customer is facing while leveraging their internal teams at the earliest. And, this is not a one-time intervention, but every problem statement is a different learning curve, birthing a lesson that we carry back to the teams and ensure there is either an internal change or external communication to ensure that no other customer, in future, goes through the same pain or problem statement.
While having these conversations with the product and customer support teams is a given, we have gone back so many times to our sales colleagues and talked about how to set certain expectations or humbly decline a partnership, when they identify certain attributes or present us with asks that we essentially cannot deliver at the time.
So, in a way, we ensure that all learning is incorporated in our DNA and hence, it seeps through our ways of working. I strongly believe that this is what becomes the differentiator for any great organization over a period of time on how effectively they implement their learnings and experiences, and, proudly at Darwinbox, we try to deliver the same to the best of our abilities.
Darwinbox: Darwinbox was recently featured on Gartner's Magic Quadrant with a special mention for its high user adoption and value realization. What is the secret sauce?
Himanshu: Thanks for mentioning this little tidbit and a major thanks to our customers who have shared this feedback, but I honestly believe we are far from perfecting a "secret sauce" for this. I can share a few factors that have kept us honest in our efforts to drive business outcomes for our clients (user adoption & value realization being 2 of the many).
The first one is 'listening' to our customers. We conduct a formal survey every 6 months to understand feedback from our customers and then work rigorously on the feedback shared. Apart from the formal feedback, we do have regular connections with all our customers in monthly reviews, QBRs, etc., and obtain feedback. This keeps us aligned with delivering the right, or rather, tailored value to our clients.
In fact, some of the input received from the feedback sessions has significantly impacted and changed our product for the better. It has led us to put more focus on
The stickiness of the product rather than the features,

Designing with the focus on ease of adoption, and

Making customer self-sufficiency easier to attain.
Having a great Product and a listening Product team is, to my mind, the most essential factor in driving business outcomes for the clients.
And the second is that we are fortunate enough to have a very committed and high-on-ownership team to work with. The team has been there for the customers and has seamlessly partnered with clients to deliver the end outcomes just as intended.
Darwinbox: Take us through the HR transformation journey of some customers.
Himanshu: It is tough to choose a few customers to talk about as each one of them has a journey and a transformation that is as unique as it is inspiring. But there are some of them that I would love to talk about here, the first being:
The journey of Emcure, where this particular org went from looking at HRIS as a record-keeping tool to completely digitizing the employee life cycle and using HR analytics to enable business decision-making in 3 years, is a true example of HR transformation. Emcure improved on multiple HR processes, drove change management across the organization, and integrated multiple systems to deliver business outcomes, all in a short span, right in front of us.
And the other is the journey of Arvind Brands where the business went from maintaining all records offline to maintaining a digitized environment while managing the remote workforce.
There is also the journey of Kotak Life Insurance in which we aided an extensive organization to deliver a seamless employee experience to their remote workforce using Darwinbox HRMS. This experience was a masterclass that taught us how to effectively manage a remote workforce.
And then there is the journey of Whitehat Jr, an org that stemmed from a start up with few hundred employees to their current number in the short span of 2 years. This too was an especially enriching experience that helped us watch and understand at close quarters the transformation journey of a rapidly growing organization.
Darwinbox: From Production to Consulting to Marketing and now Customer Success; you have had multiple pivots in your 13+ year career. How has each role enriched your journey?
Himanshu: I have been fortunate enough to have the right mentors as my anchors at various stages of my career. One of the leaders had told me that one should always look at building a 'T' in their career, having the breadth of knowledge and skill on multiple functions but having depth in one function creating specialization for the same.
Starting my career with TATA, I inculcated the right work ethic and professional values early in my career. Working on the shop floor, in manufacturing, leading a team of 20 operators all double your age was a pretty humbling experience. Most of the life lessons, teaching me about the dos and don'ts of the professional world, I received on the shop floor.
Post that, the consulting gig gave me adequate exposure in terms of structural thinking and problem-solving. That was my first core HR experience and the breadth I covered in consulting ensured that I applied everything I learned at B school into practical scenarios in my assignments.
Marketing and Strategy exposure in the Employee wellness space ensured that I learn skills on 'listening' to the customer and translating the 'said and unsaid' needs into the product and services internally.
Finally, the customer success role in HR tech tools has enabled me to deliver value to customers using technology tools. Being part of the growth journey in Darwinbox has taught me how to survive in a fast-paced agile environment, while also giving me enough opportunity to apply all the skills I learned in my previous years and channel them into creating something great every day. Overall, I am fortunate enough to develop a T in my career while learning all along.
If you want to hear more from people working in various areas, check this space for our full collection of interviews.