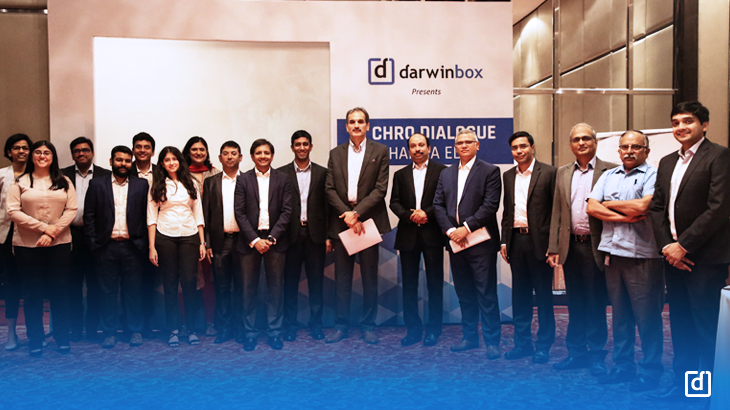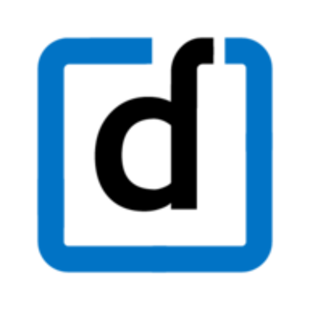 Darwinbox convened a first of its kind event where CHROs of only a specific sector gather to discuss trends, talent priorities, exchange best practices and learnings. So in a first-ever sector-specific 'CHRO Dialogue' series, we had the privilege to host 20 HR leaders from the Pharma industry in November last year. We want to start by thanking all those who could carve out time from their busy schedules and make it. We are truly grateful to our Knowledge Partner, McKinsey & Company, for enabling immense learning through their case studies and workshop. We would also like to thank Mrs. Kiran Mazumdar Shaw and all the HR leaders for an enriching discussion.
The CHRO Dialogue - Pharma edit was all about free-flowing ideas and sharing of experiences & learnings by the participating CHROs in multiple formats including round-table discussions, case studies, and workshops. But the most heartwarming aspect is that even though there were competing organizations under the same roof, the aggregated knowledge that got generated has the potential to propel the sector as a whole - forward!
Below is a quick summary of the insight and learning shared during various sessions
Pharma Sector Outlook - India's Potential In The Global Pharma Game
The journey of the Pharma sector which began almost a century ago with pioneers like CIPLA, Zandu, and Unichem has come a long way. Today Indian Pharma has become a dominant force to reckon with in the global market. The industry has posted double-digit growth over the last few years and is projected to grow to USD 55 bn by 2020, from USD 20 bn in 2015.
The Indian Pharma industry thrives in 3 primary markets, each of them having a unique growth potential & priorities of their own.
1. Domestic Pharma
Domestic Pharma which contributes to a significant revenue share of the Indian players is currently ranked as the 12th biggest market in the world and is currently growing at a CAGR of 11% which is substantially higher than the growth rate globally of 4%.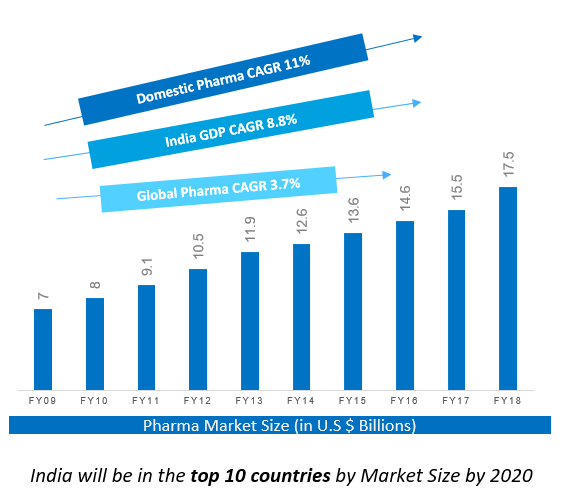 2. Pharma Exports
Pharma Exports is one segment where India continues to flourish and dominate globally. 5 of the top 10 global generics players are from India and the market is growing at a CAGR of 11%. This dominance is all the more evident in the US market where 40% of generics by volume are supplied by India.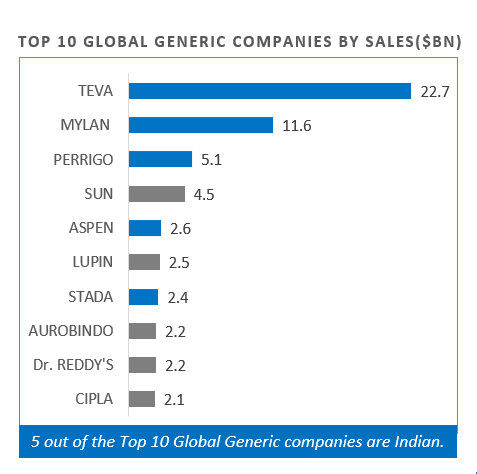 Due to its immense growth potential and significant contribution to the revenue of all major Indian players (there is almost a 50-50% split between retail and exports), the export market is one of the key focus areas.
3. Pharma Services
Pharma Services as a market has huge potential for growth accounting to the increase in Pharma spends globally. The spends are estimated to rise up to USD 1.5T by 2021, and the Indian Pharma market is expected to reach USD 105 bn from USD 71.5 bn in 2015.
With the increasing comfort of innovators in outsourcing, Pharma Services as a sector promises massive growth. Given India's services orientation, cost advantage and availability of skilled resources who can communicate with a global audience, India is perfectly positioned to win this market. Despite large pharma players like GVK Bio, Jubilant and Sai Life Sciences doing phenomenally well, this market is still predominantly dominated by Europe and US players. Thus, indicating further room for growth.
Talent & HR Priorities - Pharma
The pharmaceutical sector, one of the key pillars of the Indian economy is transforming rapidly. And it is this growth that presents challenges and opportunities alike. At this stage, what can potentially give us a head-start is the way in which we acquire, groom, and leverage our talent. Thus, HR's role becomes key in supporting growth, as well as paving the path ahead. Though there are a lot of larger macro trends in this space, we've put together a list of talent priorities, focusing on those trends which have the maximum impact on HR. After a deeper discussion and debate, represented below are the priorities in the order of importance as ranked by the HR leaders who attended the conference.
Manufacturing Productivity & Cost Efficiency
Indian companies operated at a cost structure 30% lower than the global regulated markets, so there was an advantage in manufacturing products in India. However, that has started changing now
Plummeting Generics Price: Global generics price has fallen multi fold on account of competition.
Organic Increase in Employee Costs: Manpower costs have risen to 19% from 13% in the last 6+ years.
Increasing Manufacturing Complexity: Newer geographies & therapy areas demand more & highly skilled resources leading to further cost rise.
It is imperative for organizations to rationalize manpower and optimize productivity to stay competitive.
"There are many companies that have grown massively and have many layers that are superfluous, unnecessary and non-value adding. There are certain processes that have long outlived their usefulness today, and yet continue to exist. So as a discipline, HR should re-look at these to evaluate what is relevant in today's context." Raju Mistry, CHRO, Jubilant Life Sciences
R&D Orientation & Effectiveness - Domestic & Exports
R&D Orientation is essentially driven by the market. Indian players in the export sector have made money in the past from simple molecules, less complex drugs, and oral solids. But now the game is changing as the profit margins are starting to dip.
Innovation With New Products: Indian firms are looking at innovating with new products and experimenting with categories like biosimilars, biopharmaceuticals, peptides, injectables, and derma - spaces that historically have not been areas of strength.
Urge To Be The First To Market: R&D Orientation in domestic pharma has become acutely important as most of the growth in recent years has come from new product introduction. This is evident from the number of new products being introduced by the pharma giants, bringing in the urgency and speed to be the first to market.
"At Sai Life Sciences, we firmly believe in cutting edge R & D as a critical driver for business expansion in niche markets & as such invest in upgrading the R & D resources & talent relentlessly. Coupled with this, we strive in achieving the customer delight by adhering to Sai Value framework in our business interactions with all the stakeholders. HR focus is on creating/nurturing performance-based work culture across the levels, for individual & organisational excellence."Rama Rao VVS, CHRO, Sai Life Sciences
Quality & Compliance Culture
While growth opportunities in the sector might be on a high, quality & compliance mishaps can be the biggest deterrents to the growth trajectory. With heightened scrutiny around compliance in the last 5 years, there has been a largely negative impact on the reputation and stock holdings of Indian pharmacos.
Heightened Scrutiny by International Regulators - rigor with which Indian companies are scrutinized is much higher than the past and at par with our US counterparts.
Revenue Impacted due to Import Alerts - as the supply of drugs are restricted from facilities that receive warnings, it has adversely impacted the revenue.
The reputation of sector & players impacted - with quality deviations, reputation in the international market took a hit impacting our opportunities in exports as well as services.
Being the custodian of culture in the org, HR needs to play an active role in ensuring that a Quality and Compliance culture is nourished well and ultimately engrained in organization DNA.
"Compliance is hygiene and a given. If you're not compliant you do not have the right to be in business. It's not a differentiator. Differentiation comes from processes and practices that improve productivity, quality, and cost." Prashant Parashar, President HR, Emcure Pharmaceuticals
Digitalisation & Analytical Ability
Digitalisation & Data Science is one talent priority that cuts across all levels. It is one capability which is emerging as a necessity and mandatory requirement to excel in all fields across sales, R&D, and manufacturing. Below are some of the key aspects that HRs firmly believe will get impacted by Digitilisation and Data Science:
Sales Force Capability Building
Research and Development Of Drugs
Compliance Through Automation
Efficiency with Digital Monitoring
Data-Driven Business Decisions
"While Quality and Compliance can be seen as table stakes from an HR perspective for an organization, digitalization, and data sciences can become significant means to achieve these, as well as other, talent priorities. If this kind of a perspective for leveraging technology is not developed and relied upon by business leaders who are looking at results, it would be very hard to achieve or accelerate towards sustainable salesforce & manufacturing productivity, cost efficiencies and also R&D orientation and effectiveness." Sudhakar Vadapalli, Biological E Limited
We also had the privilege to learn from interesting insights and case studies shared by Mrs. Kiran Mazumdhar Shaw, Mr. Prasanth Parashar, Mr. Suresh Anubolu and Mr. Yash Mahadik. A special thanks to them and all the HR leaders who took time out despite their busy schedules and supported us in making this event a success. For more on these sessions and the Talent to Value workshop by Mckinsey download the handbook here