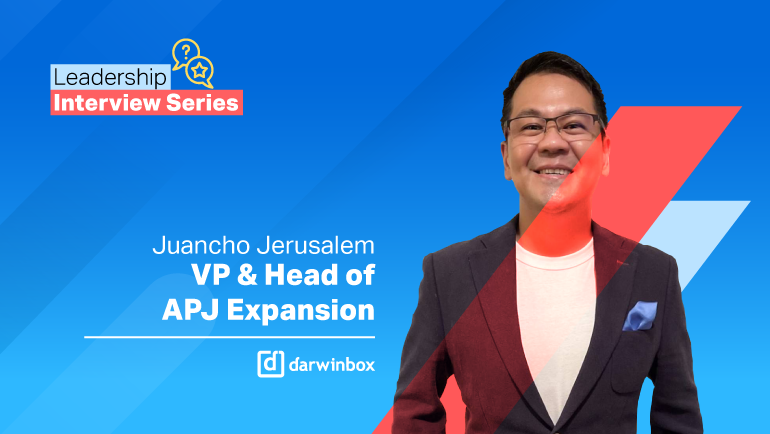 There could be no better time than now for Asian companies to spread their wings and really soar. The economic and demographic conditions are just ripe for companies to make it big in this region and establish themselves as market leaders in their area of business. What they need is the leadership of 'warriors' and not 'worriers' to steer the ship effortlessly in big waters and get them the wins.
Juancho Jerusalem is one such warrior and a more-than-able navigator. Vice President and Head of APJ expansion at Darwinbox, he is a leader with 17+ years of total work experience and comes from a distinguished career at Salesforce as Regional Vice President where he spent close to 5 years managing the Marketing Cloud business across ASEAN and Greater China Regions. Most recently, he led the charge for Salesforce's Digital 360 business in Thailand and Philippines where both countries delivered immense revenue growth.
We got into a candid conversation with him to extract some of the highlights of his learnings, his ideas for expansion, and everything in between.
Here are the excerpts:
Darwinbox:

Technological leapfrogging in Asia continues to be on the rise. What key changes are you noticing in the Southeast Asian region with respect to its HR transformation journey?
Juancho: COVID-19 forced Asia to take a quantum leap in digitalization. Today, it leads in digital innovation, ranking ahead of many other regions including Europe and the Americas.
From a business POV, HR Automation is definitely becoming the norm. The pandemic surfaced a lot of vulnerabilities around a company's most important resource – its people. So, it has become imperative for enterprises to automate critical HR functions like performance, recruitment, and employee engagement.
Moreover, with efficient automation of the HR operations, businesses now want to improve productivity, reduce employee turnover (The Great Resignation wave is touching the Asian shores now), improve tech security, be 100% compliant and make better business decisions.
For example, JG Summit Group, one of the Philippines' largest and most diversified conglomerates wanted to digitalize their HR to provide the best experience to their 80,000 employees across all group companies.
Similarly, Gunung Raja Paksi (GRP), a member of Gunung Steel Group, Indonesia's largest private steel companies was looking for an HR tech platform that could not only digitalize their HR processes but also implement the best practices and industry expertise to reengineer their internal processes.
Both these organizations invested in Darwinbox is to significantly enhance EX, counter attrition, relentlessly attract new talent, continue rewarding top performers, and balance those with a highly secure and flexible platform.
Up until very recently, the tendency was to allot IT budget to purchasing and developing ERP and CRM systems, but today we see a total paradigm shift. I've seen a growing number of Asian enterprises prioritize HR tech investment. There is also a growing buy-in from the CEOs to invest their people, as the case should be.
Darwinbox:
How are you seeing the appetite for HR tools and systems evolve, both globally and in APAC? What areas are orgs prioritizing?
Juancho: According to an industry leader, the digital transformation market is expected to grow at a CAGR of 13.5% from 2021-2027 to reach USD 1,334.3 billion by 2027 (source). If you dig deeper into the digital priorities of orgs in the region, you will uncover APAC companies that are further along in their development of cloud computing resources than the global average (source).
Asia truly is leading the pack in the evolution of HR tools. Because (a) Asia is the most populous region, (b) More and more companies from the West are expanding their presence in Asia, and (c) Asia's mobile dominance continues to grow, where dynamic employees are finding new ways to democratize HR tech.
In terms of organizational priorities, the top 3 that I've seen are:
Effective Distributed Workforce Management -

Despite a growing employee population moving back to the workplace, working remotely has become permanent. Be it white-collar or blue-collar workforce, I feel that employees would still want to have the freedom to choose where they work. So, orgs are investing in tools and tech that enable management of this dispersed, distributed and hybrid workforce.

Employee Engagement and Performance -

Some companies tend to separate engagement from performance but for me, personally, this is one and the same. No employee can perform at top levels if the engagement is low. As employees continue working from home (and any other place of their choice), ensuring engagement and connectedness to the brand and one another, while optimizing performance continues to be a priority.

Acquire and Retain Talent -

A lot of companies have felt the backlash of "The Great Resignation". I am part of this phenomenon myself! Companies are now looking at different ways to retain their top talent as the barriers to exit fall to an all-time low. Career paths, lateral mobility, Learning & Development, Succession Planning, talent pipeline building etc. are taking precedence on one hand, while on the other, scaling recruitment to attract top talent is a key mandate for more HR folks today. Organizations are finding ways to balance push (traditional internal or external hiring teams) and pull factors (social media) to win the war on talent and sustain growth. Truth be told, I just came out of an urgent call with our HR and Marketing teams because hiring has become the top priority for us as we gear towards another year of 3X growth.
Darwinbox:

As a product of The Great Resignation yourself, what is your advice to companies to reduce attrition through HR tech?
Juancho: Let me wear my Martech hat for a second and go back to the basics. People want one-on-one communication, and they want to feel heard. People can see fake leadership from a mile away. Having said that, my advice to leaders is to keep speaking to as many employees as you can and listen with the purest of intent. Organize more frequent All-Hands meetings and ensure you have your listening channels up and running.
Empathy is key. And this can be easily built into the cultural fabric using HR tech that offers multiple channels of gathering employee feedback and engage in conversations (both public and one-on-one), Recognize and Reward behaviors like resilience, fearlessness, capacity to pivot in crisis etc. to make people feel seen and appreciated for going beyond the call of duty.
This is a great opportunity to show authenticity when addressing people as a group. Call a spade a spade, don't sugar-coat. I remember a leader who, for some reason, used to read his message off a script during the All-Hands. It was such a big turn off!
Darwinbox:

What has your experience with Xerox, Oracle, Citrix Online and Salesforce taught you, which continues to be your guiding principle as you spearhead expansion in APJ at Darwinbox?
Juancho: (Smiles) I have a simple mantra - Take risks. Have fun. And never forget where you came from.
Everything starts small but with the right team, you can create something big. I've always told my team to not be afraid of stepping back and starting small if the circumstances so demand. There is always an element of risk in making big decisions and the appetite for such risk starts from the small decisions we build upon.
It's fun to see people feeling uneasy when I give them bigger challenges. It's even more fun to see them achieve those targets, knowing full well that an even bigger challenge is just around the corner! (He laughs). To give you an example, we just concluded our biggest quarter in the region, and we can't be any prouder. But guess what? We are looking to double that in the current quarter! We exemplify all the great qualities of a start-up: we show heart, we hustle hard, but at the same time we remain humble. However, we also know that we can do bigger things together and it's only a matter of time when we take pole position in APJ.
Darwinbox:

One book you'd like to recommend to our readers.
Juancho: This is a tough question as I'm an avid reader and choosing just one of the lot is not easy. But if there is one book I would recommend, it is - Think Again by Adam Grant. If you think learning is hard, unlearning old habits is harder. We've seen the world turn upside down and this book taught me how to continually challenge old assumptions and become a lifelong learner. Quite frankly, I don't feel any smarter after I finish a book. However, I do feel happier and more content knowing there is still so much to learn out there. So, onto the next book!
If you want to hear more from people working in various areas, check this space for our full collection of interviews.