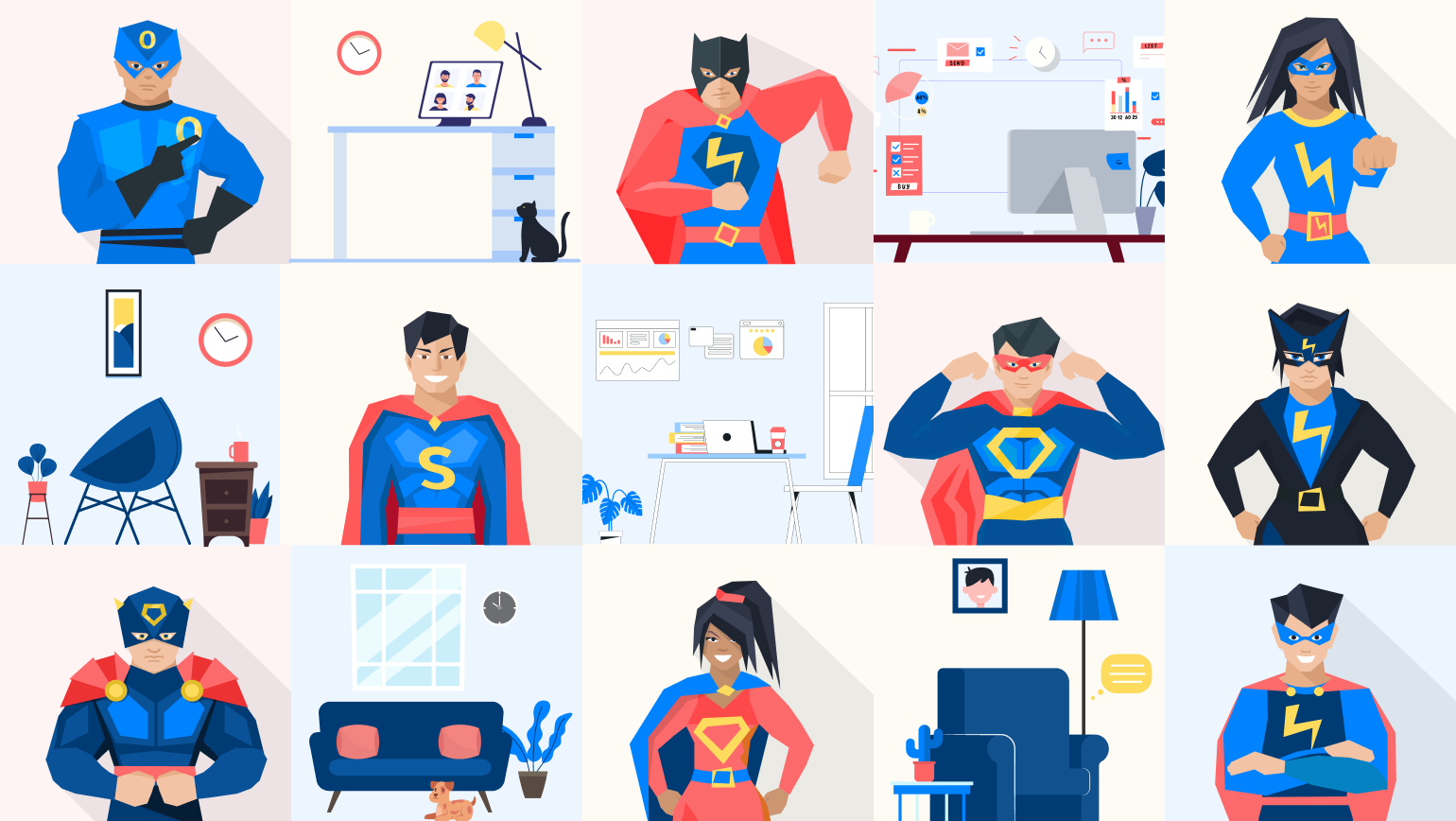 Join us as we follow a motley crew of superheroes on their journey to discover the best work arrangement for their super-powered lifestyles. Get ready for a wild ride through the various worlds of work. It's a bird, it's a plane, it's... a new way of working!
The Hall of Justice longed for company, the Avengers Mansion stood distraught, and the School for Gifted Youngsters hadn't been dazzled by wondrous mutants in years. Even vigilantes and rogue power suits were forced to retreat to their caves, fortresses, and sanctums to adapt to the new normal of working from home. But Hope isn't just the symbol on Superman's suit; the world rose from the abyss, and the leagues of heroes returned to their motherships. But it's a new and different world that they have returned to.
In the wake of the pandemic, new work arrangements have emerged. Remote work, hybrid work, in-office work – it's a whole new world out there! Our favorite superheroes have returned to work only to find that they have more options than ever before. It's enough to make your head spin faster than the Flash's feet.
So, how do they choose? Do they embrace the freedom of remote work or the structure of in-office work? Do they opt for a hybrid approach or something else entirely? Let's find out from a crew of real-life superheroes.
Learn More: The Future of Hybrid Work: 11 Key Trends
Superman
(
aka Shivam Tandon, Founder and CEO) is not a fan of tele-
communications.
"[In an office], we learn from each other and complement each other. Email, WhatsApp, telephone, video calls, and other digital resources [are there]. But if you work together in the office, you ask for help just a little faster, you hear more about what your colleagues are doing, and you stay better informed of everything happening within the company."
Spiderman (aka Sharanya Vishwanathan, Associate Solution Advisor, Deloitte) missed being pampered by a coworker.
"One of my colleagues, apart from guiding and helping me professionally, also helped me understand and navigate the office and the organization structure. She even got me food from home because I was homesick! Love being back in the office!"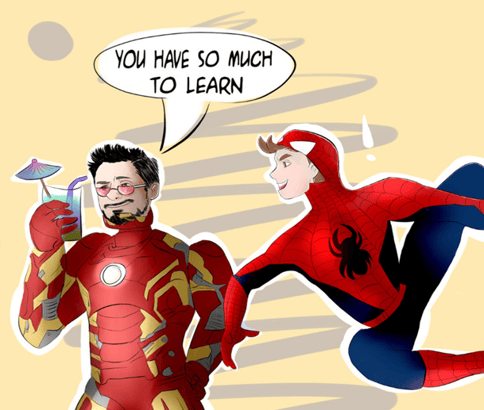 Source: Deviant Art
Doctor Strange (aka Fazi Khan, Program Analyst, Exness) has learned the power of balance.
"Even though WFH is great, I would like to go to the office as well. A hybrid model with a mix of both where you have the option to actually meet and work with people sometimes would be ideal."
Learn More: How to Create an Effective Hybrid Work Policy [With Free Template]
Flash (

aka Tanushree Mahapatra, Customer Success Manager, PeopleStrong)

misses the warmth of companionship.
"Working from home has been great. And comfortable. But that feeling of a road trip to work, to #ootd, #officescenes, and #postworkscenes was indeed missed. [I was] missing that adrenaline rush that I got from going and working in the office. [I] missed those peer interactions and face-to-face learnings, which helped in increasing my productivity and upping my spirit to do my best each day. Catching up virtually never gave us a chance to stand at the coffee machine and discuss the very mediocre black coffee, enlivened by exciting chatter."

Batman (aka Karan Taneja, Brand Planner, Famous Innovations) would like to alternate between his Bat-cave and the civilization.
"In the debate of working from the office vs. working from home, I'm pro flexibility. I think the most important factor is the element of choice. Some days, I want to curl up in a corner and work from there, while on some days, I would like to place myself in a lively and buzzing office environment. A healthy mix of both is crucial for me."
Source: giphy.com
"Hulk, aka Aditi Agarwal Software Consultant, less cranky around co-workers!"
"Being back in the office has made me less lazy, less cranky, and more excited."
Source: reddit
The beginning of 'Bro Thor' (aka Rameez, Sales Manager, LeadSquared).
"[On the] first day, when I was getting ready for office, I thought that all my trousers had become small, but the reality was I had gained a lot of weight. So, I borrowed trousers from my friend whom I used to call 'fatty'! :P
Source: quirkybite.com
Learn More: How to Craft a Successful Hybrid Work Environment
Wonder Woman (aka Harshit, Co-founder, Ashtray Branding) has outgrown Hippolyta and Themyscira.
"The benefits of coming back to the office, at least a few days a week, are no more laziness, no more chores around the house, no more dalgona coffee, no more meetings in shorts and shirts, and most importantly, no more bickering with mom."
Image credits: inverse.com
Aquaman (aka Samer KP, Account Manager, ICICI) has found the key to productivity.
"Being in an office environment helps in understanding the culture of the organization and build professional bonds, which are crucial aspects of work life. On the other hand, I have found myself to be most productive when I am on my own, in an uninterrupted, comfortable environment. A hybrid work model could help achieve that."
Image credits: inverse.com
Learn More: Hybrid Vs. Remote Work: How to Choose What Works for You
Unpacking the Multiverse of Madness
Well, there you have it. The superheroes have spoken and it's clear that their attitude toward work modes is as diverse as their powers and personalities. Some see the new ways of working as a chance to soar to new heights in both their personal and professional lives, while others prefer to stay grounded in their tried and true ways. The pandemic may have brought about a lot of changes, but our superheroes have risen to the challenge and shown us that with a little creativity and flexibility, anything is possible.
As an HR leader, you can take a page from the superhero handbook too, and remember to stay flexible, inventive, and always ready for action. You can empower your workforce to explore the various work arrangements out there. Who knows, they might just discover a new way of working that brings out the superhero in them! But whatever the choice, it's certain that configuring work models for a league of superheroes is no walk in the park. It's a high-wire act that requires balance, adaptability, and, of course, a healthy dose of superhero-level resilience. So, suit up, and let's conquer the world of work, one challenge at a time!
Find out how Darwinbox can help you configure various work models for your organization. Sign up for a demo today.