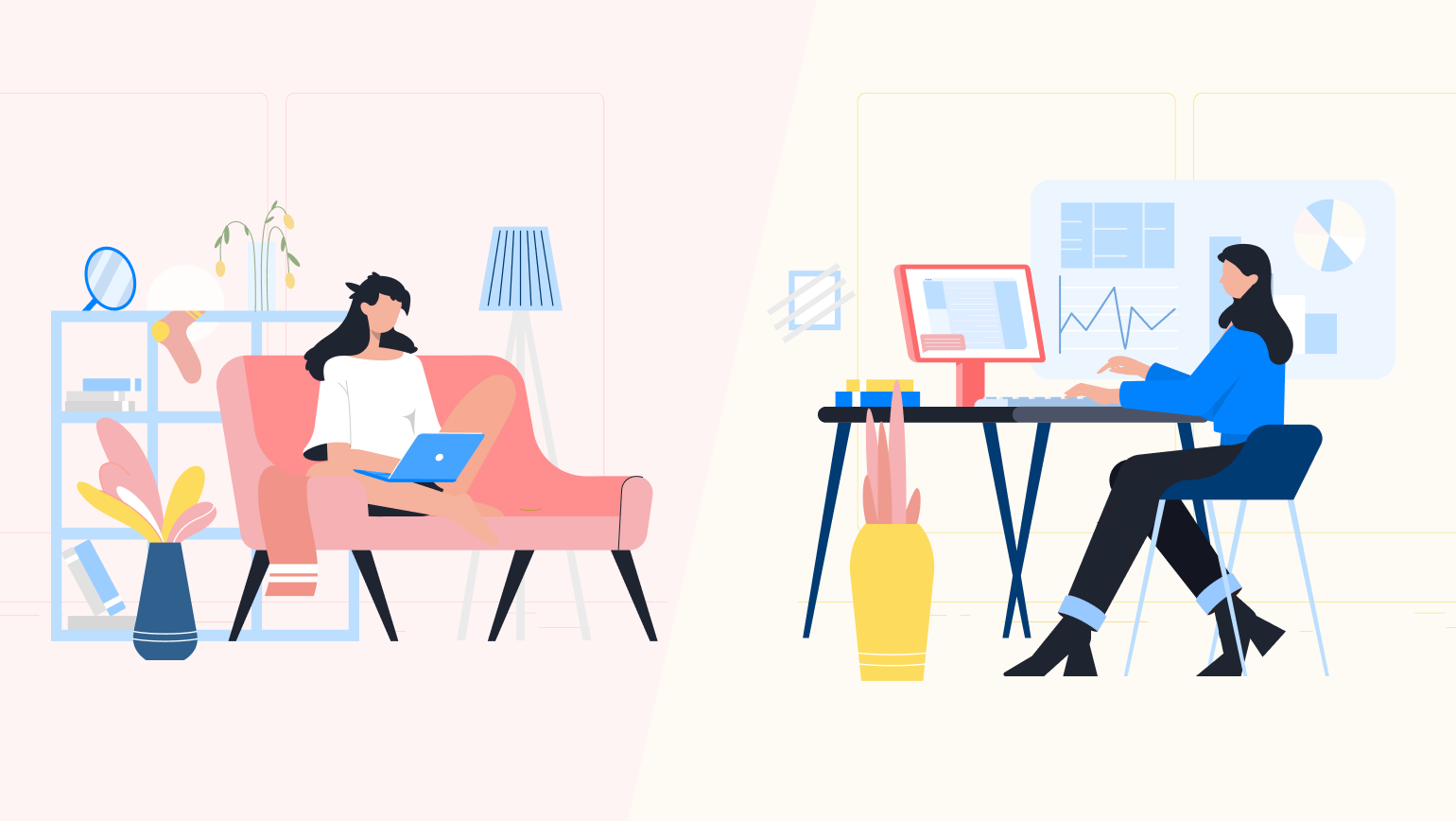 Remote and hybrid work both promise flexibility, but are quite different in many ways. This article lists the differences between remote and hybrid work and discusses how you can choose the best system for your organization.
Hybrid work is poised to become the foremost operational model for business worldwide, after around two years of remote work during the COVID-19 pandemic. Going forward, as organizations redo their work models and prepare for the future of work, it is important to consider the differnet options available and choose a system that works for best for them based on the nature of the workforce, business requirements, etc.
A major question organizations are looking to answer is: do we choose remote or hybrid work for our organization?
Over the last two years, we've seen that flexibility does not get in the way of being productive. In fact, 69% of hybrid workers feel productive, and 64% of remote workers feel the same, compared to just 59% of office-based employees. Therefore, both remote and hybrid work can be beneficial for companies when implemented correctly. Before we discuss how to choose what is best for you, let us consider what these two models mean and how they impact organizations.
Learn More: 7 Ways to Prepare for Flexible Work Arrangements (FWA) in Malaysia
Hybrid vs. Remote Work: What Does it Mean for Your Organization?
Remote work is defined as an operational model where employees do not share a physical workspace and communicate virtually, from different locations.
During the pandemic, remote came to be equated with work from home (WFH), as employees stayed isolated to protect themselves from the pandemic. Remote workers can operate from any location in the world that is not a site managed by the company, be it their home, a coffee shop, a co-working space, or even multiple such places. Several companies, such as Zapier, have been operating this way – 100% remote – since well before the pandemic.
Hybrid work is defined as an operational model where employees switch between a shared office and a remote work location of their preference.
When we look at the definition of hybrid vs. remote work, it is clear that the former is more complex. Not every employee will divide their time between the office and WFH equally. Some may choose to be 100% remote, others may be 100% office-based, some may visit the office only occasionally, and others could WFH in exceptional scenarios. As the effects of the pandemic begin to wane, hybrid has emerged as the preferred model for most companies, although several like Atlassian and Shopify now have permanent remote working provisions.
Both remote and hybrid work have their pros and cons. The former provides maximum flexibility to employees but can hinder visibility and control. The latter combines in-person collaboration with flexibility but can be difficult to coordinate and manage. Let us assess these pros and cons in more detail.
Hybrid vs. Remote Work: The Pros and Cons
Remote and hybrid work models have one essential similarity: they both prioritize flexibility and empower employees to make autonomous decisions on where, how, and when they want to work. But operationally, there are key differences between them, which lead to a different set of pros and cons.
The pros and cons of hybrid work
The primary benefit of hybrid work is that it gives you the best of both worlds. Employees are not completely cut off from each other, and they aren't denied the flexibility of working from home when needed.
The pros of hybrid work include:
Access to a workplace community, which can improve mental health

In-person mentorship and learning opportunities

The ability to use office equipment without incurring separate costs

Attendance at employee engagement events, awards functions, customer meets, etc.

Easier learning curve for new hires
Some of its major cons include:
Difficulty in settling down to a routine, which can cause stress

Coordination challenges for managers and a lack of standardization

Risk of proximity bias, leading to discrimination (on a daily basis and during performance appraisals)

The absence of existing policies to support hybrid work
For these reasons, several companies are still not ready for hybrid work. In fact, 72% of business leaders lack a clear hybrid work strategy, despite it being the new normal.
However, these pros and cons only apply when we compare hybrid vs. remote work, and the benefits of hybrid work vs. office-based working are much more outsized.
The pros and cons of remote work
Like hybrid work, remote work also has its own share of advantages. Its biggest benefit is that employees can reside anywhere and work from any location, without restrictions. There is no need to ever commute to an office, which enables the company to hire beyond local residents.
The major pros of remote work include:
Good work-life balance

Job satisfaction from solo, focused work and a rise in productivity

Cost savings, for the organization and for employees

Access to a large talent pool due to no locational restrictions

Standardized policies that apply to all members of the workforce
Due to these reasons, a few top companies will continue to offer 100% remote work facilities to their employees, as long as the nature of their job permits it. However, working remotely all the time with no in-person interactions has its own challenges.
The major cons include:
Instances of moonlighting

Issues with navigating HR policies and laws in different regions where employees are based

The possible erosion of culture and engagement in the absence of in-person bonding

Negative impact on work-life balance as the lines between work and personal life get blurred
When considering the question of hybrid vs. remote work and which one is best for you, it is important to keep the above pros and cons in mind.
Learn More: How enterprises are managing remote work with HR Tech
Hybrid vs. Remote Work: Which One Should You Choose?
When deciding the operational model for your company, there are several factors you need to consider. Here are eight important questions to ask yourself before you choose between remote and hybrid work.
1. What is the nature of your business?
This is the first question to ask when considering hybrid vs. remote work. Typically, companies with a large number of customer-facing roles are not suitable for a 100% remote model. Conversely, if you have a large number of desk-based roles or rely primarily on knowledge workers, it is easier to adapt to remote working. As a best practice, customer-facing service providers, field service companies, and other non-desk-based businesses should opt for a mix of remote and office duties i.e., hybrid working.
2. Has your workforce worked remotely in the past, before the pandemic?
Your preparedness for remote and hybrid work before the pandemic will also influence your decision. Certain companies were used to occasional remote working, with the requisite policies, processes, and infrastructure in place even before the pandemic. These organizations could consider switching to a completely remote model, or at least allow 100% WFH for employees who want it. Conversely, companies that adopted flexible work models in response to the pandemic may find hybrid work more suitable.
3. How much of your opex is fixed cost, and how much is variable?
This is the next factor that must be considered when discussing hybrid vs. remote work. A company that has already purchased a physical office space and has permanent utilities and infrastructure may find it more economical to return to the office or adopt hybrid work. On the other hand, companies with more variable costs like property rents will be able to save opex costs by going 100% remote.
4. What do your employees prefer, as per the latest employee experience survey?
Before you decide whether to choose remote or hybrid work, it is important to consult the people it will affect the most i.e., your employees. Companies can conduct an employee experience survey where they ask respondents about their needs and expectations from the new working model. Do most employees live far away and would rather work from home? Do they have work-related equipment at home or would they be more productive in the office? The answers will vary from one company to another, and you need to tailor the flexible working plan accordingly.
5. What is the size of your workforce?
The answer to this simple question can often show the way for companies confused between hybrid vs. remote work. A startup or small organization comprising less than 100 team members is relatively easy to manage without meeting in person. Since the group is small, interpersonal bonds can be nurtured through virtual collaboration and video calling. However, large companies with hundreds or even thousands of employees may find it difficult to be fully remote. Depending on the size of your workforce, you may need to plan weekly meetings, monthly events, etc., operating in a hybrid model.
6. Do you have the need to hire overseas talent?
Companies looking to hire overseas talent could consider remote work as the opportunity to work from any location on a permanent basis can be an influencing factor when acquiring top talent. Candidates will not need to relocate, and companies get access to the best professionals worldwide. However, if you have no cross-border hiring plans, you may not need remote working to support your recruitment strategy. In fact, a hybrid model can help new hires acclimatize better and streamline onboarding when recruiting locally.
7. How would you rate your digital maturity?
Digital maturity is essential for both remote and hybrid work. Employees need to be able to log in from anywhere, collaborate freely, measure productivity, and communicate with colleagues using only digital tools. However, hybrid working usually requires a greater level of digital maturity. This is because you need several additional tools such as a hot-desking app, hybrid attendance management systems, cameras and meeting peripherals for hybrid conferences, etc. From a technical perspective, moving to 100% remote work is relatively easier.
8. Do you already have a remote or hybrid working policy in place?
Ultimately, your decision will come down to the type of policy you already have in place. If a company had crafted a detailed and robust policy to support remote work during the pandemic, it could make sense to continue with the policy, particularly if it has proven beneficial for both employees and the employer. However, if you have the resources needed to craft a hybrid work policy, it may prove more sustainable in the long term.
Learn More: Top 10 Employee Engagement Trends
How you answer these eight questions will determine which working model is suitable for you, hybrid vs. remote.
No matter the decision, a bedrock of cloud technology, a culture of flexibility and empowerment, and an outcome-oriented productivity measurement model together can lead to success.
A cloud-based HR suite can help with all of this. Schedule a demo of Darwinbox to learn more.