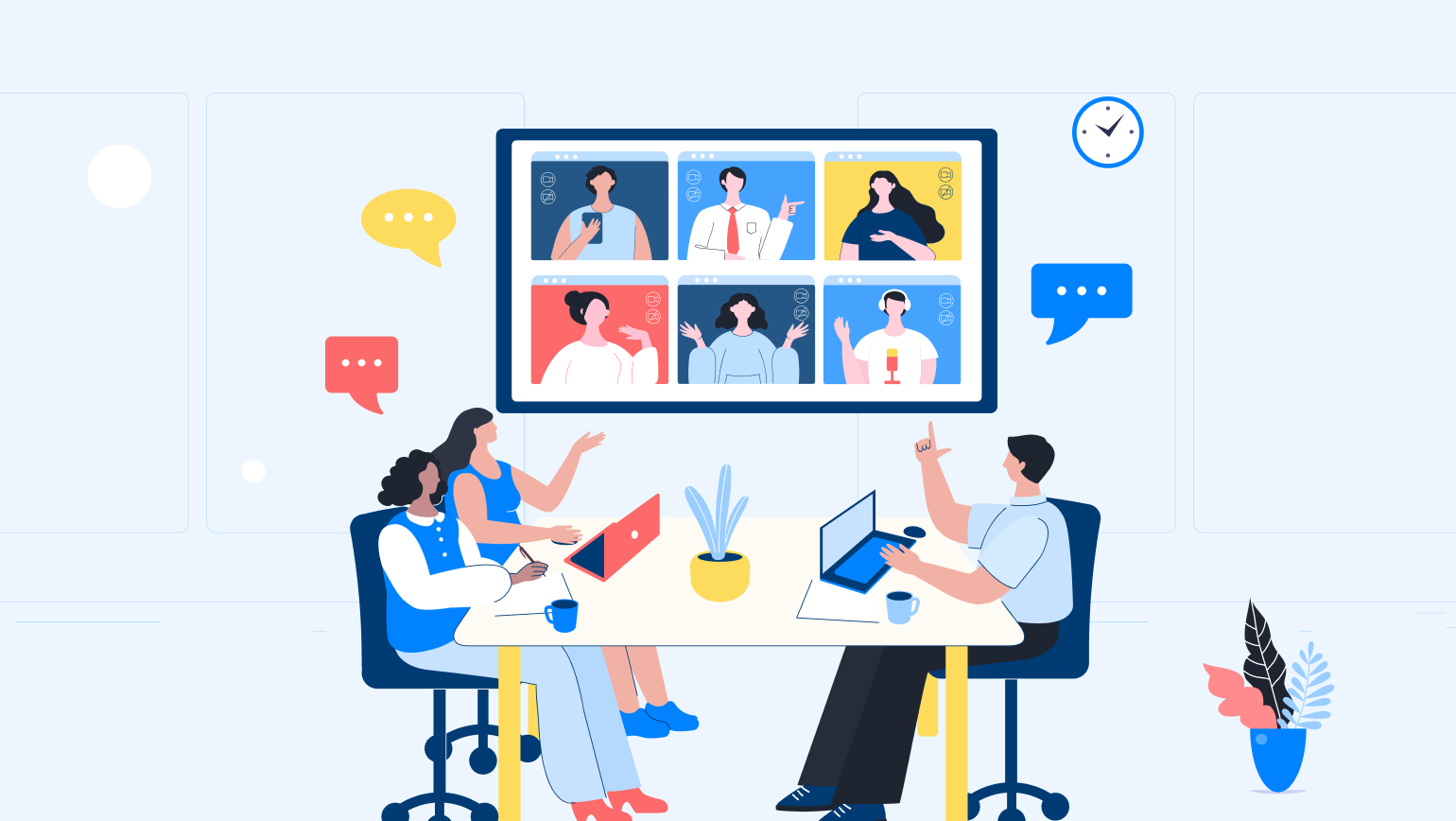 Hybrid work is here to stay. This article looks at 11 research-backed trends and explores the future of hybrid work.
As organizations begin their return to office (RTO) journey, we need to ask a key question -- is hybrid working here to stay? Even though the hybrid working model was conceptualized as a response to the working restrictions during the COVID-19 pandemic, it is now deeply embedded in enterprise operations. Businesses across the world now work with their employees on a hybrid basis, balancing work from home (WFH) with work from office (WFO).
How will this model evolve in 2023 and beyond? Can organizations gain from the benefits of hybrid work, while mitigating its cons?
These 11 trends around the future of hybrid work will help us with these questions. Read to discover insights on where hybrid work is headed, how HR professionals can prepare, and the key considerations to remember.
1. Hybrid working is here to stay and will become a standard practice in the next three years
Globally, most employees had never worked on a hybrid model before the pandemic. In fact, Google's recent report found that this was true for 70% of survey respondents. But in the last two years, the ability to work flexibly and from any location has become ingrained in operational systems. That is why hybrid working is here to stay, and 75% of employees believe it will be a standard practice in their organizations in the next three years.
The implications of this are clear – companies must build long-term infrastructure that can support hybrid work for years to come. HR departments also need strategic policies that are not just reactive to the pandemic, but approach hybrid working as a key tenet of employee engagement and experience.
Employees prefer hybrid work for the flexibility it offers, but the model also provides outsized benefits to companies. One of these benefits is cost savings. Hybrid working requires less physical space, lower utility consumption, and co-shares equipment ownership with the employee's WFH setup. That is why a recent survey by International Workplace Group (IWG) found that 82% of CFOs believe hybrid work to be a more affordable business model.
The sources of cost savings include reduced rent, increased productivity and less absenteeism and attrition – saving up to $11,000 per employee working remotely through the three days every week. In the future, as reactionary effects to the pandemic begin to fade, this will be a major reason to adopt hybrid work.
3. Hybrid work will prove more beneficial than 100% WFH or 100% WFO
Some may think that benefits like cost savings can be maximized by switching to full-time WFH, but that is not the case. Research shows that hybrid work (when implemented correctly) outperforms WFH and WFO in nearly every way.
69% of hybrid workers feel productive, compared to 59% of WFO and 64% of WFH employees
70% of hybrid workers report a positive state of wellbeing, compared to 60% of WFO and 61% of WFH employees

71% of hybrid workers are deeply connected to their team, which motivates them to work harder, compared to 60% of WFH and 63% of WFO employees
These insights from a recent Citrix survey show that the future of hybrid work is quite positive. Companies that plan well based on employee inputs, implement hybrid work correctly, and keep finetuning the model will be able to achieve a happier, more productive workforce.
Learn More: 7 Ways to Prepare for Flexible Work Arrangements (FWA) in Malaysia
4. HR priorities will shift in favor of intelligent technologies and the talent war
As working models undergo a "great reset" as it were, HR departments will also reconsider their priorities. A recent SAP report comparing HR priorities in 2022 vs. 2021 revealed a few key insights that will shape the future of hybrid work. The adoption of intelligent technologies is now the #3 priority, up from #6 in 2021. This suggests that artificial intelligence (AI), people analytics, self-service business intelligence, and HR automation will play an important role in workplaces.
Another factor that's risen in priority is the race for talent. Winning the talent war is now among the top 10 HR priorities, which was not the case in 2021.
The definition of well-being will expand to cover five key dimensions.
The transformation in the future of work from remote to hybrid is not just a change in operational models. It signals a holistic shift in what employees need and expect from their workplace. This will reflect a more expansive definition of employee well-being, which will encompass five dimensions in the future – physical, mental, emotional, social, and financial.
A recent Cisco survey found that employees on a hybrid work model report improved state of well-being overall but report that well-being in some areas are lagging. For instance, social well-being has improved the least, and several workers still report high stress levels. In the future, HR professionals must plan employee benefits and wellness strategies in a more holistic manner, touching every one of these areas.
6. Most companies risk "jumping the gun," going hybrid without a clear strategy
Even though it is clear that the future of work is hybrid, not all companies are prepared. This will be a major challenge going forward and is one of the key trends that will shape workplaces. A recent AT&T report found that a sizable 72% of businesses lack a clear hybrid working strategy. They face issues such as lack of innovation, cultural changes, etc.
The study also found that 81% of respondents believe hybrid working is here to stay and will be the dominant model by 2024. The onus is on senior executives and HR teams to adopt the right solutions, policies, strategies, and technologies that support hybrid workers and the organization. This also includes adopting cloud-based enterprise software that can operate across locations and are purpose-built for such scenarios.
7. Adapting the organizational culture to support hybrid workers will be a key point of concern
Organizational culture is another factor that will influence the future of hybrid work. In several companies, the culture of the workplace is built around being physically present at the office, in-person communication, physical events, etc. This model has been turned on its head by the pandemic, and HR leaders are struggling to adapt. A recent Gartner survey found that 76% of HR leaders feel hybrid working is getting in the way of maintaining a strong organizational culture.
Given that the future of work is hybrid, it is essential for companies tonoutline strategies to tackle this challenge head-on. Gartner recommends two measures – culture alignment (i.e., aligning employee values with the company), and culture connectedness (i.e., proactive communication of cultural tenets without relying on physical proximity).
Learn More: Hybrid Work Models: Definition, Types, Benefits, Best Practices, Challenges & Solutions
8. Women could be disadvantaged by hybrid working models
It is important to acknowledge that hybrid working will affect every employee differently, and certain demographics could be disadvantaged. Specifically, female workers face more stress, a greater risk of burnout, and limited advancement opportunities, as per a recent Deloitte report. Around 61% of women hybrid workers report feeling excluded from important meetings, and 47% said that they do not have sufficient exposure to company leadership.
The future of hybrid work must be equitable, which makes it imperative to pay attention to this trend and take action. Companies can enforce inclusive communication policies and prohibit work-related conversations outside of approved channels, regardless of location.
9. Hybrid work will be a top employee demand during recruitment
The future of work isn't just about a shift from remote to hybrid. Companies can expect a generation of workers that expect hybrid working by default and are likely to quit if workplace flexibility is not available. This is particularly true for younger generations and minority groups.
A recent McKinsey study found that employees between 18-34 years of age are 59% more likely to quit if not offered a hybrid work environment, than those in the 55-64 age bracket. Further, LGBQ+ employees are 24% more likely to quit, while employees with disabilities are 14% more likely to quit than employees without any kind of special requirements. This means that in the future, organizations must embrace hybrid work in order to attract top young talent and to maintain a diverse, inclusive, and equitable workplace. HR departments must also invest in hybrid-ready recruitment systems – such as systems designed to help with virtual onboarding – to start the employee journey on the right foot.
10. Given that the future of work is hybrid, IT investments will rise
Hybrid working can help save on operational costs, but it requires strategic investments of its own. Specifically, there'll be an increase in investment in IT infrastructure such as collaboration platforms, productivity monitoring tools, and security technologies. Around 63% of respondents in a recent Foundry survey said that they are adopting new security solutions for remote and hybrid work in order to make the model sustainable.
In response to this trend, companies must plan for long-term and sustainable hybrid working, beyond the here and now. How do you maintain a remote IT workforce? What are the security risks and associated costs? Which technologies can help improve customer and employee experiences in a hybrid working world? These are some of the questions to ask now to avoid exceeding budgets or having inadequate infrastructure in the future.
11. Companies will have to urgently address a disconnect in perceived productivity
Throughout the pandemic, multiple reports have established that remote work and hybrid work are not detrimental to productivity. However, organizational leaders still remain unsure of employee performance, and there's a perception that remote and hybrid work affect productivity. Microsoft calls this phenomenon "productivity paranoia." This is a key trend around the future of hybrid work. According to Microsoft's recent survey, 87% of employees report they are productive at work, while just 12% of leaders are fully confident that their teams are productive.
To address this, one must revisit performance management systems and take the focus away from in-person presence and individual subjectivity. Instead, companies can focus on incremental goals that are easy to measure. They can also adopt a regular rewards-and-feedback system to maintain organizational visibility into productivity.
Learn More: What Is a Hybrid Work Schedule & How HR Can Implement it
There is no doubt that the future of work, from remote to hybrid, will be completely different from the pre-pandemic era. Companies must plan for drastic operational changes, as well as a rejigging of their culture, infrastructure, and people processes.
These 11 key trends exemplify the multi-dimensional nature of the shift.
Cloud-based software that helps manage, optimize, and improve the workplace will be crucial to supporting this journey into the future of hybrid work. Schedule a demo of Darwinbox to learn how!