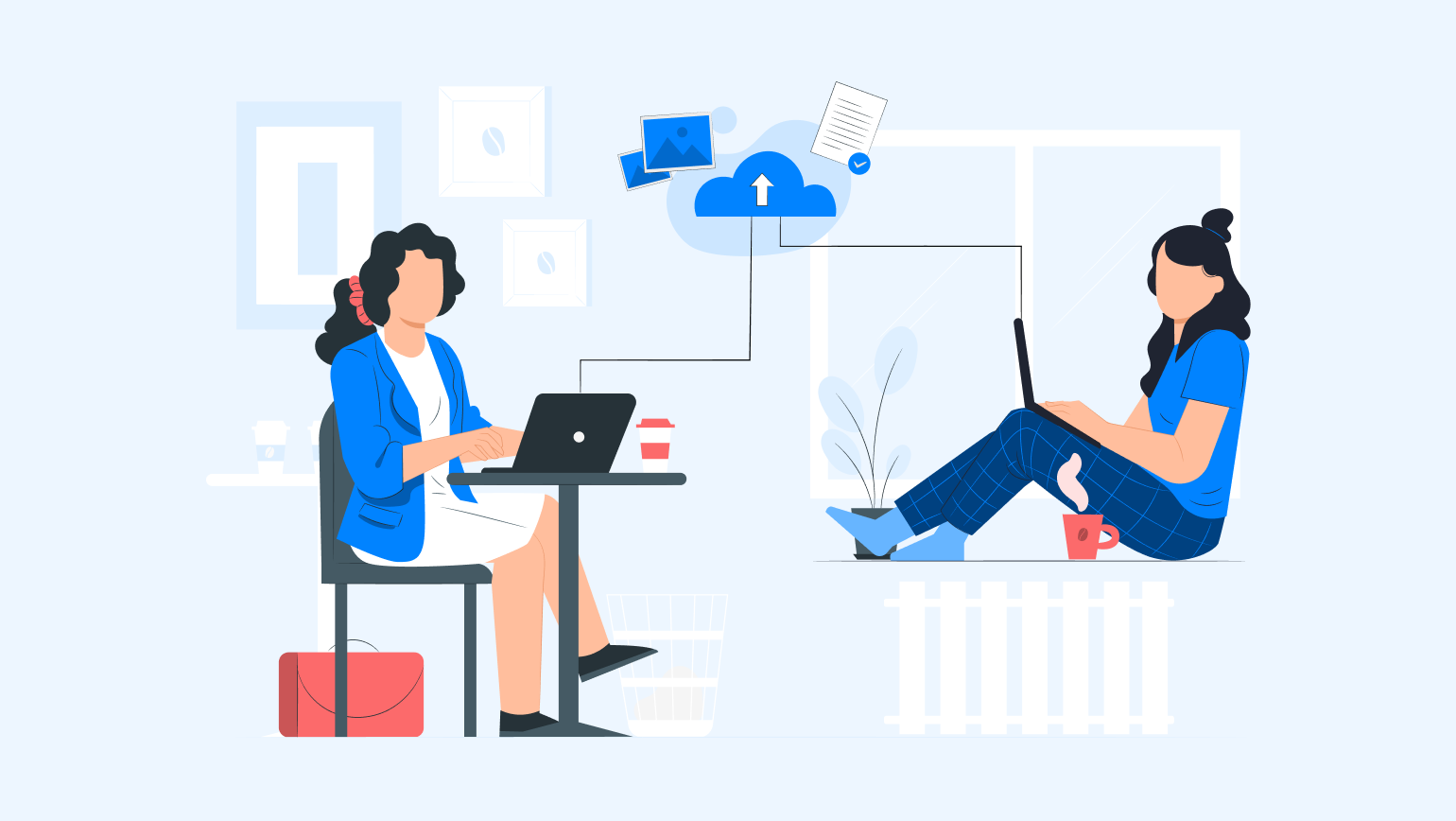 This article provides an overview of a hybrid work environment and the benefits it can bring to an organization. It also lists 10 points organizations must keep in mind to ensure they foster an efficient hybrid work environment.
When done correctly, hybrid work can be highly beneficial to an organization and its workforce. It can improve productivity, as employees are empowered to choose to work the location where they're most productive. It can also aid in employee well-being by providing a better work-life balance.
Further, organizations can save on operational expenses such as utility bills and property rent. Gartner reports that 94% of organizations are allowing employees more flexibility when and where they work.
However, a hybrid work environment can also prove detrimental if the organization does not strategize and implement hybrid work plans properly. Some of its disadvantages include increased expectations from managers, increased stress, and a lack of collaboration. There is also the risk of discrimination due to proximity bias when some employees work out of the office and others work from home.
A recent survey by collaboration technology provider, Poly, revealed some of the cons of hybrid work environments where employees are not allowed to thrive. These include an "always-on" culture where the lines between one's work and personal life are blurring, the stress of returning to office which limits a person's capacity to thrive in a hybrid work environment, and the lack of learning and collaboration opportunities for employees who work from home.
Organizations and their HR departments should not approach hybrid work as a one-size-fits-all model that will be beneficial for all, regardless of individual circumstances and needs. In fact, building a thriving hybrid work environment requires proactive action from multiple stakeholders – and an understanding of what is a hybrid work environment in the first place. Unlike a traditional work environment, the definition is not limited to a specific time and place alone.
Learn More: Employee Satisfaction Questionnaire: 50 Mandatory Questions
What Is a Hybrid Work Environment?
Before discussing how to build a work environment that mitigates the cons and amplifies the benefits of a hybrid working model, let us answer a key question – what is a hybrid work environment?
A hybrid work environment is a place of work that cuts across physically shared locations and digital workspaces. In a hybrid work environment, employees enjoy the flexibility of choosing to work from the office and from their homes, and sometimes also choose their preferred work hours. The ultimate goal in such an environment is to maximize productivity for all and boost business outcomes for the organization while factoring in employee happiness and well-being. To achieve this, hybrid work environments must have the following:
Flexibility

– Team leaders and/or team members have the flexibility to decide their working location. In some cases, employees may also be allowed to work during their unique productivity hours.

Coordination

– In a hybrid work environment, there is constant coordination between different stakeholders to prevent miscommunication. Hybrid teams typically use cloud-based tools to stay connected, while the organization uses enterprise cloud software to manage location agnostic administration.
Employee centricity – These environments are typically employee-centric, built around their aspirations and needs. For example, an employee could travel while they work and become a digital nomad, supported by a hybrid working model.
Inclusivity – Hybrid work environments can make it easier for different demographics to stay gainfully employed. For example, a new parent may opt for hybrid work in order to balance personal and professional obligations. However, there is a risk of proximity bias unless you build a well-planned, thriving hybrid work environment.
For a hybrid work environment to operate successfully, organizations must strike the right balance, encouraging employees to be physically present, even as they continue to support remote work habits.
Learn More: Hybrid Work: Definition, Meaning, Benefits, Methodology, Best Practices & Results
10 Ways to Build a Hybrid Work Environment Your Employees Will Love
With the right approach and strategy, hybrid work can strengthen a company's culture, reduce attrition, and boost job satisfaction and productivity. Here are 10 strategic tips to build a work environment that unlocks these benefits:
1. Maintain a consistent schedule, at least in the beginning
The lack of a fixed routine is often the first challenge when switching to hybrid work. Employees have been working remotely ever since the COVID-19 pandemic hit, if not earlier, and returning to the office can be a drastic change. A consistent schedule eases employees into this change by introducing predictability in place of uncertainty. Employees know when they are expected to be physically present in the office, when they can work from home, and how to balance their work and personal lives accordingly.
2. Arrange employee engagement activities in the office
The office can seem daunting and a little uncomfortable at first, and employees may miss the comforts of their home environment. To make the atmosphere seem slightly less formal and challenging, employers can arrange fun activities that take advantage of the hybrid work model. This includes a fun introductory session, hybrid scavenger hunts, in-office animal therapy, and local food truck day, among others. You can check out our comprehensive collection of 101 Fun Back to the Office Employee Engagement Activities for more ideas.
3. Build an outcome-focused culture that does not prioritize presenteeism
In a thriving hybrid work environment, every employee feels encouraged and supported, no matter where they are seated. This means that the company must value real work outcomes, instead of the hours put in on simply the act of coming to the office. Outcome-focused performance management will reward employees for their effort, set tangible targets, and drive productivity while ensuring a sense of fulfillment from work. It will also alleviate concerns of possible discrimination arising from presenteeism.
4. Promote social recognition, through cloud-based tools
Recognition from peers is another key component of a thriving hybrid work environment. It fosters a sense of community, publicly acknowledges an employee's achievements, and also drives peer-driven motivation and learning. Cloud-based rewards & recognition tools extend these benefits to organizations operating a hybrid work environment. Employees can make use of a social platform to post about each other's achievements, share comments, and give feedback. Since it is a cloud-based system, the platform will be available from any location, and can also support mobile apps.
5. Reimagine the physical workplace for the hybrid work era
In addition to introducing more efficient virtual communication and work tools, the physical workplace must also be reimagined for hybrid work. It has to be a space where employees love coming in, can work without distractions, and collaborate easily with their colleagues who are working from home. It should have workspaces that allow employees to work together or alone as needed. There must be meeting rooms of all sizes since in-person collaboration is one of the key reasons employees choose to come into the office.
6. Be transparent about pay equity
Hybrid work can exacerbate concerns around pay inequality, with remote workers worried that they make less than their in-office counterparts. As most countries worldwide go through a period of inflation anxiety, organizations must reassure employees about pay equity. A cloud-based tool tailored for hybrid work can help reduce errors and discrepancies in payroll. Annual wage gap reports are also crucial, as they build a sense of confidence and security around one's work environment.
7. Strengthen virtual recruitment and onboarding capabilities
A balanced mix of remote and office-based work is at the crux of a successful hybrid working model. To enable this, HR departments must be equipped to recruit remote workers, communicate with candidates across geographical borders, and conduct virtual onboarding without the employee having to come into the office regularly. Close communication and a strong culture established in these early days can help employees thrive in a hybrid work environment irrespective of whether they work from the office or work from home.
8. Invest in measures to mitigate burnout
Hybrid work can add to employee stress and burnout. In a McKinsey report titled The Great Exhaustion, 49% of respondents said they are at least somewhat burnt out due to hybrid and remote work. Companies must address this in order to help their employees remain happy and healthy. Simple measures like introducing "No Meeting Wednesdays" can give employees relief from the cognitive stress of too many meetings. Healthcare coverage for mental well-being, therapy sessions in the office, and four-day workweeks are some of the other measures that can reduce the stress associated with hybrid work environments.
9. Conduct regular surveys to address any executive-employee disconnect
Research shows that senior executives and other employees tend to experience the hybrid work environment in different ways. According to Gartner, 71% of executives are on board with their leadership's plan to return to a pre-pandemic work model, while only 50% of employees agree. 77% of executives also feel a sense of purpose in their work, in contrast to 59% of employees. Organizations need to conduct cohort-wise internal surveys to identify these variances in the hybrid work experience. They should then act on the survey insights to remove any productivity and purpose inhibitors that employees may perceive.
10. Equip managers to handle hybrid teams and promote team building
Hybrid work environments are typically manager-led. Team leaders and middle managers represent the larger organization in front of the workforce, since employees do not come into the office or meet with senior leaders regularly. Therefore, it is vital that managers have the necessary skills to build a positive hybrid work environment. They should be trained in team building techniques, given anti-bias training, offered lessons in digital collaboration, and given targeted training in hybrid and remote team management. Some managers may even benefit from one-on-one coaching to develop their leadership skills.
Learn More: Focusing on the Now of Work: In Conversation with Augustus Azariah
Hybrid work is here to stay, and companies must know how to build a work environment where everyone can thrive – regardless of their location, rank/designation, productivity preferences, and demographic attributes.
To learn how a cloud-based HR software like Darwinbox makes this possible, ask for a demo today!