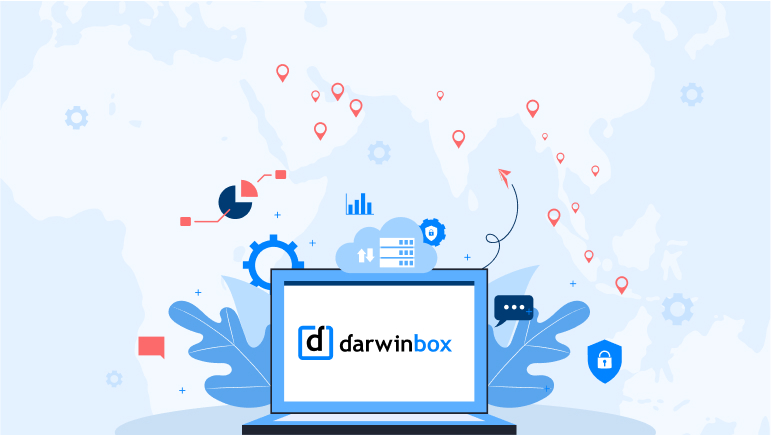 Localization is essential for organizations looking to build a truly global workforce that can effectively communicate and collaborate across different regions and cultures. In this article, we'll look at why there's a need for localization in the current business environment, and explain how Darwinbox enables it for organizations across the world.
A global workplace has many advantages for businesses and employees alike. This includes access to a larger talent pool, richer cultural understanding, and increased flexibility, communication, and agility. Further, a global workplace offers a collaborative and inclusive environment that promotes creativity, innovation, and progress. It is one that is intended to draw in and keep people from all over the world. Research by the Harvard Business Review found that companies with diverse workforces are 45% more likely to report growth in market share. However, it takes careful planning, smart decision-making, and a thorough understanding of the cultural, social, and economic elements to create a truly global workplace.
Why Localization, and Why Now
Localization is the process of modifying HR procedures, guidelines, and tools to accommodate the linguistic, cultural, and functional requirements of a diverse workforce. It entails customizing HR processes, communication, training, and support to correspond with regional norms, languages, laws, and expectations.
Localization attempts to establish a welcoming and encouraging workplace that respects cultural diversity, encourages effective communication, and assures adherence to regional labor laws. It recognizes that each employee has different needs based on where they live and their cultural background, and works to meet those needs. Doing this is essential to increase employee engagement, productivity, and a feeling of community.
In the current business environment, localization has become more crucial for developing an inclusive, engaged, and high-performing global workforce as organizations embrace remote work, global expansion, and diverse workforce models. It gives businesses the ability to overcome international boundaries while bridging cultural divides. A report by the Localization Industry Standards Association found that companies that invest in localization see an average return on investment (ROI) of 120%. Here are some of the many ways in which localization enables organizations:
1. Cultural sensitivity and inclusion
When a company takes the effort to localize operations, it indicates to employees that the organization wants to create a setting that is open to everyone and values diversity and cultural sensitivity. This can instill in employees a feeling of belonging, enhances overall employee engagement and employee experiences, improves productivity, and brings down attrition.
2. Effective communication and collaboration
Localization makes it easier for employees that are spread out around the world to communicate and work well together. By offering help in multiple languages and adapting communication tools to different languages, companies make it easier for people to talk to each other, get their employees more involved, and encourage teamwork across borders. This is especially important when working from home and relying on virtual teamwork.
3. Acquisition and retention of talent

:
Localization is a key part of drawing in and keeping top talent. Employees are increasingly looking for jobs that respect their cultural backgrounds and give them an environment where they can thrive. Localization shows that an organization wants to create a work setting that is open to all cultures. This makes it more appealing to people from different backgrounds. Organizations can build a global workforce that is both diverse and highly skilled by taking into account local languages, cultural norms, and practices.
4. Employee experience and job satisfaction

:
Localization contributes to a positive employee experience and higher job satisfaction. When HR tools, policies, and training materials are available to employees in their native language, it lowers barriers and makes it easier for them to understand and get involved. Localization improves the overall employee experience by making it easier for employees to find their way around HR systems, benefits, and chances for career growth.
5. Compliance with local labor laws and regulations

:
Localization makes sure that HR practices are in line with local labor laws and regulations. Different geographies have different rules about job contracts, working hours, time off, and benefits for employees. By making sure their global workforce follows these rules through localization, companies can avoid legal risks, penalties, and damage to their reputation.
6. Global mobility and talent management

:
Localization helps with global mobility projects and methods for managing talent. It helps organizations handle foreign assignments, transfers, and relocations well by giving support, information, and resources that are specific to each location. This makes it easier for workers to meet immigration requirements, get used to new environments, and join local teams.
7. Organizational culture and values:
Localization is key to making sure that the culture and values of an organization are the same in all of its places. It makes sure that employees all over the world know and understand the company's core values, goal statements, and cultural norms. Localization helps make sure that an organization's culture is consistent while still letting the right changes be made to fit local circumstances.
The Role of HR Tech in Enabling Localization
Organizations can ensure effective localization by adapting HR policies, customizing communication and training materials, providing multilingual support, fostering cultural awareness, seeking feedback for continuous improvement, and collaborating with local stakeholders.
HR technology solutions can play a significant role in enabling localization. It is a key piece in the localization process as it helps companies run their HR processes and systems smoothly across different countries and languages. HR technology offers a variety of tools and solutions that help with localization. These include HR management systems, talent management platforms, learning and development tools, and communication and collaboration software.
Next-gen global HRMS platforms come with localization features, such as multilingual interfaces, country-specific configurations, and compliance functionalities tailored to local labor laws and regulations. Here's how having HR technology on your side can enable seamless localization in your organization:
1. Translation and localization of HR content
HR tech can offer automated translation and localization tools that make it easy for organizations to translate HR content and communications into different languages. This can include anything from employee handbooks and policies to job descriptions and reviews of how well people are doing on the job.
2. Localization of HR policies and procedures
HR tech can help organizations customize their HR policies and procedures to meet local laws and rules by providing compliance management functionalities, configurable workflows, localization features, reporting and analytics capabilities, training and compliance modules, integration with legal resources, and workflow automation. These tools streamline the process, ensure compliance, and facilitate efficient management of HR practices across different regions.
3. Support for multiple languages and cultures
HR tech solutions often offer multilingual capabilities, allowing organizations to communicate with employees in their preferred language. This includes multilingual interfaces, employee self-service portals, and automated communication tools. HR tech enables effective communication and engagement with employees from different regions, fostering a sense of inclusion and understanding by providing multilingual support.
4. Support for global mobility
HR tech can help employees who are moving to work in different parts of the world. It can provide tools for tracking international assignments, managing work permits and immigration documentation, and offering localized support to employees moving to new regions. This streamlines the administrative aspects of global mobility and ensures a smooth transition for employees.
5. Cultural awareness and training
HR tech solutions can facilitate cultural awareness and training initiatives. They provide e-learning modules, virtual training platforms, or knowledge-sharing portals to educate employees about different cultures, customs, and practices. This helps foster cultural sensitivity and cross-cultural collaboration and reduces misunderstandings in a global workforce.
6. Localized onboarding and training
It is essential for companies to localize onboarding and training programs for employees in different regions. This may involve translating training materials, adapting content to local cultural norms, and incorporating region-specific compliance training to ensure employees receive localized and relevant onboarding experiences. HR tools built keeping localization and customization in mind can help.
7. Localization of compensation and benefits
This includes configuring the system to align with local payroll practices, tax regulations, social security requirements, and local benefit offerings. HR tech can also automate calculations for localized compensation components, ensuring accuracy and compliance.
8. Compliance with local labor laws
HR tech platforms help organizations stay compliant with local labor laws and regulations. They provide features that automate and track compliance-related processes, such as managing working hour restrictions, leave entitlements, statutory holidays, and employment contract templates specific to local requirements.
How Darwinbox Enables Localization To Build a Global Workplace
HR tech players in the market are actively working to offer localization capabilities to support organizations in managing their global workforce. They provide multilingual interfaces, country-specific configurations, and language translation features to ensure employees can access HR systems and information in their preferred language.
Compliance management functionalities help organizations navigate local labor laws and regulations, while robust reporting and analytics capabilities enable region-specific insights. Customization and localization tools allow organizations to adapt the HR Tech systems to meet specific regional and cultural requirements. Integration with local systems and collaboration features facilitate seamless communication and data exchange across different regions.
Darwinbox is enabling localization for more than 750 organizations, with most of them having a global presence and workforce scattered across multiple geographies. The system enables them to achieve 100% compliance and audit readiness, customization for a seamless employee experience, and streamlined HR service delivery. Darwinbox also provides features and functionalities like surveys to track employee pulse no matter where they are, and above all, a mobile-first platform that enables them with employee self-service and manager self-service on the go.
Here's how Darwinbox enables localization capabilities for building a truly global workforce.
1. Managing multi-country location/address format through settings
Darwinbox allows customization of location and address configurations per country, offering multiple levels in location format (Area, City, District, State, Region, and Country) and in address format (Address lines 1-4 and Pin code). It provides the flexibility to manage location and address details across administrative divisions in 200+ countries. It also provides the option to enable/disable multiple levels and alias fields.
For instance, regions can be called provinces while configuring the settings for Germany, and Region and District data fields can be greyed out for the United Arab Emirates as they are not applicable in this region.
Additionally, clients can view and edit employee data, including Country, City, District, and Region, for better global workforce management. This provides a lot of flexibility to organizations in managing their localized requirements.
2.
Additi
on
National IDs to profile
s
Over 300 National IDs come built-in with Darwinbox to cater to various countries. This includes Social Insurance Number (SIN) for Canada, Citizen ID Number (CIN) for China, Permanent Account Number (PAN) for India, and so on.
Darwinbox also has multiple capture mechanisms in place, including Optical Character Recognition (OCR) and imports, making it easier for organizations to collect and store data from multiple sources. Additionally, the system has in-built validations that can be configured to ensure that all ID fields are accurate, complete, and up-to-date.
With sensitive information like personal identification information (PII) at stake, Darwinbox has implemented a permission framework and masking feature to ensure that only authorized personnel can access this information. This adds an extra layer of security and privacy protection for employees.
Furthermore, Darwinbox is committed to protecting employee data, no matter where they are in the world. We have implemented local data hosting for employee PII data across different regions. This ensures that employee data is stored securely, while also adhering to local data privacy laws and regulations.
3.
Provision of local name fields to profile
Some geographies have a secondary name (local) in addition to the primary (global) name. Darwinbox provides the option to configure secondary names, middle names, and family names in different geographies. Darwinbox has the ability to capture local names in the local language of the region, making it even more convenient for organizations to manage their global workforce. This feature ensures that all names are accurately captured and can be easily recognized by employees in their local language.
To accommodate regional requirements, Darwinbox offers the ability to enable or disable fields as per the organization's needs. This allows organizations to customize their HR management to suit the specific needs of their workforce in different regions.
Once the names are captured and configured, they will reflect across various employee structures, HR letters, reports, emails, and other relevant documents. This ensures consistency in communication and recognition of employees across the organization.
4. Provision of standard dropdown fields to profile
Darwinbox has the capability to customize employee attributes per country. The system has a dropdown menu for selecting which profile field to modify, with options to set applicability based on country, company, and employee Type. You can also enable or disable the field and set an alias. To make multiple applicability configurations for a single option, you can use the 'Add' button. This allows you to customize the dropdowns for each field according to the company, country, and employee type. For example, if a company in UAE doesn't want the transgender option for gender configuration, it can easily disable it.
This is what the ethnicity configurations can look like for different countries:

Localization Features Offered by Darwinbox Across the Globe
1. Task delegations
Under this functionality, when a person goes on leave, his tasks will automatically get delegated to the person assigned and set up on the system.
2. Planned overtime and multiplier
Overtime is typically paid after the employee has worked an additional shift. But some countries such as Indonesia follow the concept of overtime multipliers. In such cases, overtime can be scheduled in advance, if a person needs to be paid, say, 2x their regular shift payment for working overtime. Similarly, overtime slabs have been set up for Singapore. This means that various slabs will have different multipliers, i.e., 2x or 3x of the regular shift payment. In the Philippines, if someone is working the night shift, they are entitled to a 2x or 3x multiplier on their regular shift payment. Flexible approval flows for overtime have been set up in Thailand. Bulk edits and approvals for overtime have been set up and are prevalent in the middle east.
3. Block leaves
In some companies, it is mandatory for employees to take a certain number of days of continuous leave. This can be set up using Darwinbox's block leave functionality. This is used extensively in the Philippines and in Indonesia.
4. Alerts based on continuous non-working days
Darwinbox provides the capability to automate monitoring and notifying stakeholders when employees exceed the defined limit of consecutive non-working days, allowing for timely action and compliance enforcement. This feature ensures consistent attendance management and adherence to local norms. These alerts can be triggered on the basis of company/geographical policies and norms.
5. Exceptional approval flow for overtime
Exceptions can be set up to the regular process of approvals for overtime. This feature enables exceptions to be configured, granting certain individuals or designated approvers the authority to approve overtime requests that fall outside the standard approval hierarchy.
6. Child-nationality-based leave
Some organizations have initiated the ability for an employee to take leaves on the basis of their children's nationality. This feature allows organizations to accommodate the specific needs and requirements of employees whose children hold a different nationality, granting them the flexibility to take time off for various purposes like family visits, cultural events, or legal obligations related to their children's nationality.
7. Rest day and
a
day off
Some organizations mandate for an employee to take a day off or a rest day if they have been working for a certain period of time continuously. This is prevalent in the US and Singapore. Darwinbox comes with workflows built to make this process smooth for both the employee and the HR partner.
8. Selfie-based check-ins
Some organizations prefer to have a photograph registered every time an employee checks in, as opposed to facial recognition, where check-in is matched against a pre-stored image. This is provided for in Darwinbox, and is used extensively in Malaysia.
9. Future cycle leaves enhancements
The future cycle leaves enhancements in Darwinbox allow employees to apply for leaves in advance for the following year, such as 2024, with specific rules configured for the Middle East region. This feature enables employees in the Middle East to plan and request leaves well in advance, ensuring compliance with regional policies and streamlining the leave application process for future periods.
Learn More: How Darwinbox Enables Data Localization To Ensure Data Security in MENA
10.
Hourly leaves
Companies in countries across the middle east and in the US often have employees taking just a couple of hours off in a day. Darwinbox enables users to configure workflows to support this requirement.
11. Tenure-based leaves
This allows organizations to assign a different number of leaves based on an employee's tenure or hierarchical position. For example, a head of department may be granted a greater number of leaves compared to an intern. This practice, commonly followed in the US, can be configured within the system to ensure fairness and align with organizational policies.
12. Auto-shift assignment across days
This automates the process of assigning shifts based on predefined shift rosters. Once the shift roster has been created, the system can automatically assign shifts to employees without manual intervention. This feature eliminates the need for manual shift allocation and ensures efficient scheduling of employees based on predetermined shift patterns.
Summing Up
By investing in HR tech solutions that support localization, organizations can improve their global workforce management capabilities, increase efficiency and accuracy, and foster a more inclusive and diverse workplace culture.
Darwinbox provides a comprehensive range of functionalities to cater to various geographies and their respective nuances, helping organizations build a truly globalized workforce.
Interested in exploring further? Find out how Darwinbox can simplify localization for your organization; book a demo today!