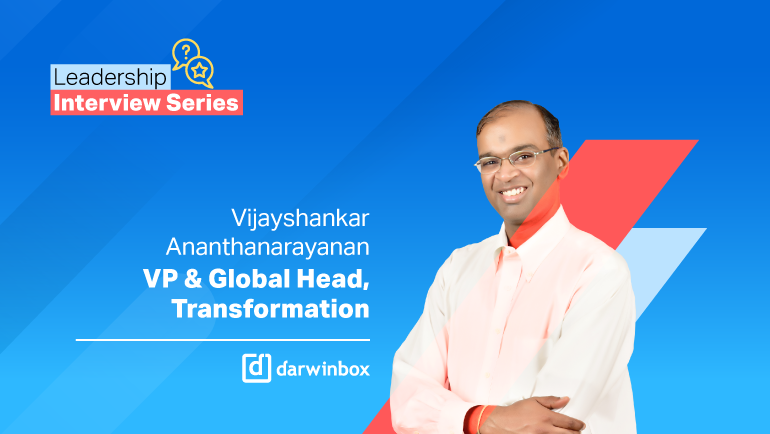 Digital transformation is no longer a concept for the future. The global pandemic compelled companies to go digital to not just survive but thrive in the new world of work. And what ensued was massive transformation at scale.
We caught up with Vijayshankar Ananthanarayanan, who has been in the driver's seat of providing technology-powered talent transformation roadmaps to several companies and enabling them to scale globally. The Vice President & Global Head, Transformation at Darwinbox, Vijay has over 17 years of experience supporting integrated transformation roadmaps for technology organizations to scale and sustain across geographies. An ex-EY Director, his areas of experience cover the entire spectrum of organization management, from Direction Setting to M&A Advisory and Talent Management to Employee Experience-led Digital Transformation. At Darwinbox, he is co-building the company's vision of becoming a globally respected "From Asia for the world" SaaS HCM platform.
In this conversation, he highlights some of the critical aspects of technology-led talent transformation and some of the trends that he sees companies shaping, to make this digital transformation a reality.
Here are the excerpts from the interview:

Darwinbox: Digital Transformation has gained momentum since the global pandemic. How have you seen the landscape change at the ground level?
Vijayshankar: This pandemic has reinforced the profound message of "Samhara" from the symbolism of Nataraja Shiva, where the fire of transformation atrophies matter to a formless state, only for regeneration. Organizations have gone through this regenerative transformation, which has seen HR and IT teams come together like never before to drive customer & employee experience for business continuity and impact. Viral memes and WhatsApp jokes apart, several myths relating to digital transformation have been challenged and busted. Customers have not just grudgingly accepted, but steadily valued well-architected, personalized digital experiences. While the role of the pandemic in providing a "no choice" acceleration and even adoption is well documented (especially in areas of digital collaboration), new ways of working have emerged, that were in some cases aspirational and in others even seemingly far-fetched.
As an example, one of our manufacturing clients with average employee age close to fifty found digital curiosity being activated by employees playing around with our mobile-first platform features like facial recognition-based attendance and voice bots. For the first time, casual and temporary blue-collar workforce associates contributed massively to success on the TQM front, using the collaboration and reward & recognition features. Lastly, horizontal and vertical alignment around what mattered to the company (in the challenging phase of the pandemic) was achieved through the integrated performance management approach, reinforced through continuous feedback. In a historically conservative and slow-paced adoption environment, achieving so many wins concurrently in a few months was hitherto wishful thinking. Having successfully gone through this phase, the organization has effectively broken through to the other side, where these digital transformation elements are now business-as-usual.
Leaders have become more comfortable moving away from risk-averse "fast follower" to a growth mindset-led "let us try something new and learn." As digital transformation has strengthened the CX-EX sync and lifted operational efficiency through RPA and related levers, it has also enabled business model shifts, which requires leaders to role model digital adoption across levels and teams. This is where market-leading adoption enablement through platforms such as Darwinbox has become relevant - not just for HR transformation but also for overall organization transformation. Irrespective of the function, transformations are realized through talent doing different things or doing them differently.

Darwinbox: As the ex. People Consulting national leader for the Tech sector at EY, what is the number one roadblock to Digitalization and HR Transformation? And the top enabler?
Vijayshankar: As a student of this evolving discipline, as I reflect on some of the digital transformation programs, the stand-out opportunity and challenge is less about digital and more about (aligned) transformation. With modular, fast-to-deploy and easy-to-use SaaS platforms such as Darwinbox available, the key is to have a vertically & cross-functionally aligned view of "what good looks like" translated into a clear talent transformation charter. This needs to reflect the Excel (short-term) and Re-imagine (mid/long term) imperatives for the business, mapped back to talent "so what, now what."
This requires Business, HR, and IT teams to work in concert and commit to the investment of time and budgets to ensure that contemporary approaches such as design thinking come alive through experience labs. Here, actual consumers share their talent-related realities, constraints, and "I wish asks" connected to tangible lead indicators of business impact. 
I remember the case of a leading airport software/services provider where the efficacy of conference room pilots significantly rose when the end-user employees were invited, and the relevance of mobile-first for them came through to the design team. These end-users only used to get 10-15 minutes per 8-hour shift in front of a computer in the airport office; the rest of the time they were at various parts of the airport, therefore the use of mobile for HR transactions played a key role in increasing their productivity and user experience. This nuance was completely missed in earlier such discussions sans actual end-users. When this cross-functional alignment around transformation becomes a habit, we see active adoption, dynamic change management, and eventually the culture shift(s) that a digital transformation is fundamentally set up to institutionalize.
The other key theme is a deliberate focus on data culture. Suppose leadership commits to using only system-led dashboards for reviews and insists on the same across levels. In that case, this significantly impacts data quality, system adoption, and data-enabled decision-insights (to augment the power of instinct/gut or tribal knowledge). I remember the COO of a leading organization challenging us early in the digital transformation program, saying, "For every data input that my teams feed into the system, can they get at least one insight in return?"

Darwinbox: There is a lot of talk on 'Experience' in business circles. What are your thoughts on Human-centric Experience Design? How can we democratize it for orgs and their employees with an HRMS?
Vijayshankar: Personas and design thinking have now become well-known building blocks of experience design. For human-centric experience design at scale through an HRMS, getting the right blend of "N=1" (horizontal/at scale) and "n=1" (personalized/nuanced) is vital for experience to translate into impact, with good maintainability. In addition to the cross-functional alignment between leaders that I referred to earlier, it is imperative to involve Managers in the journey. A considerable proportion of employee experience touchpoints are impacted directly/otherwise by the Manager. Manager evangelization of an HRMS is truly the touchstone for adoption and kicks off a virtuous cycle through which human-centric experience authentically comes alive. Post the pandemic, the role of Managers has grown in complexity, with increased expectations around outcomes. At the same time, they are expected to factor in dynamic changes at the team/team-member level.
Platforms like Darwinbox are very relevant here, as they enable continuous employee listening, ongoing performance feedback, Manager-specific reports and insights. In addition, their individual effectiveness is continuously enabled through peer-level collaboration for experience/best-practice sharing, in addition to productivity enhancement through elegant Manager Self-Service. Through these, Managers can devote more time to meaningful, informed talent management and credibly bring the envisaged employee experience alive, while positively impacting team performance.
Darwinbox: What is the one piece of advice you would like to give HR leaders to help them make the most of their HR transformation?
Vijayshankar: I would urge HR leaders to make HR transformation the basis for talent-led business transformation by making the program "customer + consumer-in" while leveraging the power of digital to leapfrog vs. making just incremental shifts.
If you want to hear more from people working in various areas, check this space for our full collection of interviews.