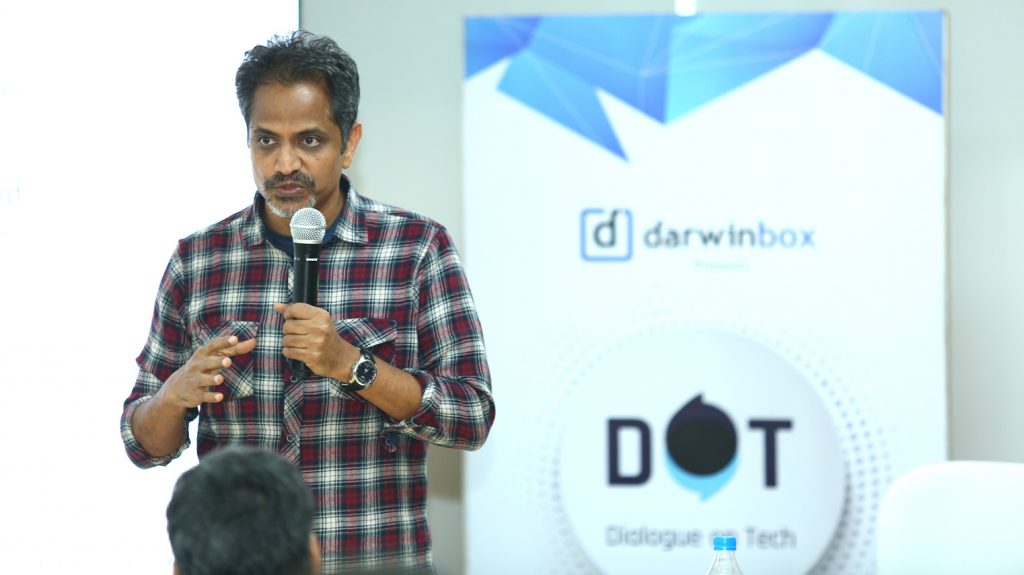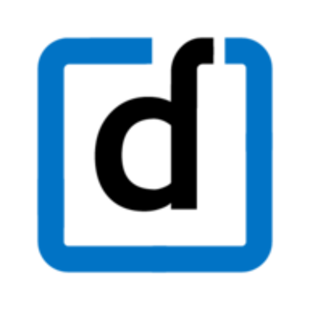 With the best of IT and consulting firms, Hyderabad has an undeniably large pool of talented software enthusiasts and professionals. But not a lot is done when it comes to domain focused events for them. Networking and learning events for techies in Hyderabad are precious, as much as they are rare.
With a vision of bringing the best tech minds under one roof to promote mutual learning and meaningful interaction, team Darwinbox organized its flagship tech event D.O.T.: Dialogue On Tech.
DOT was held on 14th of April 2018 at our office in Kavuri Hills, Hyderabad. The event was divided into various sessions with a line of marquee speakers like Ravi Garikipati - CTO, Flipkart; Suvig Sharma - Regional Director, APAC, MongoDB, and the engineers from team Darwinbox. Here are some of the key learnings we compiled just for you!
Interesting insights into Mongo
The event commenced with our tech partner, MongoDB's exhaustive session on how they are empowering modern and agile organizations like Darwinbox to improve business while leveraging technology. Presided by Suvig Sharma, Regional Director, APAC, MongoDB and his team, this section of the event was focussed on the widespread applications of their products like Mongo Atlas, Mongo Compass etc.. They demonstrated how moving to and using Mongo is beneficial and convenient for organizations. With any time, anywhere technical support from Mongo, companies are now able to focus on the strategic, impactful aspects of the business.
Microservices: An organizational approach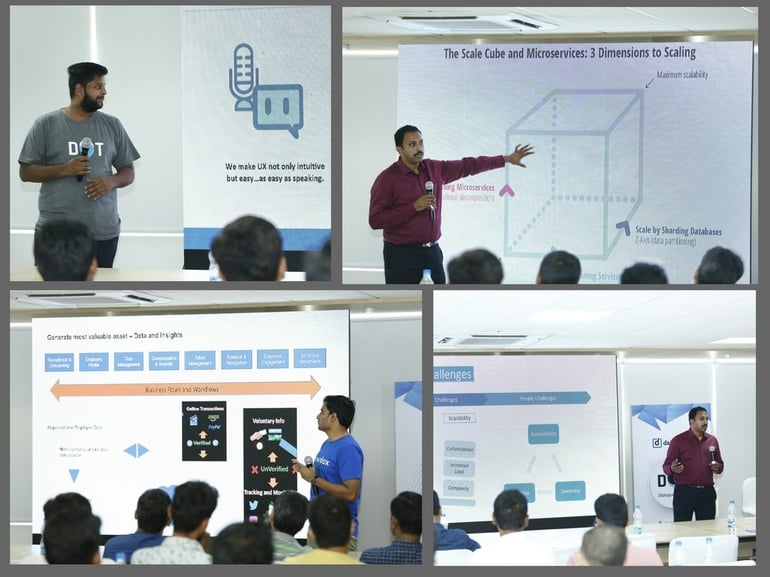 Continuing the conversation, the engineering team at Darwinbox presented an interactive segment on microservices. The highlight of the session was the discussion on making informed choices. The message was clear: Microservices are not for everyone. There needs to be a thorough analysis of if / when an organization could start using them. Sometimes, a monolithic approach just fits a business better as the gains from microservices become evident only after a certain amount of time and involvement at a certain scale.
The team further elaborated on how through a division of effort and responsibility, microservices play a pivotal role in improving task management and process adherence.
Beyond the conventional: Redefining new age HR Tech
Techies at Darwinbox are always looking forward to ideating and building the coolest and most useful features for our product. This segment had the team presenting a list of new age features like voice bot, resume parser, analytics etc. that have been recently incorporated into our product to deliver high performance and the best overall experience to our clients. Our co-founder, Chaitanya Peddi conducted an interactive and open session with the participants discussing the superior usability of AI in the form of a voice bot as compared to chatbots for HR Tech applications. Further, the team elaborated about the thought and process behind Image recognition and OCR technology and the work being done to reinforce their application in the field of HR Technology at Darwinbox.
The importance of analytics and the application of predictive & prescriptive analytics in HR Tech domain to identify critical characteristics like attrition was one of the highlights of this segment.
Leveraging AI and ML for better e-commerce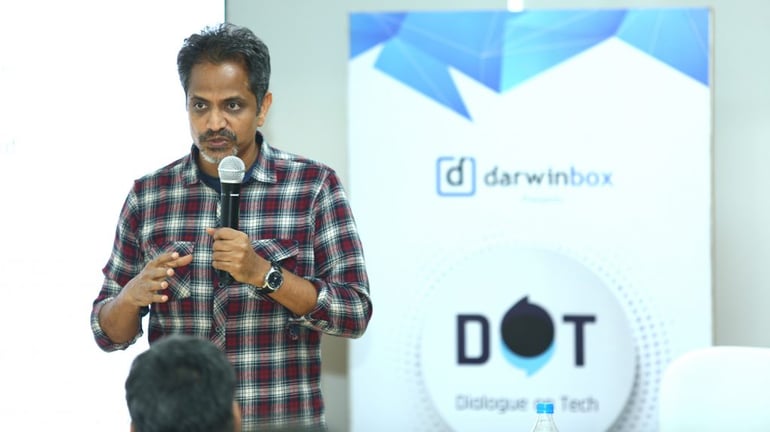 Lastly, Mr Ravi Garikipati spoke about latest developments in AI and ML that have enabled them to build a better e-commerce ecosystem at Flipkart. He highlighted how AI is now being leveraged for giving a customized catalogue for the end user, fraud detection, and much more. These in-turn have helped them to minimize losses from reverse logistics and fraudulent reviews while optimizing relevance and sales through personalization. He also showcased some apparel designs that were generated through machine learning by analyzing user trends on the site and spoke of the upcoming work coming from Flipkart in the domain of artificial intelligence.
Well, if you are someone who loves talking about technology, and loves networking with fellow techies but happened to miss this one, watch out for the next edition of D.O.T., and join us for an amazing day of networking and learning! :)