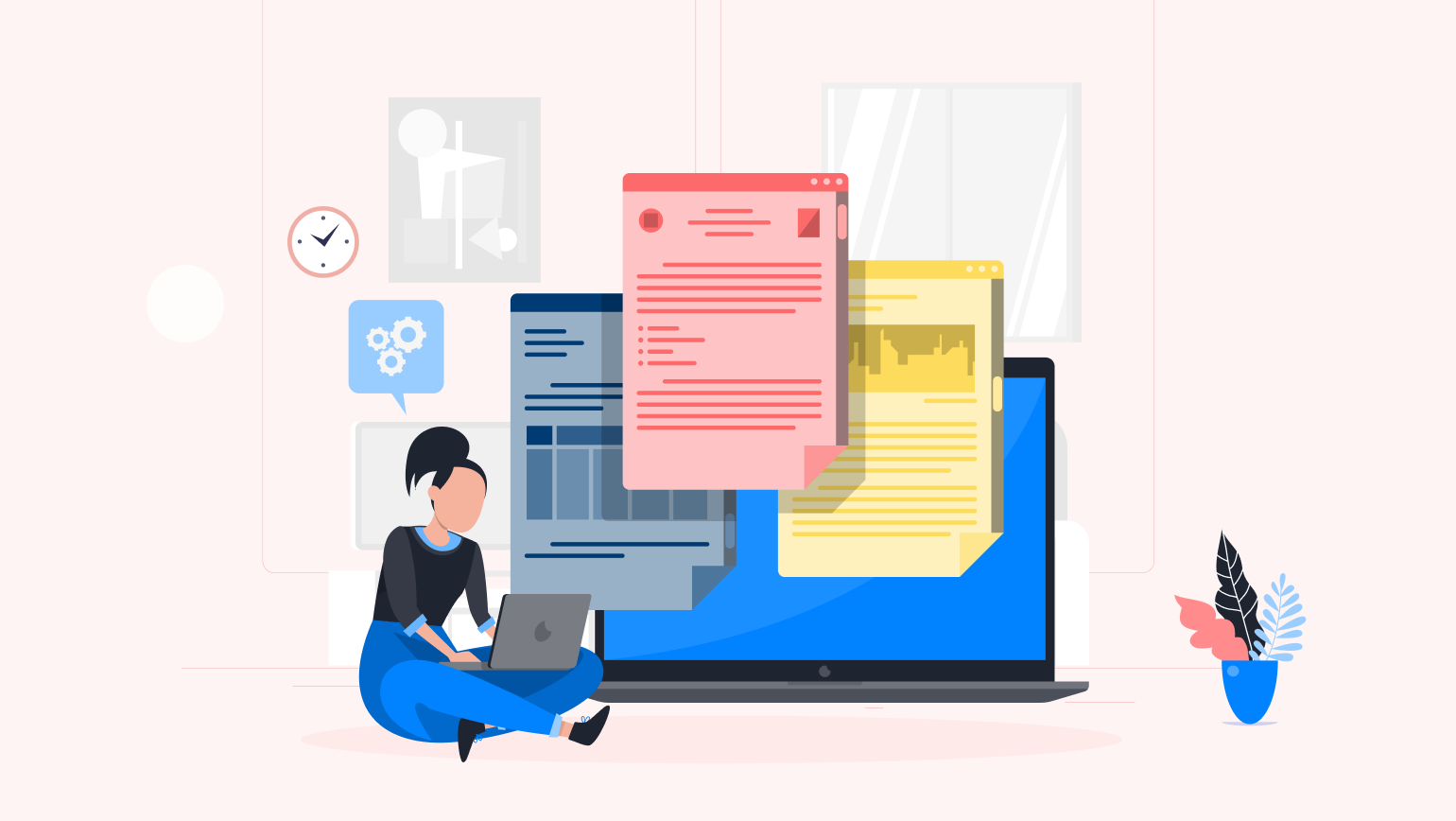 Hybrid work is now the new normal, and it is essential for organizations to have a hybrid work policy. This article will help you understand what a hybrid work policy is, what the benefits of having a hybrid work policy are, and also offers you a free template you can use to create a hybrid work policy for your organization.
As more and more companies switch to hybrid work, it is vital that you have a clearly articulated hybrid work policy that will guide the transition and ensure organizations have a smooth, efficient hybrid work process. A survey conducted in 2021 found that over 75% of companies worldwide will adopt hybrid/flexible work as a standard practice in the next three years. This implies a major shift in the operational model, HR strategies, job expectations, and employee experience. A robust policy is essential to ensure that the new ways of working are efficient and productive.
What Is a Hybrid Work Policy?
A hybrid work policy is a set of rules, procedures, and expected norms around hybrid work – agreed upon by both the employee and the employer at the time of hiring or at any time during their professional tenure – used to maintain standardization and ethics in a hybrid work arrangement.
Nearly every company has established a hybrid work policy in order to make it easier for employees to work effectively when they return to a physical office either part-time or full time after working from home during the pandemic. Here are some of the benefits of having a hybrid work policy:
It streamlines communication between the employer and the employee.

It acts as a ready reference for employees to clear their doubts and queries, thus reducing the burden on the HR helpdesk.

It establishes standard practices for different departments, office locations, business units, etc., in a company.

It serves as an unambiguous source of data.

It helps uphold a company's culture by making it clear what is permissible, and what is discouraged in the workplace.
A hybrid work policy is typically a multi-stakeholder document with inputs from the HR department, the IT team, office and building managers, project managers, and executive leadership. Essentially, it converts the high-level strategy of hybrid work adoption into an executable program.
Learn More: 7 Ways to Prepare for Flexible Work Arrangements (FWA) in Malaysia
How To Create a Streamlined Hybrid Work Policy: 8 Steps
Creating a hybrid work policy can take several weeks or even months, depending on the size of your company, the nature of jobs, business deadlines, and the complexity of organizational hierarchies. However, every company must undertake this activity if it wants to successfully transition to a flexible working model that lasts.
You can make use of our hybrid work policy template to get started, It provides a ready framework that can be customized and developed based on your organization's unique needs. Here are the steps you need to follow to create a streamlined hybrid work policy:
1. Define what hybrid work means for your organization
The first step is to understand what hybrid work means for your company. For some organizations, it will mean partial work-from-home (WFH) for knowledge workers and full-time onsite presence for field personnel. Other organizations may be able to operate in an entirely flexible manner, only occasionally coming into the office. The definition will determine the policy's scope and impact.
2. Identify the reasons for going hybrid
It is important that everyone knows and acknowledges why the company is adopting hybrid work and establishing hybrid work policies. This will set the priorities straight – for example, limiting office hours if the goal is to save utility costs. It will also make it easier to get employees on board, as they will know the rationale behind the new policy and its component clauses.
3. Delineate the restrictions and exceptions around remote work
Once the definition and reasons for hybrid work are in place, the restrictions around remote work will become apparent. Much of a hybrid working policy document involves listing the restrictions on remote work – i.e., the things an employee cannot do. There may also be exceptions to these rules, and these too have to be delineated at this stage.
4. Plan for the tools, resources, and support necessary
A hybrid setup will involve multiple resources and infrastructure spanning both the office and the work-from-home (WFH) environment. In our hybrid work policy template, we have mentioned the most common ones, such as a work laptop. Companies may choose to provide other resources like a daily lunch stipend, other equipment for an office set up at home, access to employee wellbeing apps, etc.
5. Highlight the hybrid work policy owner and dependent stakeholders
If you've completed the steps outlined above, you have the building blocks of the hybrid work policy in place. Next, the organization must choose the specific HR professional who will take ownership of the policy, be in charge of updating it, look after communication, etc. Along with the policy owner, there will also be a few dependent stakeholders who are associated with specific clauses of the policy, such as technology, the physical workspace, etc.
6. Collect employee inputs and create the first draft
The hybrid work policy owner can conduct workforce surveys to gather employee input. For instance, do workers need a piece of equipment that was not originally planned for? Do specific job categories have different requirements when working remotely? These inputs will help create a first draft that sticks and does not go through multiple iterations.
7. Collaborate with other stakeholders, and finalize the hybrid work policy
Once the first draft is ready, the policy owner can work with the dependent stakeholders to finetune the policy and clauses. It is helpful to have a collaborative document management platform at this stage, as it will minimize iteration efforts, and make it easier to keep track of the different versions. At this stage, it is important to keep a check on the number of changes that are brought in, because incorporating multiple changes to the draft could prolong the policy release timelines and complicate the policy implementation process.
8. Share the hybrid work policy across multiple channels
The final step is for the team in charge to decide the channels that will be used to communicate the hybrid work policy and adapt the document for each medium. For example, the policy may be converted into a newsletter, a press release, a part of the career site, or a chapter in the existing employee handbook.
Learn More: How HR Can Help Working Mothers
3 Examples of Real-World Hybrid Work Policy Documents
Companies across the globe have come out with hybrid work policies that are properly structured, easy to understand and follow, and tailored to their unique needs. Here are three examples you can take inspiration from:
1.

Dell Technologies' flexible working policy
Dell has a relatively short policy document that is available as a PDF. The core policy statement explains how to enroll and unenroll from the company's hybrid work program, who is eligible, and the factors governing the hybrid work experience. You can even use Dell's hybrid work policy template for inspiration when crafting your own guidelines.
2. Amazon's hybrid work policy press release
Amazon has published the key tenets of its hybrid work policy as a two-minute-read press release, which is publicly available. The company's communication addresses employees as well as customers, and emphasizes the long-term impact of having such a policy. Amazon also focuses on company culture in its hybrid work policy, and notes the necessary rules and restrictions.
3. Google's hybrid work policy handbook
Google shares its experience of transitioning into hybrid work through an extensive handbook addressing both Google's workforce and Google Workspace users. The document serves as a useful hybrid work policy template, with special mention of employee engagement, steps to reduce fatigue, ways to improve collaboration, and initiatives to bring in workplace equity.
What To Include in a Hybrid Work Policy (Template)
A hybrid work policy document should include five key elements – definitions, rules, processes, declaration of benefits, and eligibility criteria. Apart from this, you might have to include other components depending on the nature and needs of your business. Here is a ready-to-use hybrid work policy template you can use:
Hybrid Work Policy Template
***
Please examine the terms of service, then complete and send the accompanying form to the manager for approval.
Brief Overview
This policy acts as a guide to assist all of our workers in understanding the flexible working expectations at [Company] and feel valued throughout their tenure. We continue to revise our policy in response to employee feedback, and welcome your questions and suggestions. We advise the workforce as a whole to view 202- [insert year] as a transitional year for this strategy, bearing in mind that many aspects are still in play (i.e., vaccination requirements, emergence of COVID variants, changing regulations, etc.).
Intent
1.1. We intend to boost our productivity while also acknowledging that a flexible work environment is critical to the recruitment and retention of employees today.
1.2. Given the wide range of positions within our company, there are several elements that will influence the acceptability of hybrid working for both employees and the organization. If an employee requests a hybrid working arrangement, we will evaluate their request, but it must have at least a neutral effect on our organization and not impose any inflexible working patterns.
1.3. Each request will be evaluated on a case-by-case basis; no agreement will serve as a model for future requests.
1.4. When office working is agreed upon, [Company] shall guarantee that our health and safety obligations are fulfilled.
Range of application
This policy is applicable to all employees who participate in a hybrid working program as well as those who regularly or usually work remotely, as opposed to those who occasionally work from home with consent, but are predominantly office-based.
Nomenclature
3.1. Hybrid: For the purposes of these standards, the term "hybrid" refers to any employee who resides within a commutable area, around and from the office, and operates across both locations.
3.2. Remote: For the purposes of these standards, remote is defined as a staff member operating full-time from a place other than [Company Name]'s [HQ location].
3.3. General working hours: Monday through Friday, [Company] is generally open from 9 a.m. to 5 p.m. Unless otherwise agreed upon with your supervisor, standard work hours are mandatory. The calendars must reflect any modifications to this schedule.
3.4. Customer-centric roles: There is a range of customer-facing positions throughout the organization. These encompass any position in which direct interactions with customers are a key aspect of the employee's work and service.
[Add further definitions.]
Hybrid Working Categories
4.1. The company realizes that there are multiple hybrid working models and that every employee will seek a model that best meets their own situation.
4.2. The following versions of the hybrid model are recognized:
Remote-focused:

When the task is carried out entirely remotely. Any attendance at the primary office HQ/factory floor/other bases of operations will be mandated only when a task requires physical presence.
Office-intermittent:

Where the individual periodically works from the office, but mostly operates remotely. The employee's management must agree on the frequency of the above [for example, office presence is > than remote attendance].

Office-focused, remote permitted:

Where the principal site of work is modified to maintain office presence as the norm, yet remote working is allowed. It must be negotiated with the employee's supervisor.
Hybrid Work Eligibility
As we believe you are capable of doing a good job for [Company] regardless of where you are located, we want to make sure that you have access to all of the resources and assistance you need. We as a firm believe that high-quality work can be produced when working away from the office, but we equally place a high value on the time that our teams spend working in the same physical location.
5.1. Provide each manager of a department the authority to make the ultimate decision on whether or not an individual and/or a job can successfully operate and carry out important responsibilities while working remotely.
5.2. Jobs ineligible for working remotely full-time are the following:
Office and building administrators.

Positions that cannot be efficiently carried out without access to certain individuals, the physical files located on-site, or specialized facilities, equipment, or technology.

Jobs involving direct interaction with customers and extensive travel.
5.3. In light of this, applicants for any post may seek the option to work in the office, work permanently from home, or work on a combination of in-office and remote shifts. To do this, all you need to do is schedule a meeting with your immediate supervisor to review the available choices. Be aware that the approval of the request is contingent on a number of factors, including your present performance, the requirements of the team, and the requirements of the company, and each request will be evaluated on an individual basis, as detailed below.
Hybrid Work Authorization Process
6.1. It is the duty of the employee to submit a request for hybrid working unless the job already necessitates this, and it is the obligation of the manager to examine the request in light of the needs and requirements of the team as well as our company.
6.2. Written requests to participate in hybrid employment should be submitted. Employees have the opportunity to submit one application for hybrid working arrangements throughout any given period of twelve months. In extraordinary situations, the employee's line manager may provide permission for the employee to submit further applications if such permission is requested in advance.
6.3. When evaluating the request, we will analyze whether or not the applicant has the abilities and qualifications required. Being self-driven is the most important quality for effective work from home, followed by:
Excellent time management and organizational ability to meet deadlines
Ability to work alone, be result oriented, and be relied upon to complete tasks
6.4. The manager is responsible for approving and monitoring the working hours and schedules of any remote-based staff. Remote employees are in a position of trust and are expected to complete their entire contracted hours; non-work-related activities are not permitted during working hours.
Expected Hours of Attendance and Availability
7.1. With regards to all permanent staff members: All full-time workers, whether they work from home or in an office, are expected to put in 40 hours per week and go to the office at least once per quarter and once per year for compulsory meetings.
7.2. Employees working from home: All of our workers are trusted to successfully complete their tasks. A few more measures are needed to do this in a distant setting: Use of your calendar and your working hours/vacation time, as well as (1) Zoom standups and (2) a Slack channel where folks may publish their availability (out to lunch, out of office, etc.).
7.3. Full-time hybrid workers: Employees who work a hybrid schedule are required to be in the office at least twice each week. Many department heads have established ideal in-office days for their teams in order to improve communication within the group and guarantee the availability of their staff for one-on-one meetings.
7.4. Hourly workers working from home: Hourly workers must keep detailed time logs of their work and submit them to their supervisors for review in order to be paid appropriately.
7.5. [Company] shall pay workers for all hours worked, including overtime, in accordance with the Fair Standards Labor Act (FSLA) [or insert relevant law]. This same logic holds true for labor done from afar, but only if we have knowledge or reasonable suspicion that work is really being done. Clocking in on your timekeeping app is crucial.
Remote and Hybrid Working Stipend
8.1. We provide all of our remote workers a monthly stipend of [insert amount] to go toward whatever makes working from home more convenient for them, whether it be a coworking office membership, childcare costs, a coffee budget, or any other expense. It may also be used to buy any of the culinary, health, or educational advantages that are available at our office locations.
8.2. Regular hybrid workers are compensated with a [insert amount] monthly allowance.
8.3. In addition to the regular compensation, we provide each of our full-time remote workers with a one-time stipend of [insert amount] to help them set up a proper workspace at home.
Feel free to speak with your manager or HR representative if you're unsure of whether a certain item is covered by your remote worker allowance.
Business Travel Clause
9.1. Employees that have a hybrid working arrangement are expected to be able to travel if doing so is a necessity of their employment, as well as come into the offices for meetings and training when necessary.
Work Equipment Provisions
10.1. When carrying out their jobs, remote workers are required to use laptops provided by the organization. You will receive a laptop pre-loaded with all of the essential software and apps.
10.2. On request, you may rent any extra essential equipment. [Company] is solely responsible for insuring goods that are on loan; equipment that is individually owned should be protected by the homeowner's insurance policy.
10.3. In order to be eligible for cost reimbursement, you will need prior permission for those expenses from a manager and will have to file an expense report.
Miscellaneous
11.1. When working from a designated workplace, every regulation and policy of [Company], including the ones that are outlined in our Employee Handbook, must be adhered to. These rules include but are not limited to, policies preventing harassment, regulations requiring secrecy, and policies governing attendance and confidentiality.
11.2. Employees are reminded that the hybrid work policy is not intended to be utilized in lieu of paid sick leave or any other kind of paid leave.
11.3. There have been no changes made to any of our policies regarding the benefits and pay of our employees.
[Add further clauses.]
Severance of Agreement
The remote and hybrid work arrangement may be terminated at any time, for any reason, by either the employer or the employee, and the termination can be done verbally or in writing. Your failure to comply with the terms and conditions outlined above may result in disciplinary action.
This policy is owned and maintained by [name of HR administrator or hybrid work manager] and was last reviewed by [date of the last review].
We request that you sign and return the attached work agreement.
***
Learn More: Top 10 Employee Engagement Trends
Business leaders and HR managers can use this hybrid work policy template to get started with the transition to the new normal.
Cloud-based HR software can simplify the management of hybrid work experiences and help with digitizing and automating key processes. Schedule a demo with Darwinbox today!