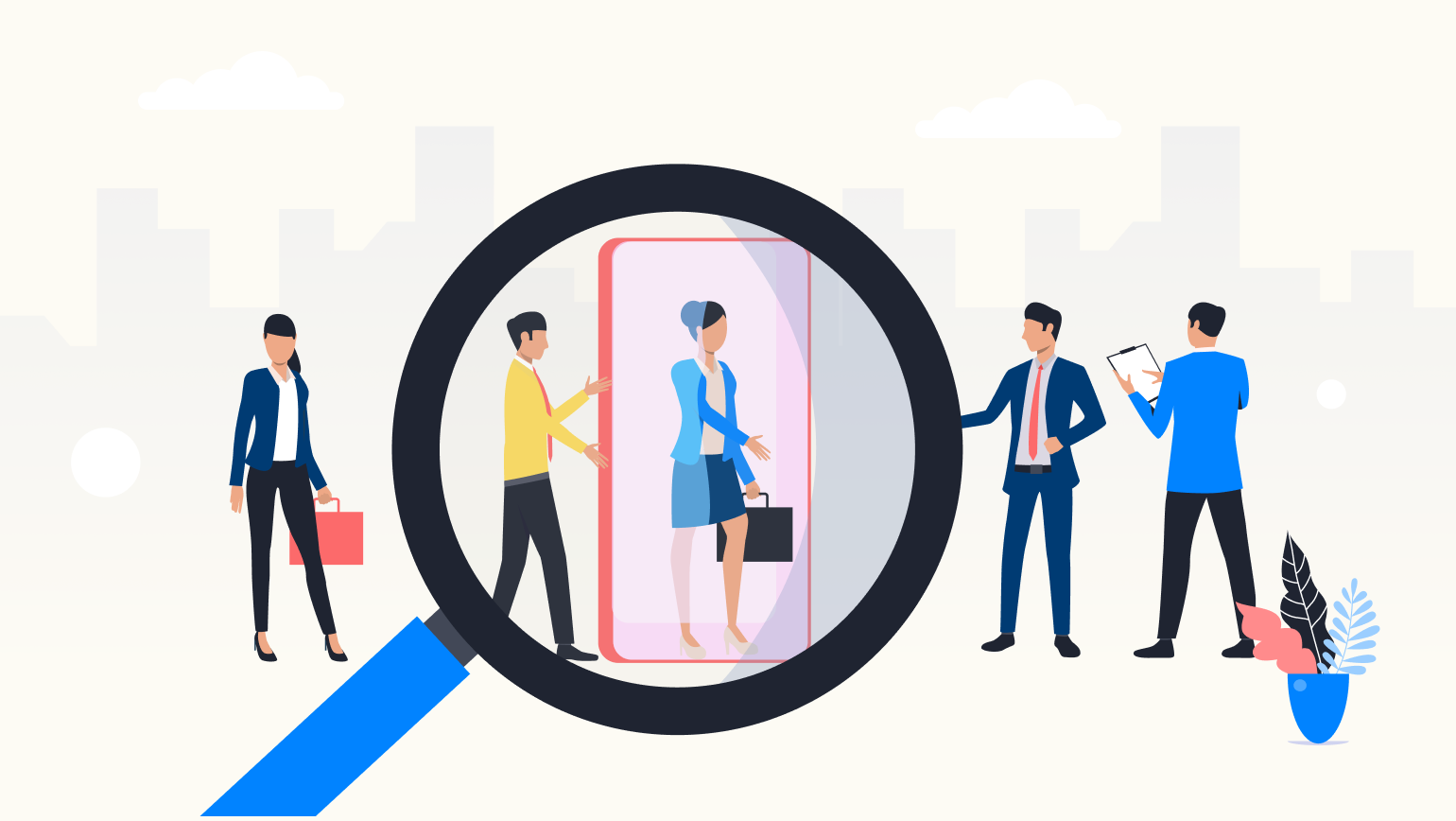 Creating a hiring strategy for your start-up is one of the most vital things you'll do as an HR professional. Here are 23 tips you can follow to up your hiring game in 2023.
Why Does Your Start-up Need a Hiring Strategy?
Do you have a hiring strategy in place for your start-up?
According to research, hiring the wrong employee can cost a company an average of $17000 per bad hire. However, this figure can go up to $240,000, depending on the role and responsibilities. Having a good hiring strategy in place will help you avoid this scenario.
The second vital reason to invest in a hiring strategy for your start-up is that you are not just competing against time but also larger companies with an established brand name and much larger budgets. All this for only often a small pool of specialized talent. To succeed against these odds, you'll need a plan to attract suitable candidates for the right roles.
Learn More: Recruitment Life Cycle: Importance and Stages
Top 23 Hiring Strategies for Start-ups for 2023
Here's the only list you need to help you hire the right candidate for a start-up in 2023.
1. Establish the Purpose of Hiring
One of the most expensive mistakes a start-up can make is over-hiring. It's essential to work closely with all the stakeholders and set clear goals before you even begin creating a hiring strategy for your start-up. Here are a few questions you can ask various stakeholders at this point:
What roles do we need to fill immediately?
Does this role require a full-time employee?
Can this role be automated now or in the near future?
What value does this role add in the short and long term?
Can the role be divided among your current employees?
Can you fill this role internally?
These are a few critical questions that can help you narrow down the positions and help you prioritize your hiring strategy. A clear understanding of the roles will also help you create accurate job descriptions, which, in turn, will help you set the right expectations for the candidates, resulting in better job satisfaction and reduced turnover.
2. Set a Hiring Budget
Setting a hiring budget is one of the key steps of creating a hiring strategy for your start-up. A budget will help you estimate exactly what a hiring drive will cost your business and allow you to calculate the ROI. Here are a few steps you can follow to set an effective hiring budget:
Calculate the total number of hires you need.
Create an estimate of the recruitment cost, including job board subscription fees, employee referral bonus, employer branding cost, fees to be paid to recruitment agencies if required, etc.
Calculate your cost per hire (Cost per hire = Internal recruiting cost + External recruiting cost / Total number of hires)
Take prevailing market conditions into account while setting your hiring budget.
3. Create Candidate Personas
Once the roles have been identified, the next step is to create a candidate persona. This is a semi-fictional representation of your ideal candidate. Creating a candidate persona is relatively easy. Here are a few questions that you can think about during the process:
Who is your ideal candidate – their age, position, salary, current job title, location, education, experience, and social background?

Why would they be looking for a change?

How and where does your ideal candidate search for jobs?

What are some key personality traits your ideal candidate must possess?

What motivates your ideal candidate the most?

What frustrates your ideal candidate the most?

What skills should your ideal candidate possess?

What kind of information does your ideal candidate consume and where?

Candidate persona will help you personalize your hiring approach, engage candidates better and create a better candidate experience. This will help you attract suitable candidates and help boost your offer-acceptance rate significantly while adding to employer branding efforts.
4. Create a Hiring Timeline
In a start-up, things move quickly. As such, it is advisable to have a realistic hiring plan in place for at least the next 6-12 months. This is why you must create a hiring timeline within your start-up's hiring strategy. The hiring timeline should account for the time it takes to hire employees. Depending on the skills and complexity of the role, this can be anywhere between 3-4 months or maybe even more. Here are a few steps you can take to create a hiring timeline:
Assign a start date for the hiring campaign.

Set a target number of candidates you want to review.

Assess the average time it takes to interview candidates and schedule interviews.

Set time aside for assignment reviews, offer rollout, offer negotiation, etc.

Based on the above calculations, assign an end date.

You can even share a portion of the timeline with candidates so they know exactly what to expect during the interview process. This will save both you and the candidate time, remove ambiguity and positively add to the overall candidate experience.
5. Invest in Employer Branding
Did you know that a negative reputation can cost a company 10% more per hire? Not just that, a survey found that: "86% of surveyed workers would not apply for, or continue to work for, a company that has a bad reputation with former employees or the general public". This is why your start-up needs to invest in employer branding.
Simply put, employer branding is the set of techniques you use to position your company as an employer of choice for potential hires. This is crucial for the hiring strategy you're drafting for your start-up. A few critical steps you can take to create captivating employer branding include:
Define your start-up's unique value proposition for employees.
Collect feedback from current employees and candidates to learn where you stand currently.
Encourage your current employees to post honest reviews on social media, job boards, Google, and other platforms.
Leverage social media to showcase exciting projects, company culture, employee spotlights, and more.
Personalize the employee and candidate experience.
6. Create Employee Referral Programs
There are few hiring strategies as effective for start-ups as employee referral programs. It has been found that referral hires are 40% more likely to stay on in your company than job board hires. The best referrals come from people who know the company culture and can vouch for the quality of its products or services. Employee referral programs also will allow your start-up to tap into employees' social networks and add to your employer branding efforts. Here are a few tips for creating an effective employee referral program:
Define the process and set the rules (skills, eligibility, incentives, etc.).
Keep the referral process simple and streamlined, requiring minimal effort.
Review referral metrics regularly to correct course as and when required.
Create an enticing reward structure – monetary, non-monetary, or a mix of both.
Provide timely feedback to referring employees.
Publicly recognize the top referrers in your organization.
7. Tap Into Job Boards
Hiring is one of the most important tasks for the HR team in any start-up. Job boards like CareerBuilder, Glassdoor, Naukri, Foundit (Formerly Monster), Dice, the LinkedIn job board, etc., can help you find the best candidates and make your hiring process more manageable by allowing you to tap into a vast and diverse talent pool. Here are a few steps to make the most of your job board postings.
Write clear job descriptions. Avoid jargon like 'storyteller' or 'sales ninja'.
Give the relevant details, such as the location, salary range, primary duties, skills you're looking for, etc.
Showcase your unique value proposition and benefits and make the most of your employer branding.
Have a clear search criterion (see point 1) and prepare Boolean search strings.
8. Make the Most of Social Media
Did you know that 92% of recruiters use social media to find great candidates? A hiring strategy based on social media is an effective yet relatively inexpensive way for your start-up to attract new talent. The fact is that with more digital native Gen Z entering the workforce, the job market is changing. Today more candidates are using social media to search for jobs. Here are a few tips to make the most of social media:
Coordinate with your marketing team and build your start-up's online presence.
Encourage your employees to share company posts on their social media handles.
Short videos or reels about your work can go a long way in engaging with potential candidates.
Join relevant social media groups, especially on professional networking sites such as LinkedIn.
Use social media campaigns to target potential employees (see candidate persona).
Focus on building a community.
Create a unique brand-specific hashtag for brand awareness.
9. Conduct or Attend Meet Ups
When the going gets tough, innovate! While job boards are an excellent place to find candidates, why not take an active approach to recruit? Rather than waiting for suitable candidates to apply, take a dynamic approach and organize or attend meet-up events. Besides being a chance to interact with potential hires, these meetups are great for spreading brand awareness and building a solid network that can be tapped into when required.
Learn More: Employee Branding, Advocacy and Social Hiring: In Conversation with Kunjal Kamdar
10. Organize Hackathons
Continuing in the vein of out-of-the-box hiring strategies for your start-up, organizing hackathons is another way to discover talent. Companies often organize hiring hackathons to attract talent who are good at coding and web development. For example, Google holds coding challenges where developers can come and showcase their abilities. Besides being a fantastic platform to spot emerging talent, hackathons can also help you evaluate qualities such as creativity, communication skills, teamwork, etc., which is not always possible via traditional recruitment methods.
11. Measure Results and Adjust Strategy
Having a strategy is ineffective without a way to measure outcomes. The hiring strategy for your start-up must include methods to measure outcomes at every stage so you can identify the challenges and take corrective actions. Here are eight metrics that will help you better understand the ROI of recruitment:
Source of hire

Applicants per position

Time to fill

Time to hire

Cost per hire

Offer acceptance rate

First-year attrition

Recruitment funnel effectiveness

For a detailed explanation of each metric, refer to our previous article.
12. Opt for Campus Hiring
Campus hiring is a popular recruiting strategy among many employers, especially tech giants like Google, Facebook, and even Microsoft. This can be especially effective if you're looking to hire at scale. You get access to a large talent pool with relative ease. Campus hiring is also a great way to fill entry-level positions at your start-up. Some of the best practices when choosing campus hiring are:
Build a list of the best colleges in your city, state, country depending on the scale of hiring.

Leverage your employer branding strategy and create buzz on social media amongst the student community.

Invest in a campus ambassador program.

Set up a student referral program.

Offer internships with the option of PPO or Pre-Placement Offers.

Give away branded merchandise such as t-shirts, sippers, etc.



13. Explore Hiring Remote Workers
Before 2020, employers often found their candidate pool was limited by geographical boundaries. However, the work landscape has changed substantially over the last few years. Today, remote working is in significant demand among many employees. In such a scenario, offering a remote working opportunity may significantly improve your start-up's appeal. The advantages include higher productivity, better employee retention, reduced hiring cost, and savings on office rentals.
14. Leverage the Layoffs
Often market conditions, mergers, buyouts, etc., may compel businesses to make difficult decisions and lay off a percentage of the workforce. While it is a difficult situation for the affected employees, this is an opportunity for you to tap into an enormous candidate pool. Utilize this chance to land great talent at reasonable salary expectations. Recruiting from this talent pool will also go a long way to reinforcing your brand's employer branding.
15. Build a Talent Pipeline
Over the years, you may have come across a number of applicants who applied to your company in the past. Perhaps they couldn't be accommodated at the time due to various reasons. Instead of discarding their resumes, use this data to build a talent pipeline. This will significantly reduce your time to hire, the candidate quality will likely be better and, more importantly, they will be interested in what you have to say given their past interest.
16. Invest in a Good HCM Suite
We cannot emphasize enough on the return on investment offered by a start-of-the-art HCM (Human Capital Management) suite. Besides streamlining the overall HR operations, end-to-end HCM suite can help you manage the entire hiring cycle seamlessly. Consider Darwinbox end-to-end HCM suite. Designed with fast growing businesses in mind, this new-age HCM suite comes bundled with technology such as candidate chatbot, stack ranking, smart filters, hyper-personalized recruitment, and an internal talent marketplace among others. This unique tech-stack helps makes the entire hiring process scalable while at the same time delivering a spectacular candidate experience from discovery to onboarding.
17. Utilize Assessment Providers
Hiring assessment providers are typically applications that help you hire the best candidate in the shortest amount of time. The advantages hiring assessment tools have over manual methods include faster turnaround times, a smoother process, improved accuracy in assessment, and eliminating any individual bias, to ensure a free and fair hiring process. Darwinbox's configurable architecture allows you to integrate assessment providers like HackerRank and Mettl seamlessly.
Learn More: The Evolving Role of the Recruiter: Looking ahead to 2025
18. Offer Unique Benefits
The war for talent has only intensified over the years. Organizations are vying with each other to get the best talent, often by offering huge pay hikes and perks. To stand out and differentiate your start-up, include a few unique benefits in your hiring strategy. Some examples of unique benefits are:
Offering permanent remote work
Learning/ upskilling allowance
Unlimited paid time off
Four-day work week
Mental health workshops
Flexible timings
Gym memberships
Birthday paid time off
19. Have a Transparent Hiring Process
One of the biggest issues candidates have with the hiring process is that the hiring processes are often quite opaque. This adds to the stress that candidates experience, breeds mistrust and negatively impacts the candidate experience. Instead, set yourself apart by providing candidates with a transparent hiring process. Here's how:
Give your candidates a timelines
Provide genuine and constructive feedback
Do not confuse a candidate – be clear with a yes or no response
20. Do a Thorough Background Verification
Hiring an employee is akin to investing in any financial instrument – if done without adequate research, it can turn out to be quite expensive for your business. This is why background verifications are so important and should be a part of your start-up's hiring strategy. A thorough background verification can help you confirm that the candidate is qualified for the role, uncover any past criminal records, keep your workplace safe and reduce your company's liability. Background verification vendors provide a range of services in this field. Darwinbox's easily configurable API lets you connect any background verification vendor to the platform, including multiple vendors. You can also assign a specific vendor to a candidate as required.
21. Deliver a Great Candidate Experience
Candidate experience is what a candidate feels while going through the hiring process. While a good candidate's experience can help you significantly improve your offer acceptance ratio and employer branding, a poor candidate experience can drive potential candidates away. This is especially true in the digital age, where word travels far and wide rather quickly. Here are some of the ways in which you can improve the candidate experience:
Keep the hiring process simple and preferably short.

Be clear and concise in the job description.

Don't 'ghost' or keep your candidates hanging.

Use inclusive language in all your candidate communication.

Craft an engaging interview process.

Ask for the candidate's feedback.

Have a smooth onboarding process.

Assign a buddy to new hires so that they can integrate themselves quickly into the new workplace.

22. Involve All the Stakeholders in the Process
It is advisable to open the hiring process to every relevant stakeholder. This includes future team members of the candidate, apart from management. Since the new hire will be a part of the team, they should have equal say in the recruitment process. A few of the benefits of making the hiring process a team effort are access to a diverse range of opinions which can improve decision-making, make for a smoother onboarding process for the candidate, and foster ownership-driven company culture.
23. Hire Freelancers
Not all roles in a company require a full-time employee. In such cases, hiring freelancers can be a more cost-effective solution. This way, you can save significantly on hiring costs while leveraging the services of subject matter experts. However, it's essential to assess the credibility of the freelancers in order to ensure a smooth flow of work.
Key Takeaways
The world is facing a talent shortage on a historical scale. A whopping 75% of employers have admitted to facing a hard time finding qualified candidates, according to a 2022 study published by Manpower group. These are clear indications that the talent war will intensify in the coming days. The future belongs to companies willing to make bold decisions, reimagine the hiring process, and invest in the right tools.
We hope this article will light the spark required to revamp the hiring strategy for your start-up and help you win the talent war in 2023.
Scale up your start-up's hiring strategy with Darwinbox's new-age platform designed for a fast-growing business like yours, book a demo today!