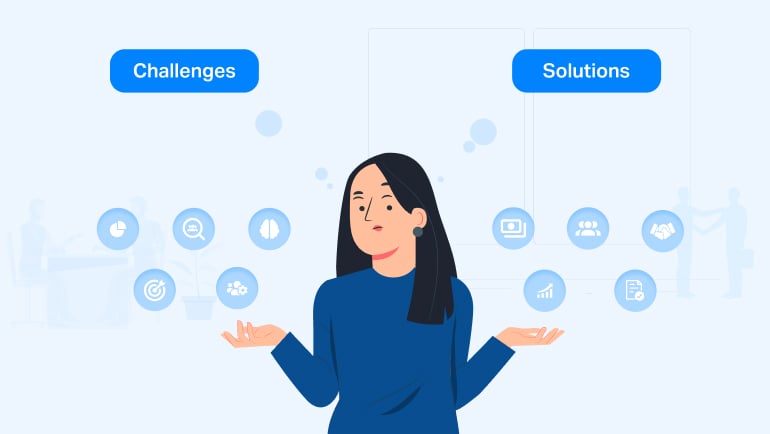 Amid growing demand for IT services, a pressure to stay lean, and budget constraints, how can HR leaders in the IT sector ensure that employees are able to adapt to the changing macro environment and are able to contribute to business growth? This article explains the top HR challenges in the IT industry in 2023. It discusses the HR issues, HR challenges and solutions that you need to know to ensure organizational success for your IT firm.
The digitization and digitalization of several industries during the pandemic has been great for the IT/ITeS sectors since they've seen a sudden, sharp growth in demand. This increased demand for IT services is likely to continue, bringing companies in the IT industry multiple opportunities for growth.
Consequently, HR leaders at companies in the IT industry have a lot of work on their hands. The scope of the HR function has grown, and HR professionals have the opportunity to shape the way the IT industry grows and taps into the potential before them. Of course, with great opportunities come roadblocks and challenges that.
Let's look at some of the most critical HR issues in the IT industry has to handle, and explore what solutions are available for HR leaders in the IT industry. .
How Can You Find the Best Talent for Your IT Company?
There is absolutely no shortage of companies or a dearth for jobs in the IT industry. But how would an HR professional find the right talent for a role? How do you improve your recruitment strategy when everyone is competing for the best candidates out there? How can you achieve optimal hiring in a job market, at a time when every company is trying to downsize?
While we are yet to witness the long-term repercussions of the COVID-19 pandemic on recruitment and other HR issues in the IT industry, you have to ensure that your company has a unique and distinctive competitive advantage when attempting to hire the best talent. This extends beyond offering free meals, gym memberships, and high salaries; these incentives have become the standard. So, what can you offer that will differentiate you from your competitors?
Solution to challenges around finding best talent:
We recommend paying attention to two important things: purpose and meaning.
Find, articulate, and convey meaning and purpose of the work the employee is expected to do. Exceptional organizations and the best IT prospects often want to see how a link between their work and awould create positive impact or contribute to a higher cause. Candidates are motivated when Relevance is created when there is a correlation between what a person greatly respects and what they spend their time doing. Unfortunately, this connection is not always apparent.
HR executives at IT firms should define the values the company is attempting to uphold, and construct a narrative of how every activity relates to these values. This involves communicating how your organization is positively impacting the lives of customers, employees, and the community at large.
How Should you Manage Remote Consultants, Outsourcing Partners, and Freelancers?
During the pandemic, a number of IT companies scaled up in response to increased demand for their services. Several are managing a team that is larger than ever before. They may also be tasked with overseeing different kinds of employees, from independent contractors to full-time employees, across a large geographical area. This can be challenging, especially when one has to stay compliant with state and even international compliance guidelines. This is a major HR issue in the IT industry.
Solution to challenges around managing a distributed network of contractors:
Provide information, maintain transparency, and seek outside help.
The first step is to ensure that the new contractual employees have all the relevant company information they need to complete their work efficiently. A robust knowledge base and conversational interfaces can be helpful if you have a small HR team that cannot deal with a deluge of queries from consultants, partners, or freelance contributors. In this environment, smart IT organizations are turning to unified HR and payroll tools to digitally manage workforce costs, remotely assist contractors, and deliver team data insights.
Learn more: Top 11 Employee Engagement Tools for 2023
How Can You Prepare for AI's Impact on the Workforce?
The market for artificial intelligence (AI) is expected to reach $190 billion by 2025, and 75% of HR executives feel they play a key role in incorporating AI technology in the regular flow of work. HR professionals must develop methods to seamlessly combine human capabilities with AI.
Introducing AI in HR processes and operations demands an examination of how the responsibilities of workers will evolve over the next few years . For instance, AI may minimize the amount of human effort required in a variety of technical positions, including software testing, quality assurance, and AIOps-based operations management.
Moving your entire team to an AI-led work environment is no mean feat; it is a process that takes time, and may cause major HR issues in the IT industry.
Solution to challenges around AI's impact:
Gather workforce data and rapidly upskill all your employees.
There will be numerous teething problems and unknown factors associated with AI, and that's why HR departments at IT organizations should begin preparing for this shift right away. Before AI is completely incorporated into the company's day-to-day operations, they need enough time to test, learn, iterate, and improve.
Gathering sufficient knowledge and data is crucial for developing agile strategies. Are there any specific manual activities that you could streamline using AI tools? How will AI influence the marketplace and your company? Sending out questionnaires and holding in-person dialogues with employees to collect recommendations and feedback will help shape your strategy that integrates AI in HR. HR leaders will be able to optimize business processes without compromising on values, or objectives, or causing major disruptions, and stay ahead of HR issues in the IT industry.
The information will also help you plan and execute learning and development (L&D) programs that give IT workers the skills they need to work with AI, and also to stay relevant in a world where routine tasks are fully automated.
Learn more: 75+ Ways for HR to Enhance the Employee Experience (EX) in 2023
How Should You Hire and Onboard Employees Remotely?
The COVID-19 pandemic brought remote hiring and onboarding into the mainstream.. To effectively manage the multiple manual tasks that are a part of everyday operations, IT organizations require a simplified and remote-friendly onboarding process and using next-gen HR technology to handle remote hiring and virtual onboarding can be a real differentiator for you, helping solve several of the common HR issues in the IT industry.
Solution to challenges around hiring and onboarding employees remotely:
Adopt modern, next-gen HR technology for the talent acquisition and talent management process.
An ideal remote onboarding process is one in which neither the new employee nor the HR professional is burdened with reams of paperwork or complicated contracts. HR technology platforms that permit electronic offer letter delivery, supports e-signature collection, and automates onboarding activities will be a major differentiator in a tight talent market and make life easier for HR leaders.
To prepare your entire recruitment process for remote workers, follow these tips:
Create and implement a scoring-based rating system. Before commencing with the interview session, you should have a score sheet prepared so that HR managers can quantify a candidate's eligibility for the job.
Throughout the interviewing and onboarding processes, set up video calls with the candidate, and pitch the employer value proposition of the firm so theprospect understands organizational values and targets, and why they should join your organization.
Remote hiring comes with the possibility of unintended bias influencing the hiring decision.. There is a high probability that you will not have a board of interviewers to counterbalance any personal prejudice. Hence, it is important for HR professionals to consciously work towards eliminating any chances of bias and ensure that processes are put in place to avoid bias.
A false negative arises when a well-qualified applicant receives a low score or creates an unfavorable impression. Use HR technology solutions to assess job-fitment across multiple parameters and account for such errors or exceptional cases.
How to Reward and Retain the Best IT Workers
Even as organizations are resorting to layoffs due to budgetary constraints, they want to retain their best employees in order to fight competition and maintain an edge over competitors.
As challenging as it is to recruit the right talent, rewarding and retaining them becomes even more critical. Does the IT department have a strong performance management system (PMS) to assess the contribution of each employee in line with the organization's business objectives? Conversely, is the model very subjective and reliant on the managers and team leaders? The latter is one of the major HR issues in the IT industry.
Solution to challenges around rewarding and retaining workers:
Implement a fair, objective, and employee-centric system. In accordance with the standards of the IT industry, top performers should be suitably rewarded with merit-driven promotions and increase in salaries. Optimal outcome-based systems, such as OKRs, should be resistant to prejudice and subjective judgment.
A next-generation PMS will also assist managers in identifying high-potential workers for efficient succession planning. AI-driven HR technology with predictive analytics features can be useful in such situations.
These HR solutions provide help with carefully monitoring and documenting individual accomplishments throughout the performance cycle, thereby facilitating the recognition and rewarding of outstanding IT professionals.
Additionally, there must be a robust rewards and recognition (R&R) program that identifies top performers and rewards them. This contributes to the long-term retention of talented IT employees and boosts operational efficiency.
Learn more: How to Create a Total Rewards Strategy in 2023 With Darwinbox x Compport
How to Provide a Healthy and Nurturing Work Environment
The IT industry is infamous for its adverse working conditions and a toxic work environment. Every employee is subject to the pressure of meeting tight deadlines and working long hours. Around 39% of respondents to a study of the IT industry cited either burnout (22%) or concern that they lack the tools and assistance necessary to execute their jobs (17%).
Due to a rapid digital transition, a dramatic increase in cyberattacks, and the proliferation of new technologies and software, IT professionals have had an extremely stressful time in recent years. It is important for HR teams to provide a work environment that eases some of this stress and helps workers get back to a healthy, productive rhythm.
Solution to challenges around work culture and burnout:
Encourage work-life balance and provide stress management tools. Instead of promoting a "work hard" culture, encourage a "work smart" mindset to achieve greater work-life balance. You may do this by teaching and encouraging the executive team to prioritize projects with the long-term benefits rather than trying to hustle with multiple projects at the same time.
AI could potentially handle tedious, repetitive chores, allowing employees more time to focus on the most important projects.
Providing employees with a good, clear work-life balance can involve a variety of initiatives such as flexible work hours, extensive vacation days, remote work options, and other kinds of wellness and health aids.. All of these elements are necessary to address burnout, which is among the biggest HR issues in the IT industry. HR professionals should also work towards using AI-driven tools to understand employee needs and requirements, and customize these wellness efforts to each person in the company. Sophisticated data analytics tools enable you to collect, analyze, and monitor this data and make informed decisions.
Learn more: How to Craft a Successful Hybrid Work Environment
How Do You Provide Compelling Benefits with Easy Administration?
In a recent survey, 45% of IT leaders said their organization is reducing their annual budget amid fears of a recession, and most of the remaining resources will be routed toward infrastructure and product development. In this environment, planning and executing a standout employee compensation and benefits package can be difficult.
In addition, many IT companies are small or medium-sized startups that struggle to navigate benefits management independently. The HR manager is often required to cover several aspects, such as knowing what kind of healthcare insurance to provide, to understanding copays. Compliance and sifting through data on employee perks may also cause HR issues in the IT industry, imposing a significant burden on a rapidly expanding IT business's modest HR department.
Solution to challenges around benefits administration:
Digitize and automate benefits management. Choosing a reliable compensation and benefits administration system that allows workers to self-enlist and administer benefits empowers team members and relieves HR of administrative duties. This ensures that benefits are in line with payroll or insurance providers and does not create new HR issues in the IT industry.
A comprehensive organizational benefits package may go a long way toward recruiting and retaining IT the best tech talent. It might be a significant differentiator between competitors who are going after the same set of IT professionals and trying to hire them.
Learn more: Highlights from Darwinbox's HR ChangeMakers Club Session: Digital Foundation For A Future-Ready Workforce
Conclusion
Most of the solutions to the key HR challenges in the IT industry call for two things: a strategy that factors in the latest IT industry trends, and digital tools that can help you adapt swiftly and efficiently..
Unified, next-gen HR technology suites like Darwinbox help you do more with less, thanks to AI that makes tasks and the user experience much more intuitive. It includes all of the HR needs of IT firms in one solution -- from hiring and benefits to time management -- eliminating another common HR challenge in the IT industry, which is lack of integration.
Ask for a Darwinbox demo to learn more about how you can overcome the top HR issues and HR challenges and find solutions.