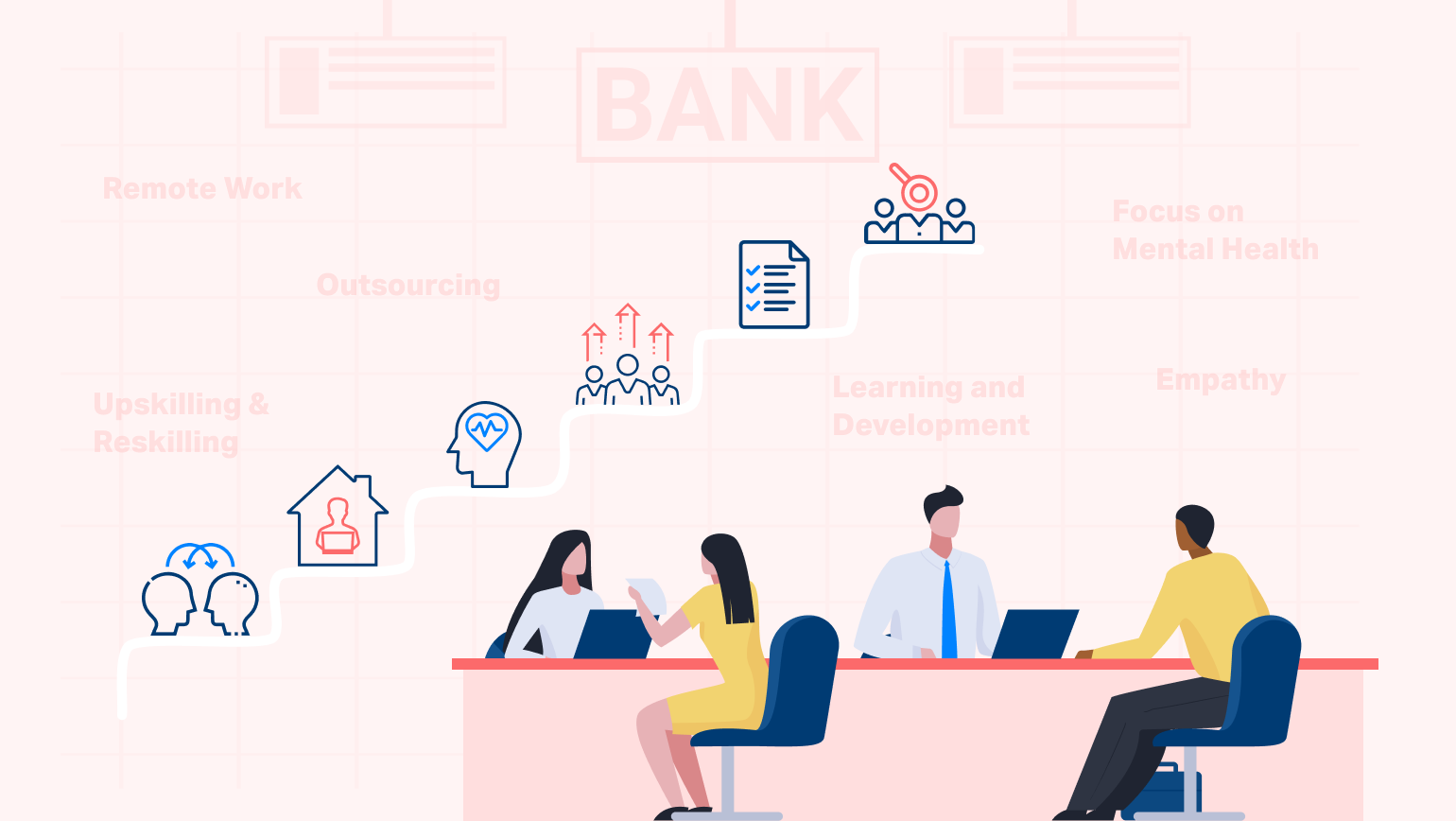 The banking industry has been on the path of HR transformation since the COVID-19 pandemic. In this article, we look at the HR trends that the banking industry will see in the year 2023. 
The Emergence of HR as a Driver of Success
The scope and importance of the HR function in the banking sector have experienced an incredible ramp-up over the last two few years. HR leaders have led the charge to keep things up and running. HR has been a critical driver of operational and strategic success, from enabling remote working at an unprecedented scale to focusing on human capital needs like reskilling the workforce. It is evident that the disruption caused by the pandemic has transformed how people practices will be configured in the banking industry for a long time to come. Having said that, let's look at HR trends in the banking industry for the year 2023.
23
HR Trends in Banking for 2023
Remote Work

According to 2020

survey,

63% of banking professionals said that their company needed to make changes to enable employees to work from home. More than 70% of respondents said that remote work boosted employee productivity. The 2022 'Crowe Bank Compensation and Benefits Survey' has revealed that 52% of respondents plan to allow employees to work remotely in the future. With more banks planning to move away from a traditional work model to a remote or hybrid work model, we consider this the biggest HR trend in the banking industry for 2023.

Learn More: What Is a Hybrid Work Schedule & How HR Can Implement it

The Digital Movement

Digitization and digitalization are the two main factors powering the digital banking movement. According to Simon Paris, CEO of Finastra, "Digitizing means converting into digital format anything which is currently manual or paper-based. Whereas digitalizing is a whole new way of thinking". The top goal for HR in the banking sector will be assisting leaders and staff in managing digital disruptions in order to build an agile, collaborative, and learning-focused organization.

Increased Pay Levels

In an attempt to improve retention, banks have increased pay for their top performers as well as average-level employee wages in the past few years. Since 2021, pay gains have increased for all performance levels, although top performers have had the most increases, with an average increase of 10% from 6%. Additionally, the average salary hike for workers who met goals was 8%, up from 3% in 2021. This trend is positioned to continue in 2022 and 2023.

Leadership Development

It is time for leaders to reimagine the work that their workforce can accomplish

using intelligent

technology. The focus of the leadership will be on creating visions for the future and addressing issues like how and where the organization will concentrate its efforts in order to offer value.

Leadership development programs will cover the adoption of intelligent technology and skill development.

People

skills like empathy, listening, and sharing will be considered essential business skills.

Revitalization of HR Policies

With a large magnitude of mergers and acquisitions in the banking sector, the convergence of multiple banks leads to dynamic newer needs. This raises the need for consolidation and harmonization of policies and processes. Hence, the revitalization of HR policies and processes as an outcome of such strategic alliances will be a trend in the banking sector.

Focus on

Mental Health

Owing to volatility in the sector

,

it is critical to communicate clearly and honestly with the employees

and

give

them a feeling of stability.

Employees will feel more secure and

inspired to advance within the company if a mental health

program

is implemented

.

W

ell-being initiatives

should be

provided to support a healthy work-life balance

. Employees must

feel trusted

and

s

hould be

informed of potential internal changes.

Upskilling and Reskilling

Upskilling is essential, given how quickly the financial sector is entering the digital sphere. To function more effectively in the modern workplace, the HR professional's role has been adjusted to include digital HR. Additionally, banks are increasingly adopting intelligent technology to save costs and increase process efficiency and customer satisfaction. Therefore, it becomes critical to incorporate new skills into leadership, functional, and behavioral development frameworks as firms invest in data analytics and Artificial Intelligence (AI) platforms.




Learn More: Top 10 HR Analytics Tools for Organizations in 2022

Innovative Outlook

As the banking industry forays into disruptive technologies like Artificial Intelligence (AI), Machine Learning (ML), and Blockchain,

the responsibility to wield them effectively will rest on skilled and qualified employees who know the nitty-gritty of the trade. Along with the specific skills, the workforce will need to be innovative and have an intellectual curiosity. 

Connectivity, Openness, and Empathy

Connecting with the employees and being open about the fact that leaders are also new to the digital workplace and learning every day will help them bridge the gap between the leadership team and frontline workers. Banking companies may decide to spend a significant amount of money on programs that will improve employee learning and mental health, ensure their safety, and keep them motivated. Banking institutions may invest in HR tech to facilitate collaboration, communication, and engagement among the workforce.

Alignment of Employee Experience With Customer Experience

Historically, HR has overseen "internal customers" or employees while the frontline staff has catered to service external customers. Now, HR will need to consider external customers and coordinate hiring, rewarding, and performance management procedures from the perspective of the customers. Every organizational procedure and policy must be evaluated from the customer experience perspective, while HR will continue to be responsible for ensuring a positive employee experience.

Soft Skills

In the face of digitalization and automation, soft skills like leadership, persuasion, delegation, team management, and interpersonal communication will be more crucial than ever. HR practitioners will need to be organizational strategists as administrative and transactional duties decline. More and more employers are agreeing that HR practitioners in Banking will be increasingly evaluated based on soft skills in addition to hard skills.

Recruiting and

R

etaining

M

illennials and GenZ

In order to boost technical proficiency and add more diversity to the role, a shift in perspective has occurred, and younger generations are increasingly sought after to fill

several

positions

in the industry.

However, the banking sector may still have trouble keeping young talent.

54% of banks in a

survey

responded that retaining younger talent is "somewhat challenging," 12% responded that it is "very challenging

,

"

and

34% of banks responded that retaining younger talent is "no more challenging."

Learning and Development

Banks want to attract and retain talent

but

cannot

compete based on remuneration alone to motivate staff. They must create a cohesive team, a likable workplace culture, and a productive learning environment and support their employees' professional and financial development.

Creating a cohesive environm

ent that facilitates learning and development will

be an HR trend in the banking industry in 2023.

Addressing Gender

Pay

Differences

Banking organizations may keep taking action to address the growing problem of gender pay gaps, with an analysis of those gaps being the most typical course of action. Affirmative action monitoring, keeping a structured compensation guide, and participating in several training sessions and conferences are other approache

s to addressing gender-based pay

differences

that

we

will

see

in 2023.

Employee Diversity

Customers choose businesses with a track record of commitment to Diversity and Inclusion (D&I). HR leaders will need to continually assess and emphasize D&I. Banking institutions will attempt to ensure that people of all genders and backgrounds have an equal chance of being both employed and able to progress through their organizations fairly.





Learn More:

How to Make Diversity, Equity, and Inclusion (DEI) a Reality in Hybrid Work

Skill-based Hiring

Banks have implemented Centralized Banking with connectivity between branches. The recruiting trend in this era of digital culture will be centered on competency to cater to the increasing need for convergence between the domains of Banking and IT. Organizations will look for candidates with agility and the willingness to explore novel ideas. The most sought-after candidates will have an aptitude for managing dynamic business environments and a flair for experimentation and creativity.

Layoffs

The banking industry may witness layoffs because of the economic downturn and the switch to automation in some jobs. According to a Wells Fargo Report of 2020, automation will lead to a loss of 200,000 banking jobs in the next 10 years. However, even if technology eliminates certain occupations, it will also create new positions and free up workers' time to work on more interesting projects.

Hiring

to Aid the Digital Movement

Positive trends will be observed in functional areas, i.e., customer-facing roles like Sales/Business Development, Client Servicing, and Collections

.

For candidates with

11 to 16

years of experience,

the

emphasis may be on selecting professionals

who can promote the adoption of digital culture

and perform

supervisory roles.

Organizations may

focus

on executives

with

at least 16 years of experience as evangelists for digital culture.

Outsourcing

Outsourcing various operations to increase productivity and lower costs is a prevalent HR trend in the banking industry. This will entail spending little to no effort on routine control, policy, and regulation roles and

strategically devoting

more time to tasks that add value. Employers will consequently look for new personnel who can be disruptors and find new sources of income. Candidates will be assessed for creativity and innovation in doing business.

Technical and Behavioral Competencies

Organizations will need to train mid-level and junior-level staff in technical and behavioral competencies, so they can use intelligent technology to drive growth by enhancing capabilities. Employees using sophisticated technologies will be able to recognize customer preferences and adapt to shifting client demands. They'll need to be adept at experimenting with technology to boost sales and foster stronger client relationships.

High Demand for Compliance and Risk Specialists

Organizations in the banking industry are particularly risk-aware. As long as ongoing digitalization initiatives continue, there will be a need for specialists to support these advancements. In order to reduce financial risk, ensure compliance, and promote greater digitalization in the industry, these specialists will need to supervise new processes and procedures that are put in place.

Change in Organizational Structures

There

will be a

transition from

a

hierarchical to

an

agile organi

z

ation

al structure

, where people have autonomy, leaders delegate to teams with authority, and interactions are less formal and more

flexible

. Agile teams

will be better equipped to

provide

excellent customer experiences

.

HRMS in Banking

With needs like skill-based hiring, retention, learning and development, D&I

et al.

, the banking sector may see a trend of using HRMS software for human capital management.

HR Software for Banking Industry can help

streamline every human resource management function,

from recruiting the right talents to the banking industry, real-time processing of requests, managing employee engagement in the industry, looking after their payroll and retirement benefits, and more.
Learn More: Top 10 Key Functions of Human Resource Management (HRM)
What the Future Holds
As is evident from these trends, the banking industry is positioned to witness a whirlwind of changes in the coming year. These trends will transform processes and systems and shape the future of the industry. Banking organizations in this fast-paced world of work will have to go beyond simply coping with change. They will need to face challenges head-on and learn to be agile in the face of disruptive changes. In this scenario, the role of HR will be far more exciting and strategic than in the past.An end-to-end, module-based, highly configurable HRMS platform can be a great ally of the HR function in the banking industry.
Interested in exploring further? Find out how Darwinbox can simplify human resource management for your banking institution, book a demo today!