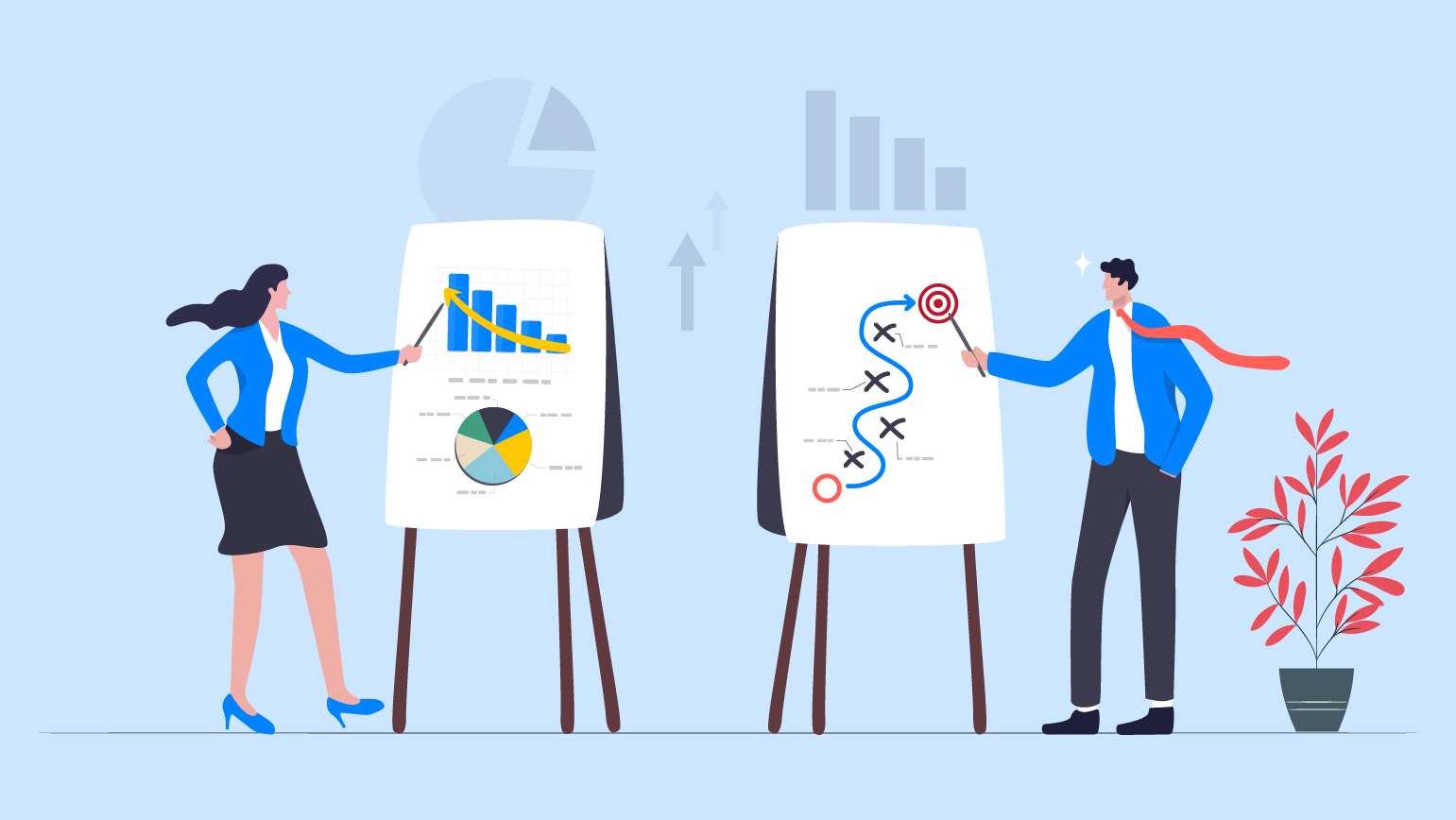 Performance management as a function is constantly evolving. Here are 35 performance management statistics that every HR leader must be aware of, to be able to execute the performance management process at their organization successfully.
Performance management as a function is complex and has changed drastically over the last few years. Employee needs and demands from a performance management cycle too are changing by the day, and companies are constantly iterating their performance management process to make it more efficient and productive.
Data and performance management statistics can be extremely useful in helping HR leaders shape their performance management strategy.
We've curated 35 important and interesting statistics on performance management that every HR leader should know:
1. The Future of Hybrid Work: According to data from a McKinsey study across nine countries, more than 20% of those surveyed said that they could work remotely three to five days a week without it impacting their productivity. If this trend persists, more remote and hybrid models could emerge in organizations, and HR departments will have to help with the transition.
2. Employee Engagement: 90% of business leaders agree that engaged employees perform better. A survey by Harvard Business Review Analytic Services found a clear link between employee engagement and performance.
Learn More: Performance Management Approaches, Models, & Frameworks: The Ultimate Guide
3. Low Net Promoter Score: According to a survey by Deloitte, performance management has a very low net promoter score of -60. This performance management statistic indicates that the employees rated their review/appraisal systems negatively. With detractors outnumbering those who viewed performance management favorably, there is an urgent need for performance management systems that can reverse this trend.
4. Absence of Robust Systems: While 98% of organizations say performance management systems are vital for growth, only 64% are confident that they have an effective strategy in place. The 2022 survey by Willis Towers attributed this gap to the absence of robust systems used in designing and executing a performance management framework with clear goals.
5. Continuous Performance Management: Companies that switch to a continuous performance management process outperform their competitors by 24%. A Betterworks survey found that 66% of companies using a continuous performance management model were able to implement year-round productivity enhancements. The survey also found that 35% of companies without continuous performance systems failed to implement year-round productivity enhancements. This performance management statistic indicates the need for software systems that can support a continuous feedback process.
Learn More: Top 5 Performance Management Metrics to Track Performance
6. Traditional Review Systems: Data from Gartner shows that 59% of employees feel that traditional performance review systems have no impact on their individual productivity. This particular performance management statistic shows that annual reviews are not as effective as many organizations believe. As several months pass between task completion and the review/feedback process, employees cannot act on their learnings.
7. Focus on Individual Goals: 82% of employees want their organizations to view them as people with individual goals and aspirations and not just as resources. This statistic from a report by Gartner suggests that performance management will have to prioritize personal and organizational goals equally. There has to be a synergy between the two, as well as an atmosphere where employees can discuss their goals freely.
8. Weekly, Consistent Feedback: Only 14% of employees strongly agree that they are inspired by "typical performance reviews" prevalent in most organizations. This statistic from Gallup's internal analytics indicates that weekly feedback systems and regular coaching are much more impactful.
9. Top-Down vs Bottom-Up Approach: Most employees spend around 40 hours per year on performance review-related tasks, which is significantly lower than the time managers put in. This survey by Gartner also found that managers spend 10% of their entire work year on performance management. This indicates a lack of involvement from employees, and performance management remains a top-down process.
10. Rewards and Recognition: 71% of employees who are recognized by their managers feel more engaged and motivated in the workplace, as per a study conducted by positive psychology expert, Michelle McQuaid and the VIA Institute on Character. In other words, performance management processes that allow managers to get to know their employees better tend to have a more positive impact on workplace outcomes.
Learn More: Examples of Performance Management Done Right
11. Time Spent on Performance Management: Managers spend an average of 210 hours a year on performance management, as per a 2015 CEB survey. In spite of the drastic changes we've seen in the market over the last few years, this performance management statistic remains relevant and shows that most organizations continue to hold onto inefficient methods of performance management. It is vital to learn from this insight and refurbish existing systems for time and cost savings.
12. Two-Way Feedback: Employees who feel heard (e.g., through two-way feedback systems and engagement surveys) are 4.6x more likely to perform better. A strong performance management function establishes the necessary communication channels for regular feedback. This has significantly impacted the quality of work, as per data collected by The Workforce Institute at UKG and Workplace Intelligence.
13. Performance Ratings: Statistics show that removing performance ratings can lead to a 4-10% decline in employee performance. This interesting data point from Gartner reveals the need for performance ratings and why it remains a key process for most organizations.
14. Mental Health & Burnout: 84% of HR departments said burnout was a major issue that needed to be addressed using performance management. This statistic from a 2022 survey shines a light on deteriorating mental health conditions among the global workforce, especially after the pandemic.
15. Diversity, equity, and inclusion (DEI): 36% of HR leaders struggle to maintain accountability when it comes to diversity, equity, and inclusion (DEI), as per a 2021 Gartner report. This makes inclusivity a top performance management trend, especially when setting performance goals for a company's managers and those in decision-making roles.
16. Continuous Performance Management: Continuous performance management can help engage the entire workforce more effectively than companies using the traditional annual method (58% vs. 37%). The benefits of performance management become most apparent when there are modern, agile systems in place. This Betterworks survey also found that a continuous approach motivates the workforce more.
17. Employee-Centric Performance Management: When performance management focused on building employee strengths (rather than removing weaknesses), turnover rates fell by 14.9%. This performance management statistic from Gallup indicates the benefits of a positive, employee-centric process.
Learn More: How to Successfully Plan and Implement a Performance Management Process
18. Employee Satisfaction Levels: HR teams with a continuous performance program are 50% more satisfied than HR teams in companies that rely on an annual system. This statistic from a 2021 report from Betterworks indicates that companies will increasingly move towards continuous performance management models, with monthly, weekly, or even daily feedback.
19. Skill Development: A Gartner study found that 47% of HR leaders are not aware of employee skill gaps, and 60% of HR leaders say that building new skills and competencies will be their top performance management priority.
20. Talent Acquisition: 57% of companies have some form of skills taxonomy to help make payroll and hiring decisions in a competitive labor market. This statistic from a 2021 Mercer report is particularly relevant in the wake of the Great Resignation. As companies compete for the most highly skilled talent, skill-based pay will be a basic performance management priority.
Learn More: The 22 Best Performance Management Books for HR
21. Annual Performance Reviews: The use of annual review systems decreased from 82% in 2016 to 65% in 2017, 58% in 2018, and 54% in 2019. Going forward, less than half of all organizations will use performance management software that focuses only on annual reviews, as per SHRM's report.
22. New-age HR Technology: 77% of companies state that employee experience (EX) programs and technologies have helped increase their revenues; 50% said that it helped reach their growth targets. These statistics from a recent Forrester survey show that it is essential to invest in performance and other technologies that influence employee experiences.
23. Performance Management Software Market: The performance management software market will increase from $2.29 billion in 2019 to $5.82 billion by 2027. This insight from Verified Market Research shows there is a growing demand for cutting-edge performance management solutions aided by the rise of cloud and SaaS technologies.
24. Future of Work: 49% of HR leaders do not have an explicit future of work strategy, which means that they are largely unprepared for emerging performance management needs. This statistic from Gartner underscores the importance of cutting-edge software that can support and guide today's rapidly evolving workplaces.
25. Weekly Check-ins With Managers: 85% of surveyed workers who have weekly check-ins with their manager(s) have reported that they experience higher levels of employee engagement as compared to their counterparts who have annual reviews. In contrast, only a mere 2% of employees feel disengaged with weekly check-ins with their managers.
26. Popularity of Annual Reviews: A recent report from Workhuman states how the companies in favor of annual performance reviews have fallen from a whopping 82% to just 54% from 2016 to 2020.
27. Anxiety Around Performance Reviews: A TriNet survey recently reported that out of all the surveyed, about 22% of the workers said that they have called in sick in the past because they were anxious to receive their annual performance management reviews.
28. Manager Satisfaction: TriNet also reports that of more than half the workers receiving performance reviews, about 59%, feel that the manager is underprepared to provide the best, most actionable feedback during annual performance review sessions.
29. Poor Quality Feedback: Additionally, about 62% of the workers reported that they felt blindsided by the feedback that they received from management.
30. Performance Management and Onboarding: More than 1 in 5 new hires said that their ongoing experiences at their company made them question their choice of job. Performance management software must be utilized starting from the recruitment lifecycle to improve EX, set well-defined targets, and communicate clearly with new hires. This is even more important when onboarding is taking place remotely, as per a Cezanne report.
31. Outdated Performance Management Strategy: ClearCompany says that only about 3% of businesses out there can confidently say that their performance management practices are top-notch, while 48% report that their practices need some serious revamping.
32. Need for Recognition: Performance management sometimes might not result in recognition, which proves to be a significant setback. For instance, ClearCompany revealed that 37% of workers surveyed in their study reported that they would feel encouraged to produce better results if they received more praise at work.
33. Delayed Performance Reviews: SHRM learned, through a recent study, that managers are often unable to complete employee evaluations for as many as 50% of the workforce they oversee. These reviews reportedly go overdue by at least 30 days.
34. Efficacy of Performance Management: Even though about 98% of US businesses believe in the importance of a performance management process, only 64% of them can say that they have an effective process to address it.
35. Rewarding High Performers: According to Gallup's research on performance management across India, out of people who agree that good performers in their company are rewarded significantly better, 41% are actively disengaged.
Identifying the trends and relevant statistics on performance management will help your organization prioritize and plan your performance management strategy, and prioritize transformation tasks, be it moving to a continuous evaluation system or driving engagement in a hybrid model.
A modern, cloud-based performance management system (PMS) can help you execute and manage your performance management program. To learn more, schedule a demo of Darwinbox today!