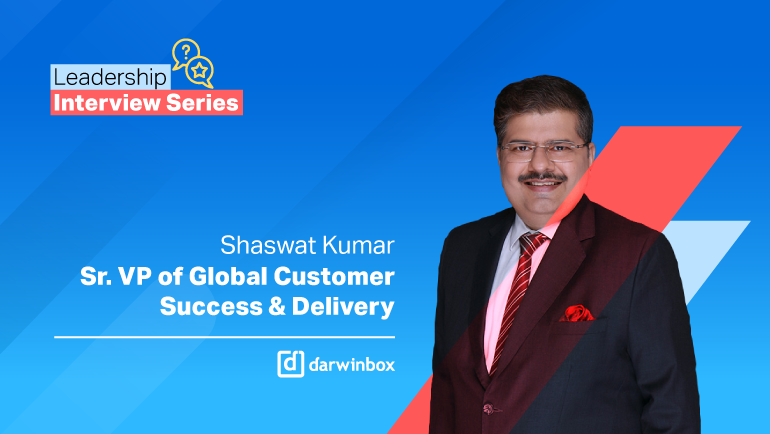 Everyone knows value realization is the key to unlocking better business outcomes because it takes the customer-centric approach to a whole new level. But how many people can mine this concept to realize results? Organizations who want to win this game need to have strong captains who have the stamina and expertise to guide the team towards achieving the goal of realizing value, and fast.
Shaswat Kumar, Senior VP of Global Customer Success and Delivery at Darwinbox, is one such able captain who has 2 decades of experience of multi-geographical and multi-cultural experience in helping businesses with their HR transformation journeys and helping them achieve their business outcomes. He joined erstwhile Hewitt in its HR Effectiveness practice and in his last role at Aon was driving HR Transformation for largest clients anchored on outcomes across Asia Pacific, Middle East and Africa.
We got into a candid conversation with Shaswat to discover the real deal on value realization, HR transformation and everything in between.
Here are the excerpts from the interview:


Darwinbox: Today digitalization in Asia is shaping worldwide trends in work tech. How can businesses realize the true value of HR transformation?
Shaswat: All transformations are about people. Businesses truly need to empower employees to deliver on their bigger transformation agenda. For this to happen they need an HR Function that acts as a business performance consultant and like a custodian of the org culture. HR functions are unable to truly function as per defined operating model because of ongoing fires and inefficiency around transactions. Also, broken processes result in bad data which, in turn, never allow for a switch to a way of working that is anchored on data storytelling - the language of broader business.
HR Functions need to get their Digital Transformation right which is a combination of right digital deployment and recalibration of the HR Operating model. Getting digital deployment right means getting the Employee Experience right, thereby accelerating the HR tech adoption which, in turn, leads to improved data quality for decisions. Altering the HR Operating model leads to better internal collaboration in HR and with the business. This is anchored on insightful data to enable decision-making around Talent Outcomes.

Darwinbox:

What does it mean for organizations to be 'talent outcome' focused?
Shaswat: Today, when a CEO calls for HR Transformation, the underlying need will invariably be around the issues of Talent Mobility, Learning Agility, Innovation, Productivity, Critical Roles Hiring, Improved Workforce Planning and Talent Analytics. Priority of these outcomes will differ by customer organization; or by business units within the same organization as they might be on very different stages of growth and maturity. For example, mature businesses will tend to focus on productivity, critical roles etc. as they need to get more value out of existing stable businesses and also drive transformative initiatives. Similarly, fast-growth new ventures will focus more on Strategic Workforce Planning, Recruitment, Speed of decisions etc.
Effective HR Business Partners work as business performance consultants because they understand the broader environment in which their business functions and connect the same to different strategies being adopted. They use this knowledge to understand the most important capabilities needed for the business to compete, desired outcomes and programs which have a high connect to the same. This allows them to prioritize things.

Darwinbox:

What's your vision for Darwinbox? How do you see the value realization game plan pan out for the company's 600+ customers worldwide?
Shaswat: Looking at the narrative above, just like HR function is a catalyst for larger Business Transformation, HR Technology is an enabler and accelerator for the larger HR Transformation. As Darwinbox, we have a unique opportunity to enable this for our clients by helping them align on outcomes that are most important to them early in the sales process. Through the deployment journey and post go-live, we help clients build visibility around the progress we are making. As clients appreciate the journey, they have travelled with us and the progress they have made, the renewals become both natural and more rewarding for us.
As we mature in this discussion together with product colleagues, we will have the opportunity to build cross-client benchmarking services, community sharing for clients, get the best insights from experts to our clients and so on. All this will be done to both help clients solve their challenges, and to address opportunities which they may not be tracking.

Darwinbox:

You have been at the forefront of several trend shifts in HR. Given the influx of technology in our work and life, w

hat does the future of HR/ HR Tech look like in the coming years?
Shaswat: Asia saw the sharpest adoption of mobile since 2010 and this surprised most global organizations. For people working in Asia, this was a natural outcome as desktop access was historically low, vernacular languages were better supported on mobile, telecom costs plummeted, and finally formal sector workers became over-qualified (from an education perspective) compared to western counterparts. However, large customer organizations were late to react as they had just moved to on-premises HR Tech systems around 2008-2012 and were not ready for another wave of transformation. These organizations stuck with their best-of-breed approach to HRMS and did piecemeal experiments. Contrastingly, smaller organizations, who were scaling up fast and who had little legacy investment, leapfrogged with cloud-first HR systems and greatly benefited from them.
Post-COVID this started changing and we saw large enterprises finally moving their core HR to cloud platforms across the region. However, the demand graph has not been as sharp as expected because organizations are grappling with balancing scope and integration of HR Tech and Work Tech. We will see more complex demand emerge where clients will always want Service Tools integration, Channel integration etc. Successful players will both partner with these providers and compete with them.

Darwinbox:

Share some milestones and key learnings from your 2 decades of experience with Hewitt, Aon, Alight that would benefit our readers.
Shaswat: At Hewitt, we did a research study called 'Next Gen HR' around 2005 where we spoke to CEOs of Fortune 500 firms. Even then, the CEOs had asked for talent outcomes i.e., talent supply, how to build high performing teams, employment bond and talent insights (Analytics).
When looking for solutions, we realized that all these were horizontal outcomes whereas HR Functions were organized by functional silos. This hasn't changed much even today. As Aon and Alight, we continued to study this theme in the region. It is worth reading the "State of HR Transformation Studies", latest findings of which pointed to the fact that the biggest driver for high impact HR functions is their ability to change their ways of working. The report was created by surveying 1000+ organizations who have cross-functional collaborations, look at talent analytics periodically, take corrective actions, drive organizational change and again huddle together to review impact.
This habit of constant course correction has the biggest impact on all other HR outcomes. It may sound simple but this is tough to achieve in an HR environment that is divided by silos, is still grappling with transactional challenges and puts low trust in data.
At Darwinbox, we want to address this transactional challenge and with advanced UX, drive adoption and data quality. I believe that we have a tremendous opportunity to partner with our customers for a bigger transformation.
If you want to hear more from people working in various areas, check this space for our full collection of interviews.