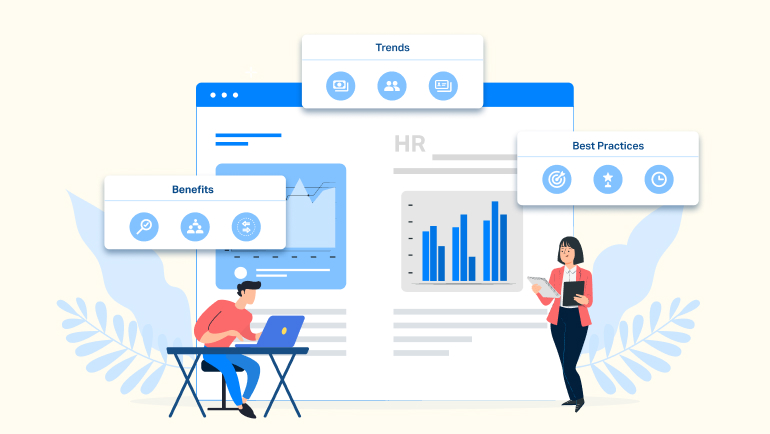 The HR function in the IT industry is extremely important given the large number of people IT companies employ, and the impact the IT and technology sectors have on the economy. A robust HR strategy can help handle key challenges like talent shortage, a need for fast upskilling, and high turnover. This article explains the benefits of an HR strategy in the IT industry, along with the key trends.
The human resources (HR) function plays a crucial role in the information technology (IT) industry. The sector relies on a variety of workers, from software engineers to client relationship managers to run the business. The IT industry also operates in a fast-changing landscape, with new technologies and market trends influencing the sector and impacting the kind of work employees in the sector do. This is why the role of HR in the IT industry is given importance, and HR leaders are critical to the successful functioning of the business.
An Overview of
HR in the IT Industry
The responsibilities of HR in the IT industry can encompass multiple roles, such as setting up processes and systems to enable employees to complete tasks, ensuring compliance around working hours, planning the remote or hybrid work policy, organizing events, managing performance, designing career tracks, maintaining the company's reputation as an employer, and much more.
Small IT firms may put off having a full-fledged HR department – but eventually, a dedicated team operating on a clear HR strategy are essential in the IT sector given the close correlation between business success and technical skills, capacity for innovation, employee personality, and experience.
HR in the IT industry is both exciting and demanding. With each new employee milestone, your team's goals shift as new business requirements and compliance obligations arise. So, a phased, controlled, and standardized HR strategy is required to manage human capital whether you have only a few employees or have more than a thousand employees.
Understanding the
Importance of HR in the IT Industry
The role of HR the IT industry is a crucial one, particularly in R&D contexts where success or failure is directly attributable to talent. Product development and the creativity involved in discovering new solutions for current and potential markets can only happen when talent is engaged and secure.
While the global IT sector is quite a mature one now, the maturity of the HR function varies significantly across different kinds of IT firms.. On one end of the spectrum, the role and importance of HR in the IT industry is restricted to administrative tasks like sending job offers, payments, benefits management, employee database administration, processing training submissions, etc.
Then there are companies where there is growing importance of HR in the IT industry is due to the value it adds in planning headcount and working on staffing programs, compensation, and rewards, training and development programs, employee engagement, etc.
Ideally, however, the HR function should be seen as a strategic one for the company, with responsibilities ranging from identifying the most suitable business areas in which employees should be deployed to figuring out the right talent mix.
The HR function's significance in the IT business is partly attributable to their involvement in establishing successful organizational structures led by the appropriate group/function head.
Yet another argument for the importance of HR in the IT industry is that the sector is only as successful as its employees. The IT industry is a classic knowledge-based industry.
This is particularly applicable here because in the IT business, where engineers are largely responsible for creating software, envisioning solutions, designing products, and sustaining processes in a virtual environment — the overall quality of any output is directly proportionate to the market's innovative solutions.
The smarter the workforce, the bigger the opportunity for building superior products and bringing success.
Learn more: HR Service Delivery: A Complete Guide
What Are the Challenges Faced by
HR in the IT industry
?
While the increase in digitization and digitalization have been great for the IT industry, it has also brought in problems that HR leaders need to fix.
Here are some of the top challenges HR leaders in the IT sector face:
Growing burnout among workers, leading to disengagement, attrition, and loss in productivity

: 'Hustle culture' and chasing steep targets are often promoted and celebrated in the IT sector. They, however, could result in creating a toxic work environment. Ineffective leadership, unclear direction, excessive workloads, and a high-pressure work environment are all among the top stressors in this business. Working in such a workplace could lead to employee burnout and a drop in productivity, and high attrition.

Challenges with hiring skilled workers vs. investing in skill development

: One of the unique challenges in the IT sector is that a small section of the talent pool is highly sought-after while the rest find it difficult to find jobs and are underpaid in the jobs the get. The level of technical education is sometimes inadequate, particularly for IT roles of the future, and HR leaders have to constantly work to balance hiring skilled workers vs hiring promising talent and investing in skill development for them.

Gender diversity and other issues around DEI (Diversity, Equity, and Inclusion)

: Men and women in IT companies start their professions at a comparable age, but men advance faster in their careers compared with women. At IT organizations, there are more women in lower-level roles, but very few in executive positions. This is among the most significant HR concerns in the IT sector.
Incorporating AI into IT workflows without negatively affecting the staff

: HR leaders must strike a balance between human work and automation when introducing AI in IT processes. Effectively integrating AI into existing workflows demands an analysis of how the roles and duties of people will evolve over the next few years and planning for AI will be a major HR task in the IT sector.

Providing career development opportunities

: Most often, companies have few internal positions at the senior level to accommodate technical workers who want to move up the ladder, and not many IT companies invest in leadership skill development. This is a crucial challenge for

HR in the IT industry.

Challenges around hiring and retaining millennials and Gen Z employees

: By 2030, the workplace will largely consist of these two generations. Young professionals often bring new and challenging expectations, to which HR leaders must adapt. For example, a Gen Z worker may seek meaning and value in what they do, rather than just focusing on their salary and compensation. HR leaders must also adapt to the needs of the new world of work, and plan their strategy accordingly.
Learn more: Managing HR Issues in the IT Sector: Best Practices & Solutions

6 Notable HR Practices in the Information Technology Industry
The IT/ITeS sector is quite different from manufacturing, retail, BFSI, and other such old economy sectors. Consequently, the way HR teams operate, and what is asked for HR leaders in the IT sector is quite different. Over the last few years, HR leaders in IT have brought in interesting, unique practices that HR leaders in other sectors can adopt. Here are a few HR practices that are common across IT companies:
HR Leaders often wears multiple hats
Smaller IT companies don't always hire professionals solely to handle HR needs. An HR person's role in an IT firm is a multifaceted one with a range of varied responsibilities. HR professionals are typically tasked with hiring new employees, coordinating workplace activities and administration, ensuring smooth functioning of different departments, manage talent development, etc.
IT recruiters are usually well-versed with IT, and the company's tech stack
Recruiters in the IT industry are usually qualified in IT and have the technical expertise required to handle the preliminary screening of candidates, particularly for middle and senior-level development roles. Often, IT firms outsource the process to recruiters specializing in the IT business, because at IT companies, the hiring panel typically has both HR professionals and technical experts.
IT recruiters typically hire for culture fit
The job interview process in an IT firm is different from many others – the first few steps of the recruitment process at an IT company are handled by a technical expert, be it a developer at the company or a technically-qualified external headhunter. The HR specialist steps in only after the candidates clear the technical interviews. HR professionals at IT companies are specifically trained to evaluate a candidate's soft skills, talent potential, etc., because at times, even if the candidate doesn't have exceptional technical skills, applicants with an awareness of organizational culture and those displaying the potential to learn on the job, are hired. . Most leading IT companies have extensive internal employee development programs, to build on the employee's existing skills, tap into their potential, bring in culture fit, and foster the necessary skills.
HR in the IT industry regularly works with full-timeand contractual staff.
IT companies usually employ a large number of contract workers, and typically run mass hiring programs. They also work with staffing firms, and other vendors to find employees who can work on projects for a limited period of time. As a result, HR specialists at IT companies have excellent vendor management skills. Contractual staff are often employed across a wide range of projects, from independent testing of a product to marketing assistance or maintaining technical documentation.
HR in the IT industry is known for its innovative HR processes and models
The IT sector was the first to introduce work-from home options, and hybrid/remote working models much before the COVID-19 pandemic forced nearly every sector to switch to remote work. This is one of the examples of innovative practices HR professionals in the IT industry have introduced to the corporate world. HR leaders at IT firms require and possess a high degree of confidence to construct, develop, launch rapidly, succeed regularly, and at times, fail swiftly. Another example of innovation in the IT industry is the benefits plan on offer. Technology and IT companies introduced the concept of offering multiple benefits and work flexibility along with the salary in the employees' total compensation package.
A proactive recruitment culture is the norm
Since there's perpetual talent scarcity in the tech and IT sectors, companies have a strong and vibrant recruiting culture. Talent acquisition is recognized as a top priority that benefits everyone, and organizations are now also beginning to give more importance to talent development. Over hiring, however, may lead to the need for hiring freezes and layoffs, if the benefits of HR strategy in the IT industry are not weighed carefully.
Learn more: Top 11 Employee Engagement Tools for IT companies
Benefits of A Strong HR Strategy in the IT Sector
Crafting the HR strategy in the IT industry involves solving an organization's core challenges using people-centred solutions. This includes working with the management/leadership to establish corporate policies, planning recruiting and talent management, working on remuneration, and codifying organizational values.
A major benefit of having a HR strategy in the IT industry is that it optimizes the technical and non-technical resources of an organization so that it can meet its larger commercial goals.
Another benefit of having a robust HR strategy in the IT industry is that it enables organizations to deploy funds in a manner that maximizes return on investment (ROI). Employers who take this approach to human resources are able to:
Reduce staff attrition

Enhance staff engagement and productivity

Attract outstanding talent to avoid business disruptions.
Rethinking HR strategy and elevating it from having a strictly transactional role to a strategic one might be challenging for IT companies, particularly if you are scaling from the startup stage or you have always favored technical over non-technical functions. However, it is essential to do so, considering the competitive benefits talent-driven IT businesses get from having a clear HR strategy and having an HR representative at the leadership table.
Emerging HR Trends in the IT Industry
The IT sector isn't what it was in the early 2000s when IT companies were just being born. It has evolved significantly and is now on the cusp of another major transformation. What are the key movements shaping HR practices in the IT sector? What are the patterns that one needs to observe, and prepare accordingly?
Here is a list of emerging HR trends in the IT industry that deserve your attention, as you get ready for innovation and change in 2023 and beyond:
Disengagement among IT employees is common, making HR's role critical
The bedrock of employee engagement is contentment at the workplace. Job satisfaction influences everything for an employee, from the level of their performance to their desire to remain at the company for a long time. On a scale of 10, how satisfied are workers with their jobs? A mere 19% of IT personnel responded in the affirmative. This is an emerging HR trend in the IT industry, one that needs immediate attention and intervention.
Upskilling and reskilling will be just as important as hiring right
The global IT and technology sector landscape is continuously evolving, making it essential for IT businesses and their workforces to embrace and instill the principles of agility and continuous learning. To enable this, there's a greater pressure on HR than ever before on hiring the right people and continuously developing competencies of the current workforce. It is no longer enough to just bring the best minds into the company; HR professionals but also focus on upskilling, reskilling, learning and development.
Employer branding is a big part of HR's job in the IT industry
Effective recruitment requires that human resource managers are well-versed with social media, and other platforms that will enable them to communicate with their target audience or talent pool. HR professionals are expected to have the ability and the soft skills necessary to turn employees into referrers and evangelists who can attract the top talent to the company. HR teams will be entrusted with positioning the business as the employer of choice to boost brand recognition and attract candidates.
Employee expectations will shape work experiences
Traditionally, it has been a one-sided arrangement where businesses dictated the standards, and individuals either complied or left. In the wake of the Great Resignation and other such disruptions over the last couple of years because of the COVID-19 pandemic, IT companies have realized that it's not a one-way street anymore.
Businesses have to provide value to workers in the same manner that employees must provide value to the company. Even with layoffs and headcount optimization, top talent is still hard to retain. Employee experience has gained importance and will continue to remain one of the top priorities for any IT company.
HR in the IT industry will become exceptionally data-driven
There is a lot of opportunity for using data and people analytics in HR in the IT sector, especially since HR professionals will have access to technical expertise and digital infrastructure. For example, HR teams could go beyond exit interviews and conduct large-scale exit interviews and collect data from employees leaving the IT company. By combining this data with other HR-related data points (performance, promotions, remuneration, etc.), the HR team can make patterns and correlations, and use this to recalibrate strategy, policies, and processes to improve the overall employee experience.
There will be an increase in demand for HR roles in the IT industry
Working with technology isn't for everyone. HR professionals who like a fast-paced workplace culture, and have the inclination to gain technical expertise in IT and next-gen technology will be in demand. HR professionals who are able to work in a rapidly evolving environment will be a great fit in the IT sector. and this one of the most important emerging trends for HR in the IT industry.
HR teams will hunt for 'intrapreneurs'
It is highly probable that in the future, the most gifted and intelligent individuals will not choose to work for businesses. Individuals with an entrepreneurial bent of mind prefer to avoid joining large corporations, and those who do are regarded as "intrapreneurs" in the IT industry. HR executives and IT businesses which can inspire and foster an individual's entrepreneurial spirit by providing a more comprehensive bundle of support systems and incentives will have the upper hand. It will increase productivity and innovation, foster leadership skills, and grow the business.
Learn more: 20 Examples of AI in HR You Can Learn From

HR Best Practices in the IT Industry
To tap into the potential and maximize the impact of HR in the IT industry, organizations can follow these best practices:
Measure HR success in terms of top talent retention, and not just overall attrition data
In most IT companies, the HR department's success has been primarily judged by attrition levels. Low attrition would imply that employee engagement levels are high and that skill development initiatives are operating efficiently.
However, this approach to measuring HR success will no longer be accurate in the new world of work. Today, reduced attrition doesn't always mean that the HR team is performing its duties flawlessly. Retaining top talent – the employees who are the primary driving factor behind winning products or services, while also being a major driver for innovation – is essential to an IT company's success. Losing even a few of these high-performing individuals would make a dent on the company.
So, the HR function's responsibility goes much beyond curtailing attrition to improving employee engagement, ensuring career growth and skill development, improving productivity, and so much more.
Consequently, an HR team must be evaluated on all these aspects, in addition to attrition levels.
Solve key HR challenges using technology
To succeed in the new world of work, IT businesses must invest in both state-of-the-art technologies and in their employees. Consequently, HR teams must work with the latest technological innovations, and use it for talent management.
Deploying the right technology platform that supports all HR tasks is one of the difficulties HR professionals face nowadays. In addition to selecting the appropriate platform, it is important to ensure that employees use the platform regularly. Resistance to transformation at any and all levels frequently constitutes one of the HR function's greatest challenges.
The management and senior leaders at IT companies can help with this by ensuring that the IT and HR teams work together to use HR technology platforms to solve key challenges.
Scale your HR capabilities as your company grows
Outsourcing HR processes might work well for IT companies that have only a few employees. However, as a company grows, and has, say, 50 employees, it is important that the HR function is moved in-house so the company can have better control over the HR strategy. .
It is essential to develop a people management team capable of managing challenges such as compliance, recruitment, diversity equality and inclusion (DEI), compensation, and much more.A basic HR department should have a recruiter, compliance manager, payroll administration, DEI manager, benefits administrator, and the CHRO, and must invest in HR tech tools for its operations.
Learn more: How to Craft a Successful Hybrid Work Environment
Conclusion
In an industry marked by stiff competition and complex workplace conditions, the HR function plays a pivotal role. That is why HR in the IT industry is one of the most exciting places to work. It is one of the sectors that provides HR professionals the opportunity to innovate, experiment, and find ways to overcome key challenges.
Unified, next-gen HR tech solutions can alleviate several of the top challenges faced by HR in IT and open up new pathways for optimization and growth. To learn more about how HR technology platforms can help HR leaders in the IT sector, schedule a demo with Darwinbox.