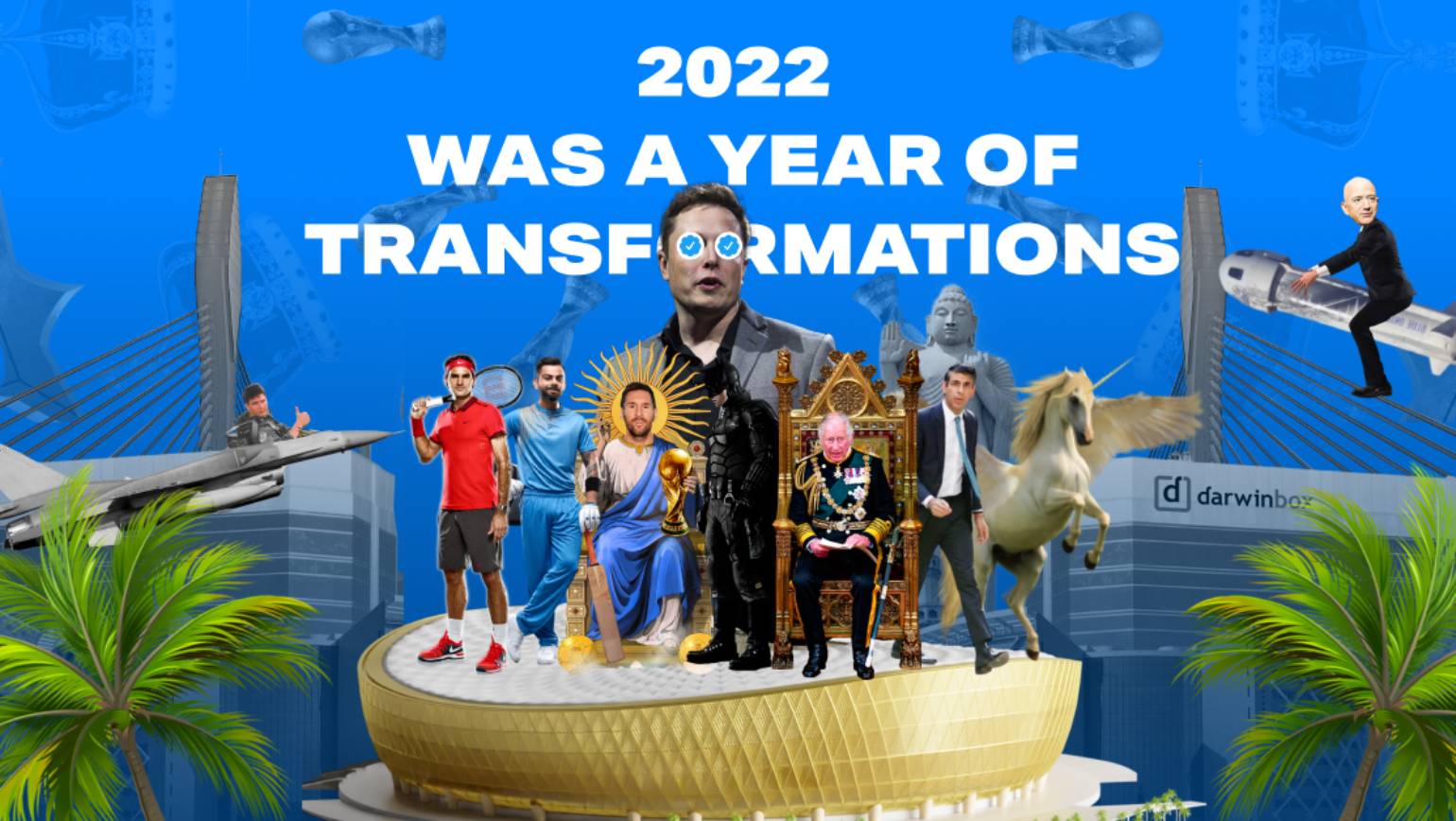 2022 was transformative year, in economics, politics, sports, and culture, all over the world, and at Darwinbox as well. Let's take a look at the top 10 reasons that made 2022 a Year of Transformation.
2022—what a whirlwind of a year. 2020 feels like it's so far behind us, and while the world has moved on, the theme of rapid change remains and doesn't feel like it's going away any time soon. Yes, 2022 was indeed a transformative year, and we saw this in several spheres—economics, politics, sports, and culture, all over the world, and at Darwinbox as well.
The new year comes with a burst of energy, built on the exciting events of the year just gone. So, let's take a look at the top 10 reasons that made 2022 a Year of Transformation. This isn't just an HR's year in review, it's a look at the definitively transformational events of the past year. Let's get into it.
TL;DR? Watch the 2-minute video instead!
1. Lionel Messi transforms from G.O.A.T. to Football God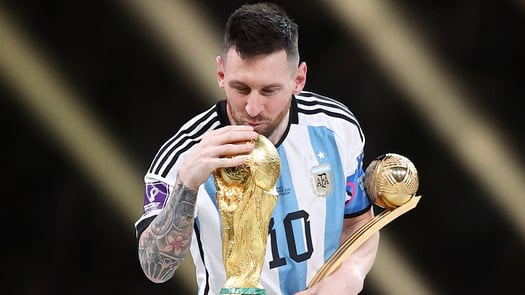 Image source: Sky Sports
In a World Cup that was already unique in that it took place in November for the first time, a certain diminutive Argentinian finally did it—he won everything there is to win in the modern game. Comparisons with legends are bound to be made (though Messi did it without a Hand of God), and the Ronaldo/Messi debate will rage on, and yes, winning the World Cup depends on the team you have at the time and a million other factors… but will anyone really deny that Messi has ascended to the status of Football God? As a 35-year-old, when most players call it quits, he captained his country to victory, scored only one goal less than the 23-year-old Kylian Mbappe to just miss out on the Golden Boot, and won the Golden Ball for best player of the tournament. And this caps two decades of playing football at the highest level, with sublime creativity and inimitable grace. The final empty space in his overflowing trophy cabinet is lonely no more, and his seat in the Football Pantheon is indisputable.
2. We got blockbuster Series D round funding led by TCV, $72 million
Darwinbox's valuation skyrocketed to the $1 billion mark in January 2022, when the American funding company, TCV, led a Series D round of funding that brought our total investment to $110 million. TCV boasts a portfolio of the likes of Netflix, Spotify, and Airbnb… and now Darwinbox too. The round also had backing from our previous investors, which is a testament to our HR tech vision for the foreseeable horizon. The right investments are being made to realize that vision, to IPO and beyond, as we continue to build for the employee.
3. Torches were passed—Roger Federer, Virat Kohli, Queen Elizabeth, and Batman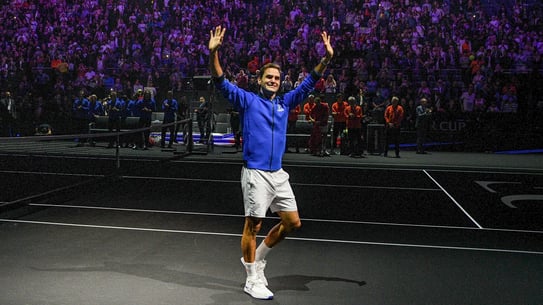 Image source: NYT
These absolutely institutional figures handed off the torch this year. The longest reigning English monarch, Queen Elizabeth, who sat on the throne for a whopping 70 years, passed away thus leaving the crown to her son Charles. The once-in-a-lifetime ceremony was full of pomp and grace. Virat Kohli stepped down from the captaincy of the India men's cricket team, perhaps amid some controversy. Nevertheless, nothing can take away from his accomplishments as he makes way for the next generation of leadership in the global cricket powerhouse. Roger Federer retired, and perhaps the only controversy left is who really is the best, him or Nadal. Whatever the world decides, "FedEx" will always be remembered for his skill and class, on and off the court. And the world got a new Batman, in a reboot that reinvented the character in a way that felt fresh—a monumental task. Christopher Nolan and Christian Bale left some pretty big boots to fill with their gritty and grounded take on the story, but Matt Reeves has brought the romance of the graphic novel back with his use of anamorphic lenses and hard lighting, while Robert Pattison (who himself has transformed from vampire heartthrob to bona fide action star) brings a new, raw brooding-ness to the role.
Hop on over to watch the video!
4. We moved into a

brand-new

home—The Global HQ in Hyderabad
Darwinbox opened its new office space in HITECH City, Hyderabad. And this will be where we consolidate the majority of our team to drive our global mandate, this will be our global headquarters. But the space is set up to really feel like coming home. The open layout is designed to promote collaboration, and this goes well with the warm colors, soft chairs, and house plants. The environment is crafted to enable our folks to deliver their best. And even as we settle into our new home, we continue to solidify our presence in other locations as well, having opened offices in the gorgeous DIFC district of Dubai and the bustling city of Kuala Lampur as well.
5.

The Power Shuffle—UK PM and economic leadership
Image source: BBC
It was musical chairs at 10 Downing Street not too long ago. Boris Johnson vacated the position amid a bit of kerfuffle. Liz Truss, who took his place, stayed for just under 2 months. This paved the way for the UK's first ever Indian-origin PM, Rishi Sunak. In other news, there was a shuffle of economic powerhousery, as India overtook the UK in terms of size of economy, becoming the 5th largest economy in the world.
6.

We moved up the Gartner Magic Quadrant
For the second year running, Darwinbox was listed on the Gartner Magic Quadrant, essentially being named in the top 11 "HCM for 1,000+ employee organizations" across the globe. We are once again the only Asian-player in the mix, and that's not all—our "rank" has gone up. While the Series D funding is a testament of faith from our investors, the Magic Quadrant listing is a testament of faith from the industry analysts, and this drives us to work harder and do more to keep delivering the employee experience that organizations seek in this world of the future of work. HR transformation is a never-ending game, no matter what year it is.
Check out our year in review video!
7. Jeff and Elon go to space
Image source: CNN
In an event that transforms what's possible for all of us, we had not one, but two civilian rocket launches by tech billionaires Jeff Bezos and Elon Musk. Bezos actually went into space himself. What does this hold for the future? One could be forgiven for imagining that something like this was the triggering step in the space-opera movies and books that we've seen and read. Is this how humanity's foray into the stars begins? Speculation aside, it shows the level of engineering that we are at as a species. Even if commercial space flights are a ways off, surely parts of this technology will trickle down into something like daily use. While there's no denying that we've got a lot of work today, we believe in the power of people, and to us the future holds a lot of promise. (By the way, if you want to see our take on a space adventure, do check out our first ever graphic novel).
8. We bolstered our platform with the right partnerships, acquisitions, and industry leadership
While we nearly doubled our own team size, we teamed up with strong partners to leverage the expertise needed for the next stage of our journey. The acquisition of Compport has strengthened our Performance Management offering, while partnerships with Tech Mahinda, UST Global, and Mercer gives us formidable allies. And our own leadership was fortified with experts from industry giants like EY, Microsoft, Salesforce, Deloitte, Gartner, and Cornerstone; they are now helping guide the future of the platform and imparting their experience and wisdom to the wider team. And the results are already showing as we had a number of key product releases in 2022, including surveys, Darwinbox Atlas, skills and talent framework, and integration with LinkedIn and Microsoft.
9.

The JWST changed our perspective of our universe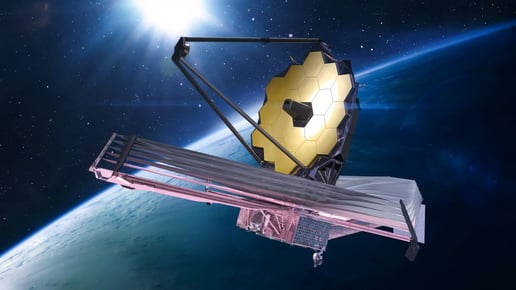 Image source: Space.com
One of the greatest engineering marvels our species has ever assembled, the James Webb Space Telescope is an infrared telescope that is giving us a look into the universe that has hitherto been impossible. With the ability to resolve into focus stars that are extremely far away using multiple mirrors and infrared detectors, we can look back in time almost to the Big Bang itself (well, it's close in astronomical terms). While the raw science of the JWST is well beyond the scope of this article, we can admire its innovation, and the drive of the scientists to relentlessly push forward thereby giving us unbelievably clear images of the Tarantula Nebula, exoplanet HIP 65426 b, the Cartwheel Galaxy, Stephan's Quintet, and the JWST Deep Field.
10. We got back from on-screen to in-person
You don't know how much you'll miss something until it's taken away, and we missed face-to-face interaction! We were super happy to get back to the office. In fact, by our count, there was a massive swing in the percentage of our folks clocking in from office on the Darwinbox app between 2021 and 2022— 59%, in fact! Not only that, but 38 of the 44 events we held last year were in-person events. It was a blast to get back out there and meet and greet with our community. We look forward to more of it in the year to come.
And there you have it, here's 10 reasons that made 2022 truly a Year of Transformation—not just at Darwinbox, but in the world as well. But it feels like we've rolled right into 2023 with the same momentum. While we can't predict what will happen in the world, we know what's on the cards at Darwinbox, and it's going to be just as exciting and transformative a year. Transformation is evolution, and evolution never stops. So, strap in, and let's jump into the next cycle of metamorphosis together.