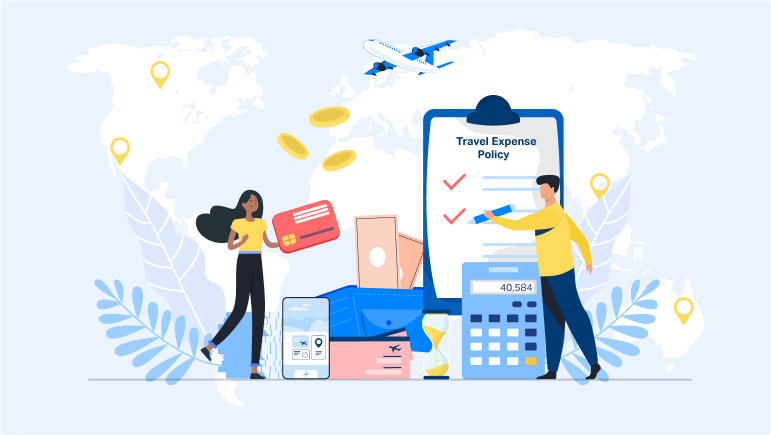 Business travel has seen massive changes in the last five years, and expense reimbursements are now harder to manage than ever before. In this article, we share an expense policy template and guidelines to make sure employees submit the right information from the get-go.
A travel and expense policy is a collection of guidelines outlining how individuals should plan business-related travel, which expenses are eligible for reimbursement, and how reimbursements are managed. It outlines the company's dos and don'ts for all permitted business trips in order to prevent fraud and save expenses by enhancing budget transparency.
Having such a policy is crucial for simplifying travel and expense (T&E) management procedures, rendering company costs more predictable, and assisting employees in understanding the spending caps of an approved business trip. This also goes a long way in improving the employee experience.
Before we go through the business travel and expense policy template, let us look at what your policy should contain.
Learn More: Travel and Expense Management: Definition, Significance, Benefits, Key Features & Best Practices
Business Travel
and
Expense Policy
Must-Haves
A robust policy on travel and expenses should anticipate all possible questions from all stakeholders. When is it possible to upgrade or downgrade between business class and economy class on flights? Can non-employees accompany a business traveler? Are there distinct sets of regulations for local and international travel?
Typically, a company's finance and human resources departments are responsible for drafting its travel and spending policies. If an organization has a designated manager for business travel, they may also participate.
Since the standards should be unambiguous and comprehensive, a travel and expenditure policy is generally extensive.
The template we share should act as a guide, and HR managers need to customize and extend it as per their needs. But no matter which travel and expense policy template you choose, it should have the following sections:
Purpose

: You should convey to all stakeholders that the policy is not merely a procedural step, but also a precaution to guarantee impartiality, minimize manual labor, and improve budgetary management altogether.

Business travel

booking process

: In this section, you must describe how to reserve airline tickets and lodgings, mentioning the company-approved booking tool, vendor, or platform.

Expense categories

: Here, you will detail the various spending categories, such as

business travel

expenses, accommodations (hotel, Airbnb, or residences), lunches and dinners, phone charges, commute fees, and any asset management expenses incurred during the business trip.
Exceptions

: To eliminate ambiguity, the T&E policy must specify which charges are excluded.

Expense reimbursement

process

: The policy should specify the method for submitting expenditure reports, the individual responsible for receiving them, the submission deadline, and the typical processing time for

expense reimbursements

.

Roles and responsibilities

: The travel and

expense policy

should end with a detailed list of responsibilities assigned to the employee, their manager, various approvers, the HR team, and the T&E accountant.
Now let us go through a policy template that covers these elements, and other essentials.
Learn More: How To Automate Travel Expense Reporting in Enterprises
Business Travel
and
Expense Policy
Template
The following T&E policy template has 12 sections, covering the most important sections you need. You can expand or add to the clauses to tailor the policy as per your organizational culture, budget, and nature of business:
Purpose
This policy is intended to:
Describe the categories of expenses which are reimbursable by the organization.

Inform personnel of their obligation to regulate and disclose travel and entertainment expenses.

Describe the actions an employee must take to submit and receive compensation for travel expenditures.
Guiding principles
The policy of the organization is to compensate workers for any required, acceptable, and genuine expenditures incurred while traveling on approved business.
The documentation and approval of travel costs must be listed on a travel expense statement. Each employee is responsible for adhering to business rules while making work-related purchases. In addition, it is the manager's job to comprehend the reasons for the expenditures and ensure that they've been reported in accordance with the established policy.
Although these rules are meant to be exhaustive, it is difficult to anticipate every circumstance a traveler may experience. The traveler is required to follow these recommendations conservatively, commensurate with normal living standards, and use sound business judgment in situations where the policy has been exceeded by evolving circumstances.
Preferred vendors
Our organizational travel agency is <travel agency name>. Travel plans may be scheduled with any agent who is available. The local office's telephone number is <(xxx) xxx-xxxx>.
The travel agency will be tasked with finding the most affordable tickets and housing costs. If you must stay at a hotel that is more expensive than the allocated hotel, you must provide enough reason prior to making travel plans. The same policy applies to automobiles, air travel, etc.
Air travel policy
LFR: All individuals flying with an airline must choose the Lowest Fare Routing (LFR) option. LFR is quoted as the minimum rational price for the business trip, (where possible).
Provide airfare discounts for round-trip travel.

The entire layover duration should not exceed one hour.

Allow not more than one intermediate stop each way.

Exceptions to the policy document will be permitted with approval from the employee's supervisor in order to authorize additional costs.
Approved travel class: Business, as well as First Class travel, isn't permitted unless the employee pays for it. Employees engaged in airline reward programs may utilize their private upgrades in conjunction with the company's reservation at the lowest available rate.
Stopovers: Stopovers en route that are reasonable may be permitted, given that:
They have no negative impact on or interference with the accomplishment of the intended business goal.

These do not lead to significant work time loss.

The reported travel expenses do not exceed the appropriate airfare between the departure point and the work destination.

If such a layover occurs, the company takes no liability or responsibility for any employee's acts or actions that take place during or as a result of the stopover.
Chargebacks: Airline tickets are deemed legal tender and should not be misplaced or discarded. Please return any unused tickets or ticket sections to the organization. After that, the tickets will be remitted to the travel agent for credit. Do not return unused tickets to the airline or travel agent directly.
Car rentals and commutes
Car rentals are often the most expensive means of transportation and ought to only be used when local transit is impracticable or more expensive because of the nature of the journey or the sites being visited. Note that the taxi driver must acquire documentation for the fare charged.
Please note that automobile rental volume discounts apply. When you make your bookings, the travel agents will be able to inform you of the car rental company we use.
A predetermined sum of <$xxx> per mile or km> shall be paid for each mile or kilometer traveled for business purposes in a privately-owned vehicle permitted for business use and driven for such purposes.
Accommodation
At the time hotel bookings are made via the company's tour operator, the best available pricing for rooms of reasonable quality in the most suitable area will be arranged. The passenger should confirm, upon arrival, that the rate displayed on the schedule is the price they get.
Meals
Typically, the employee should choose establishments that are appropriately priced for the area and compatible with regular living conditions.
Date, amount, location, and description of the nature of the business must be included for business dinners with customers or other colleagues. Include a list of the names of those who were entertained.
Only wine and bar expenses linked only with a work meeting and not exceeding $xxx> per individual present are reimbursable. Employee entertainment isn't a reimbursable cost.
Telephony charges
Employees traveling for work are authorized to make an appropriate number of long-distance calls home to confirm their arrival, make preparations for their return, and take good care of urgent personal problems that cannot wait.
Regular business travelers will be issued with calling cards for local and long-distance calls while on the road.
Request for cash advances
A cash advance of up to <$xxx> per day of business travel may be requested by filling out a Request for Cash Advance application.
All travel advance requests must be authorized and sent to the Accounts Payable division at least three working days before the traveler's departure.
Miscellaneous policy inclusions and exclusions

a) Laundry

: The organization does not cover dry cleaning costs for short trips (three to five days or less). In situations when these services are necessary, however, these costs will be reimbursed. Please include justifications in the spending report.




b) Tips

: The paying of tips and gratuities must be restricted to circumstances and services where it is customary to do so. The 10-20% range is deemed appropriate for the majority of personal assistance, such as restaurant service.




c) Corporate charge card

: Regular travelers who foresee spending two business-related expenses annually will receive an <American Express or comparable> card.




d) Exclusions

: Not reimbursable are in-flight or in-room films, individual reading materials, and membership fees.

Expense reporting
<authority> regulations demand that traveling employees maintain a proper record for each trip and display all essential information to support each expense (who, what, why, when, as well as how much).
The due date for expense reports is <e.g., thirty (30)> days following the first expenditure.
Entertainment expenses incurred in the course of achieving business objectives must be evidenced by invoices for all expenses and supporting documents outlining the dates and locations of entertainment, the names and number of individuals involved, the business relationship between all parties, the business purpose, and the amount of each individual expenditure.
Roles and responsibilities

a) Employee

: Use your discretion while incurring business costs. Consider affordable alternatives to travel, such as teleconferences. If feasible, plan your trip 14-21 days ahead of time.




b) Approver

: Approve expenses that resulted in no indirect or direct benefit was achieved (such as attendance at a conference). Only allow

expense reimbursement

for flight, automobile, and hotel expenses incurred via the contracted agency.




c) Finance

: Expense reports should be submitted for processing every Monday by 5:00 p.m., and employee cheques must be processed and distributed the following Monday. Examine expense reports for standard costing center codes, the signature of the authorizing manager, and computation validity.
Learn More: Rethinking Your Travel & Expense Management With Smarter Technology
Examples of
Business Travel
and Expense Policies to Inspire You
Remember that there's no hard and fast rule when it comes to adhering to a T&E policy template. Companies around the world customize their policies as per their requirements; here are a few notable examples.
Netflix
The expense policy at Netflix consists of simply five words: "Act in Netflix's best interest." It aligns with Netflix's general cultural code, which has a comprehensive subsection on freedom and accountability. For example, the company's maternity leave policy includes the phrase "take care of your baby and yourself" and specifies that new parents often need 4 to 8 months.
BBC
The policy document for BBC's business travel and expense reimbursement is extremely detailed. In addition to being consistent with the company's employee-centric culture, there are laws limiting "late night/early morning transport" (LNEMT), which is reasonable given the operational hours of its business. If payment from the BBC was delayed, and this was the basis for the interest, employees may claim credit card interest expenses.
FedEx
FedEx's policy reads more like a legally binding document than a statement of guidelines. Page one of the policy specifies that "termination" is a potential consequence for workers who violate the policy. It is a good idea to spell this out and avoid legal ambiguity later on.
Learn More: Make Your Business Go Places With Darwinbox's Brand New Travel Module!
Policies for business travel and expense reimbursement are meaningless unless you have a system to enforce them. That's where T&E management software like Darwinbox comes in.
With a unified platform, you can integrate your expense policy with payroll and attendance and automatically receive information to simplify expense reimbursements. Schedule a demo with Darwinbox to learn more!