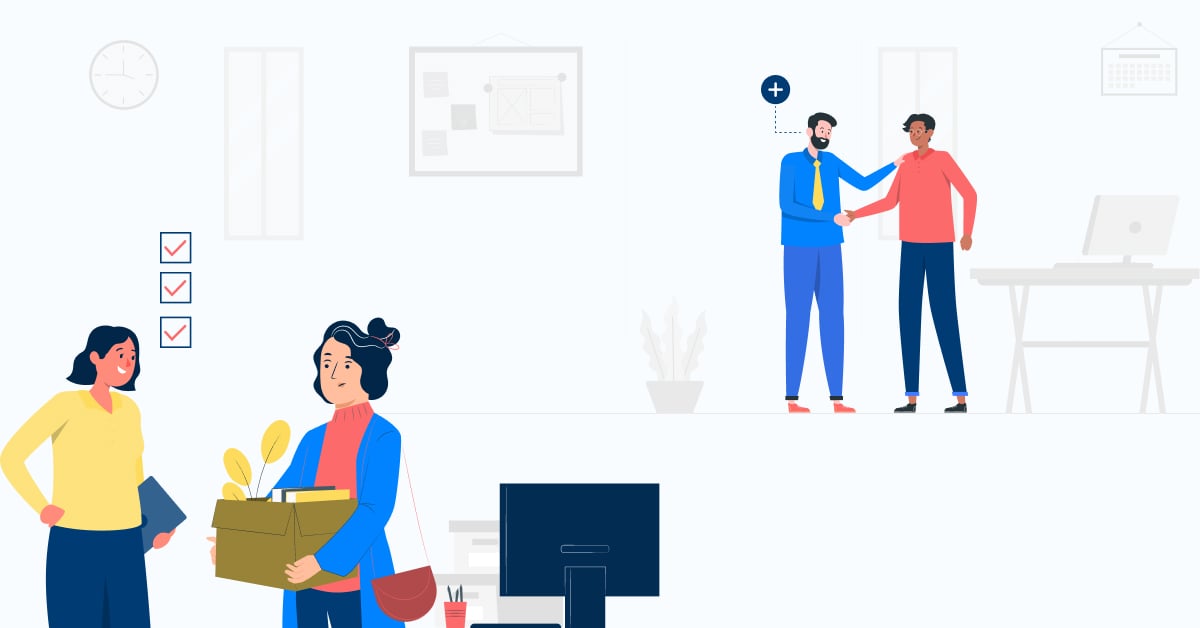 With 3 in 5 employers in Malaysia struggling to retain top talent, employee onboarding and offboarding experiences can be game-changer. A great onboarding checklist helps you engage employees while driving productivity and job satisfaction. Meanwhile, effective offboarding can improve your culture and reputation. This article shares a step-by-step employee onboarding and offboarding checklist for HR professionals.
The beginning and end of an individual's work cycle are demarcated by two defining elements: onboarding and offboarding, respectively. This cycle begins when an applicant receives an employer's job offer and closes on their final day of employment. Understanding both these processes using an employee onboarding and offboarding checklist lets you create the best possible experience for everyone while helping the organization as a whole.
What Is Employee Onboarding and Offboarding?
Onboarding is the process of acclimating a fresh hire to the organizational ethos and culture, and offboarding is facilitating their departure at the time of exiting a company.
Offboarding is the separation of an employee from the company following a resignation, dismissal, or superannuation (retirement).
While employee experience is predominantly focused on interactions with colleagues, assignments and projects, triumphs and losses, career advancement, and growth, as with any long-term relationship, both the start and the end have a major effect on the whole experience, including what occurs after the relationship has come to an end.
Successful onboarding and offboarding will make sure employees leave positive reviews on career sites. It may also inspire them to make referrals or bring new business to the company.
Learn More: The Efficacy of Exit Management
Importance of an Employee Onboarding and Offboarding Checklist
An employee onboarding and offboarding checklist brings structure to the process and is documented through a spreadsheet or a project management tool in a manner that HR teams can share it, interact with it, and 'tick off' tasks in the onboarding and offboarding journey as they are completed.
The eventual retirement of baby boomers, along with the increasing tendency of millennial workers to job-hop, represent two labor market changes that have led to an increased focus on employee onboarding and offboarding checklists.
A well-crafted checklist ensures that newly hired workers have the necessary resources and support to get productive fast and effectively. This involves providing access to essential software and systems, configuring accounts or permissions, and training employees on business rules and regulations. By using a checklist to streamline the induction process, you can help new hires get started with no major hiccups or holdups and help them become productive as early as possible.
A clearly defined offboarding checklist is also necessary. It is vital to ensure that a departing employee's usage of resources and systems is cut off in a secure and timely way. Further, an employee onboarding and offboarding checklist will help maintain amicable relations and get useful insights to prevent voluntary turnover in the future.
Learn More: 7 Must-Have Features For Your Employee Onboarding Software
The ABCs of Onboarding and Offboarding
An employee onboarding and offboarding checklist is necessary for your company because it helps in three ways. The ABCs of onboarding and offboarding are:
A - Adapting to the needs of new and existing employees
Beginning afresh is demanding for both the new employee and the workplace they are joining. It is both a challenge and an opportunity. The purpose of both onboarding and offboarding is to prepare the staff member and the community as a whole for this shift. By using an employee onboarding and offboarding checklist, HR teams can ease some of the stress and maintain optimal productivity levels.
B - Balancing both first and last impressions
Employee offboarding receives far less focus and effort than employee induction. While it is natural to appreciate and welcome new hires, it is also essential to ensure that those who leave have a dignified and safe exit. So, HR teams need to balance the first impressions they form when they initially want to inspire productivity and the last memory they create when the employee is no longer part of the team. This balance is key to build a strong, consistent employer brand.
C - Coordinating between stakeholders
HR handles both the onboarding and offboarding processes, but it involves working with IT managers, the administration team, and departmental executives/supervisors have a major role to play in the employee onboarding and offboarding process.
The IT team must, for example, make sure the fresh hire has network credentials, devices, and training on their first day and later confirm that their access has been disabled at the appropriate time. The facilities manager may be responsible for assigning parking spaces and enabling building access, while training and meetings will need to be scheduled by departmental supervisors or managers.
Learn More: Everything You Need To Know About Virtual Onboarding
A Step-By-Step Checklist for HR Teams When Onboarding an Employee
An onboarding checklist is an exhaustive roster of steps designed to help new employees during their first few days or weeks with the company. It helps recruiting managers ensure the induction process is organized and clearly executed.
Let us start with considering the steps you need to take when onboarding an employee. The first part of the employee onboarding and offboarding checklist focuses on helping new hires ease into the organization and ramp up to full productivity:
1. Send a preboarding email
Before the actual induction process, you can send an introductory email to the new employee. This ensures that the employees are prepared for their first day on the job. Some of the details you can share would be:
Date of starting, usual work schedule/timings, office location
Forms they have to fill out and any other documentation that they need to complete
A copy of the staff manual
Program for the initial day or the orientation week
The dress code
Manager/supervisor's name and contact details
2. Prepare the workspace for the new employee
This step in the employee onboarding checklist refers to the physical space where the employee would work, in cases where the employee is not a remote worker. This involves collaborating with the IT department to configure the new employee's computer or other devices, email, and access to other business tools. Several businesses include a photo ID, a writing instrument, and an actual or digital version of their staff handbook in their induction kit. Your new recruits will require access to specific hardware and software in order to perform their duties successfully. An important item in the employee onboarding checklist is contacting your IT department to ensure that all new employees are set up to use any relevant programs. This is particularly important in the world of remote and hybrid work where onboarding happens virtually, and employees don't have a physical office space or workstation they come to on the first day of work. Encourage security best practices like two-factor authentication, solid passwords, and regular password changes. In addition, if you have complex or proprietary software, you must develop training documents or programs that show new employees how to use these tools.
3. Assemble all documentation and paperwork
Even in the digital age, several employees appreciate the option to have physical copies of any reference material. Collect all the documents the new employee has to fill out on day one, including tax paperwork, different contracts or arrangements, payroll data, etc. Provide the new employee with a copy of the employee handbook along with details about the benefits package. Additionally, it can be useful to print out the job role and its responsibilities as an overview of what's expected. Although documentation is laborious, it is an essential part of induction. Ideally, you ought to request new employees to complete their paperwork early on so that they can get it out of the way. Forward these to your legal team once they do. Despite the fact that every business has unique needs and requirements, here are the most common ones found in employee onboarding checklists in Malaysia:
Form CP22/CP22A and EA form (C.P 8A)
Form TP1, TP2 and TP3
Forms for deducting state taxes
Forms of direct deposit as well as banking
Confidentiality and non-competition clauses
Protocols on security and confidentiality
Alcohol and/or substance monitoring authorization forms
4. Inform the team about the new entrant
HR departments and team managers should not presume that current employees have been made aware of the new hire. To ensure that the new employee gets a warm and cordial welcome, share the new employee's name, photo, job title, professional background, experience, education, and skill sets with your workers and encourage them to help the new employee get settled into the role and team without much difficulty. You could also organize a small welcome event or party to introduce the new employee to both their new team and senior leadership. This could be an evening out, a team lunch, or icebreaker activities.
5. Give the employee an office tour
A site tour is among the most effective methods to reduce turnover and familiarize new employees with your workplace. Create a map for your recruits to use as a reference ahead of the actual tour. The map should include their cubicle or workstation, the offices of their managers or supervisors, dining halls, lavatories, supply areas, and training and conference rooms. When creating the employee onboarding checklist, digitize the map to make it readily accessible.
6. Assign your new hire a mentor or a 'buddy'
Assign every new employee a 'buddy' who will serve as mentors throughout their initial weeks on the job. The mentors must be someone who has been in the organization for at least a couple of years, and is equipped to respond to questions, make introductions, and offer training assistance. New workers will need access to positive role models via a mentorship program as they manage their new roles and work environment.
7. Tell your company's story
It is important to take every new employee through the company's journey since its inception and share the company's history, mission, and objectives. This explains to new staff members why the company was started, and how the senior management wants to grow the business. This is a step where creativity, employer branding, and storytelling come into the picture, so the new employee is inspired and motivated to be a part of the larger mission and starts their job on a high note.
8
. Follow up with the new hire
Feedback is an essential part of the employee onboarding checklist. Schedule a meeting with the fresh hire after two weeks to determine how they're adjusting and if they had any feedback about the onboarding process. This may reveal areas for development or additional items that can be added to the onboarding checklist.
Also, new employees are going to have many concerns while adjusting to a new place of employment, , coworkers, and responsibilities. Consider some of the queries they may have by placing yourself in their shoes. You could consider putting together an extensive FAQ document to answer these questions as part of the employee onboarding checklist. In addition to providing them with a valuable resource, a FAQ document will also assure them of the fact their worries are genuine and that others were in a similar situation before.
Learn More: 7 Steps to Creating a Virtual Employee Onboarding Program
The Ultimate Checklist for Smooth Offboarding
It is essential to ensure a seamless transition while an employee is leaving your company and is possibly being replaced by a new employee.
1. Express gratitude
Thank the employee for their hard work and dedication throughout their time with the organization and let them know they will be missed. Be sure to offer your best wishes for whatever they're doing next. Even if the employee was terminated or left on short notice, this step on the employee offboarding checklist makes sure that you end things on a positive note.
2. Announce the employee's exit to the team
Communication is essential because rumors and gossip may disturb the workplace. Notify everybody that the employee is departing, and if suitable, explain why they are leaving and who will take on their responsibilities. If the employee held a customer-facing position, it might be a good idea to inform your clients of their exit. In certain cases, it may also be essential for senior management to issue a public announcement.
3. Prepare for the knowledge transfer
If you already have someone to replace the employee, the next step in the offboarding checklist is to collaborate with the employee to prepare documents, workflows, and a list of contacts for the new person taking up the role.
4. Prepare for the asset transfer
When an employee leaves your company, you have to ensure that any company-owned asset in their possession is given back by the time they leave. This could include electronic devices like laptops or mobile phones, as well as uniforms and office locker keys. Assign a process owner who will follow-up with the employee being offboarded and ensure this is sorted.
5. Close any pending payments and documentation
This step of the employee offboarding checklist makes sure that the payroll or the finance team manages all aspects of the payment process and, therefore, final settlements for the employee as well. To facilitate this, provide them with all the pertinent information, including the worker's termination date, notice period, or any holidays that must be paid out. Your outgoing employee may also request a recommendation letter or a relieving letter for future employment.
6. Change system permissions, passwords, and access controls
The HR team must notify the IT department about the employee's exit to so they can do their part in the offboarding processes. Remember that passwords for any shared accounts must also be updated to avoid security breaches. Before shutting down the email account, IT personnel can also share a built-in reroute to ensure that essential emails from clients are not overlooked.
7. Complete the exit interview
Exit interviews are a crucial component of the offboarding process. Exit interviews could either be a face-to-face conversation or a written questionnaire that the employee fills out. Keep the questions concise and to the point and use the information to prevent future high-performing employees from leaving, and take in the employee feedback to improve processes and employee experience at the workplace.
Learn More: Remote Onboarding Checklist For Your Employees
Wrapping Up
In part, onboarding is essential since first impressions matter. However, it may be just as important to ensure a well-organized and mutually respectful exit. Former employees can come back as full-time employees or independent contractors. Many companies regard their former employees to be alumni, as they can establish fresh, professional connections and enhance the company's reputation. Additionally, they may be looked at as part of a wider, future-focused talent pool.
As a result, both the first and second parts of the employee onboarding and offboarding checklist are necessary for HR – especially as 60% of employers in Malaysia could struggle to retain talent. Effective onboarding improves retention and sets employees up for success, while a structured onboarding process is invaluable for your organizational culture.
You can also integrate the employee onboarding and offboarding checklist with your HR software to automate several of the tasks and make your effort truly count. Ask for a Darwinbox demo to learn how.