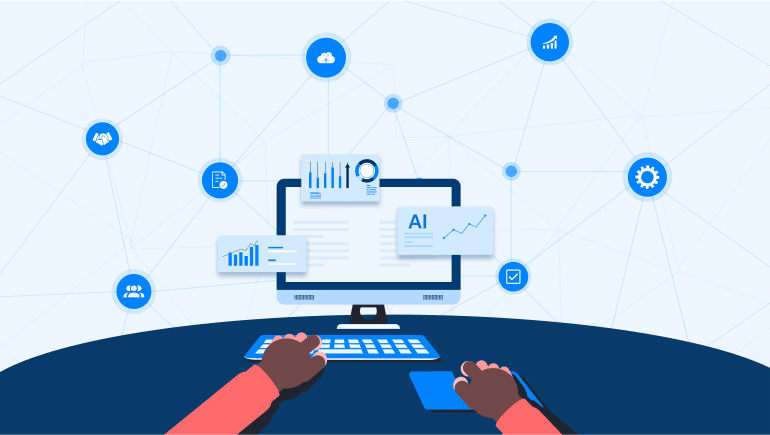 What is an example of the use of AI in human resources? The answer to this question can help improve HR processes and their outcomes. It will also help you make the most of your investment in artificial intelligence in human resource management. This article will explain the top 20 examples of AI in HR and their benefits.
Artificial intelligence (AI) in human resource management has many benefits, but they can only be unlocked when implemented correctly. That is why one of the key questions in HR tech adoption is always "what is an example of use of AI in human resources?"
Companies that know the answer have seen tangible results. For example, 72% of HR managers agree that using AI in HR boosts productivity and saves time. Once you know about such AI in HR statistics, you're likely to invest in artificial intelligence in your HR department.
Here are 20 examples to inspire you:
Auto-scanning of candidate resumes
Starting with the most straightforward examples of AI in HR: Any HR manager must sift through several resumes and applications received for numerous vacancies. This is the stage when analyzing past experience and qualifications of the candidate is critical. Today, though, all resumes are digital, and a rising number of employers require applicants to complete an online form. Consequently, a system based on natural language processing (NLP) can automatically analyze structured data to identify individuals that satisfy the predetermined criteria.
Matching learners with mentors
This is a slightly more complex example of AI in HR, but one with a lot of potential. Learning and development (L&D) programs will only grow in significance as organizations battle to retain talent. Mentoring is an essential aspect of L&D, and an AI bot can assist with this.
An AI-driven application can assist with mentoring by promoting the development of relationships between the two, and by providing tools and other necessary resources after the matching of mentor and mentee. By learning from this example of AI in HR, you can democratize mentorship and provide more employees with growth opportunities.
Removing non-inclusive words from job descriptions
This is an increasingly important example of the use of AI in HR and how it can positively influence candidate experiences. Job descriptions include a variety of subtle indications concerning organizational culture, including its inclusivity — or lack thereof. A job advertisement featuring the words "looking for rock stars" may imply to female applicants that the company's culture prefers male candidates. AI can be used to identify and fix such errors in language and ensure that all communication is inclusive.
To illustrate this example of AI in HR, online real estate company Zillow Group saw an 11% increase in female applicants through its use of an AI tool that does this (which is also an important AI in HR statistics to note).
Finding top talent who may be open to change
Currently, the best head-hunters are cognizant of anemployee's value and importance in the employment market and are prepared to pay better salaries and offer more perks to attract top talent. This makes passive recruitment a big problem. By analyzing publicly accessible data on individuals and information about their behavior, AI can identify individuals who want to change jobs and take proactive action.
Conducting and analyzing automated video interviews
As organizations strive to reduce the amount of time spent on the hiring process, video interviewing solutions have grown in popularity. This can be extended further by introducing AI into the process, and it is an extremely interesting example of AI in HR. .
Learn more: The Future of AI in HR: How HR Tech is Evolving

Streamlining HR shared service delivery
AI-driven chatbots offer personalized assistance to customers who require immediate assistance. Why not learn from this example and apply AI tech to HR? The HR department can implement an efficient service delivery system with the help of an AI tool. The AI-driven tools can learn from employee feedback, enabling shared service units to adapt and improve accordingly.
Countering human bias in recruiters
Removing bias completely from humans is nearly impossible. For instance, recruiters may favor applicants who speak a dialect other than their own or of their own, depending on which side their bias leans. Even if the bias is unconscious, it is still a prejudice that hinders the recruiting process. Consequently, many recruiters are already using AI in HR. This instance of AI in HR may be used to combat human bias. Recruiters can employ an AI system to examine discarded prospects who may have been passed over because of prejudice.
Providing voice-based assistance to employees
HR teams receive hundreds of employee queries every day. With AI, organizations can minimize the effort of the HR team and make it easier for employees to access essential information. Multiple businesses also choose to install voice assistants to assist their staff with HR-related questions. Alexa and Siri are now common examples of voice assistants in our everyday lives; AI in HR can be used to provide a similar experience in the office.
Improving internal communications
AI can assist with improving the quality of conversations between the HR department and employees across the company. AI-based systems will be able to analyze employee data, and enable HR teams to personalize any communication they have with employees. It could, for instance, highlight their preferred language, and preferred mode of communication, and enable the HR team to have richer, more valuable, personal conversations with employees.
Analyzing the state of employee engagement in your company
Advanced AI is capable of analyzing unstructured material from annual or pulse surveys, as well as social media chatter. HR departments can therefore use AI techniques to analyze internal social communication to gauge the status of employee engagement. The algorithm would be able to scan tens of thousands of remarks, perform sentiment analysis using natural language processing, identify patterns, and provide insights.
However, it is advised that sufficient privacy, as well as security protocols, be employed when implementing this functionality.
Learn more: Transform Your Recruitment Operations With Technology
Finding the right compensation and benefits balance in a tight labor market
Even with once-in-a-lifetime events like the pandemic constricting the job market, the 'Great Resignation' wave emphasized how individuals might quit at any moment if dissatisfied. Human resources may use AI to determine remuneration based on a number of parameters, including performance, the market price for specific skill sets, and the demand for certain expertise.
AI could even be used to forecast whether compensation will be in the form of basic salary or bonuses. While this is a more complex example of AI in HR – one that may require development and configuration effort – but it will become increasingly vital in the future.
Making referrals more effective
AI can be incorporated also to assess employee referrals. The system will be able to determine the type of recommendations provided by employees. It can collate and analyze data on who makes the most successful referrals, how often referred candidates are hired, and so on. This information can then be used to design a company's referral program so the right kind of candidates are brought into the organization and employees are given the right incentives to refer candidates for open roles.
Learn more: 3 Talent Management Challenges That Can Be Solved With Technology
Improving efficiency of promotions and internal job postings (IJP)
This instance of AI in HR consists of two components: first, AI finds applicants that are ready for a shift, and second, the AI-based tool compares them with lateral or senior roles depending on their performance and informs managers about the possibility of movement between roles. AI can be used to list the most important performance metrics for every employee, and then determine who is qualified for a promotion or a role change and who isn't.
Automating the training process for new employees
Frequently, new hires and employees require training and orientation before they can start executing tasks. Typically, however, human resource managers scrutinize resumes in depth to determine which skills need to be developed further . This process can be made more efficient by incorporating AI in HR. AI-driven tools can assess the skill set mentioned on the employee's resume and identify what needs improvement so the employee is able to successfully execute the tasks in the new role. AI systems can also be used to then gather the training material the employee would require and assist in the training process.
Defining accurate benchmarks for pay and compensation
A major benefit of artificial intelligence in human resources lies in its ability to combine data and information from several departments. So, AI-based tools make it simple to assess compensation patterns across the organization. This allows HR leaders to make informed decisions on bonuses, recruiting, and business expansion. The HR team will also be able to establish guidelines for uniform compensation, bonuses, and perks with the use of AI. This also ensures that personal biases or prejudices don't influence the compensation decisions.
Learn more: Chatbots In HR Tech - The Best Is Yet To Come
Nurturing the company's culture
This is one of the lesser-known applications of AI in HR and is not often cited as an example of how AI benefits HR processes. AI-driven software can be programmed to monitor organizational data such as email traffic, survey results, and the sentiment of responses/comments to detect areas of tension, emerging ethical challenges, and various forms of toxicity. This enables HR managers to notice red flags and act proactively to ensure that no employee going against the values and the culture of the organization.. This is particularly relevant to ensure that an organization is inclusive and respectful of a diverse workforce.
Detecting disengagement and churn risk
Losing a skilled employee is challenging for any business. AI can assist businesses in preparing for or even preventing this by tracking data and providing HR professionals with insights on whether or not an employee might be unhappy or disengaged and leave the organization. The system can monitor employee activities and behavior and identify anomalies, and notify the employee's manager or HR business partner about the change in trend.
Simplifying the onboarding process
This is one of the most common examples of AI in HR, and is something that is extremely easy to implement. The first day of a new employee's tenure with the organization is often tough, and every HR manager must adhere to a defined onboarding procedure.
HR teams can incorporate AI-tools in the onboarding process to share information with the new employee and assist with the onboarding process. This includes sharing organizational knowledge and regulations, job descriptions, work assignments, group member information, and so on. AI can also be used to personalize each new individual's employee experience, resulting in increased employee retention.
Widening the scope of candidate background checks
Today, organizations don't restrict the background verification process to just verifying information provided by the candidate about their previous employment, education, etc. Most companies trawl the internet to examine applicants' social media accounts and search for warning signals.
Using AI-powered data processing and aggregation makes iteasy and fast to automatically search through several databases on social networking platforms and other websites. Several organizations globally use AI to gather information about possible job prospects, and assess their expertise and market value.
Finetuning the succession plan
Even with the most effective employee retention strategies, a company will see attrition and turnover as workers move on to other jobs or retire. Hence, having a clear succession plan is critical make sure that business operations and processes continue without much disruption when an employee leaves or retires. This is where the use of artificial intelligence in human resource management can be beneficial. AI can use data models to assess employee performance and identify whether workers are prepared for promotions. The AI system's suggestions can be customized and programmed such that it assesses cultural compatibility, leadership skills, and past successors' accomplishments while making recommendations for the succession plan.
Learn more: Switch to Comprehensive HR Solutions for a Powerful Digital Workforce
Conclusion
These are among the more common, basic examples of the use of AI in HR processes. There's a lot more that a company can do, and there are multiple ways in which HR teams can leverage AI technology and incorporate AI-based tools in the HR function.
Next-gen HR tech platforms such as Darwinbox can simplify your AI journey by seamlessly embedding it in key HR processes and tasks. Schedule a demo to learn more!