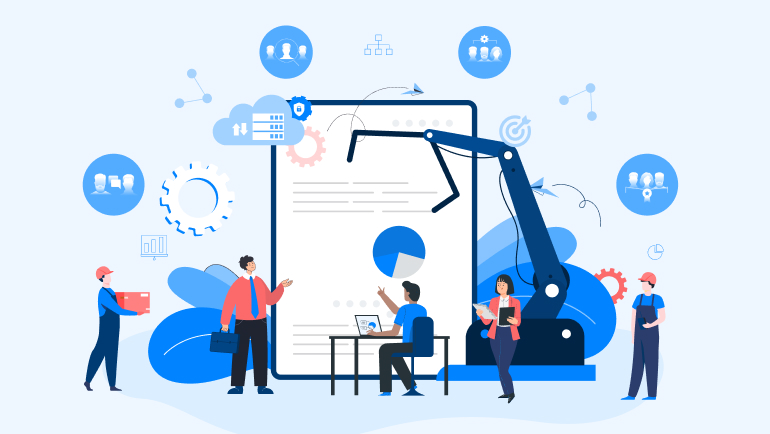 The manufacturing industry has a major attrition problem. And each time an employee leaves, the impact is felt immediately, and can disrupt the functioning of the company significantly. How can manufacturing companies handle this? Are there best practices that tell HR professionals how to retain talent in manufacturing? This article has the answer, and suggests 18 ways in which you can drive employee retention for the manufacturing industry.
The manufacturing industry has a high employee turnover or attrition rate of around 9.3%. In addition, the sector, which is made up primarily of older employees, will be seeing a lot of people retiring from their roles over the next few years.
Clearly, companies in the manufacturing sector are staring at a serious labor shortage. HR professionals need to find ways to improve employee retention in the manufacturing industry.
Here are 18 tips to curb attrition, so you don't have to worry about how to retain talent in your manufacturing company:
Adopt continuous learning and development
Whether on one-on-one training sessions or structured group learning sessions, HR professionals in the manufacturing industry typically work with new hires and help them get acquainted with the organization, their role, and the work they will be doing. This could also involve job shadowing and apprenticeship programs. These training sessions are usually designed and scheduled for a limited period, say two months.
However, to ensure that employees stay on at the organization, it is important to provide them with continuous learning and development programs. Employees should be able to hone their existing skills, or develop new ones through skill development initiatives that the company offers.
Such initiatives ensure that employees are consistently learning, are always ahead of the curve, and will be able to handle any kind of work. Introducing continuous development programs is certain to improve employee retention in the manufacturing industry.
Stand out from the competition with a strong employer brand
With any full-time employment offer, standard benefits such as paid time-off, medical insurance, and retirement savings are considered standard and basic. Several businesses, particularly in the corporate sector, provide a whole lot more.
Adopting this practice can help companies in the manufacturing sector curb attrition rates. They will be able to stand out from the competition, retain employees and attract fresh talent. Launching initiatives that acknowledge outstanding work, conducting team-wide volunteering opportunities, offering leadership development courses, and organizing team-wide social activities are some of the things that could help strengthen an employee's sense of belonging to the organization's and ensure employee retention in the manufacturing industry. It is also important to constantly monitor industry remuneration norms, and wherever possible, offer monetary incentives to the top performers to boost employee retention in the manufacturing industry.
Encourage open communication and break hierarchies
Employees at all levels like knowing that they are part of a team and knowing that their work contributes to the company's overall success. Considering this, manufacturing companies should make it a practice to publish annual/quarterly/monthly profit and loss (P&L) data and organize frequent communication sessions to share important company information with the entire company so employees can clearly see the impact of their work. It will also help nurture the sense of belonging that employees have towards the organization. In addition, HR leaders should offer opportunities for workers to provide feedback and share ideas.
Provide employees with opportunities for growth
Without postgraduate education or management experience, it might be hard for workers in the manufacturing sector to grow and progress in their career. So, companies should provide employees with a clear career path, and speak to them often to ensure they are on the career path they've chosen and are on track for growth. HR leaders can offer both internal and external training to assist them in reaching their goals. The more training you offer, the more likely it is that there will be higher employee retention in the manufacturing industry.
Learn More: How to Overcome the Skilled Labor Shortage in the Manufacturing Industry
Use people analytics to identify and fix causes of attrition
Although conducting an exit interview is the most common method for collecting employee input and regarding attrition, there are several other methods available to better understand what companies can do to ensure employee retention in the manufacturing industry and how to retain talent in manufacturing.
Conducting onboarding or new-hire surveys can help collect feedback from new workers about their onboarding and orientation process, and identify ways to enhance the entry process. Annual or bi-annual employee satisfaction polls are used to monitor employee contentment and engagement, while retention surveys are employed to determine employee intent to stay or move on and to suggest modifications and improvements to the existing processes. Research that combines qualitative and quantitative methodologies produces the most insightful outcomes.
Make sure that employees feel valued
Taking the time to make employees feel respected and valued could go a long way towards ensuring employee retention in the manufacturing industry. Floor supervisors and managers should treat workers with respect and acknowledge their contribution to the company's growth. Managers and HR partners should show empathy towards employees, and periodically offer positive reinforcement to all employees..
Invest time and effort to make the right kind of hires
Before starting the hiring process for any open role, the HR department should identify the characteristics of a candidate who would be the ideal fit for the role.. This involves defining the skills, abilities, and previous work experience of the ideal employee. This way, there's potential for success from the get-go, and HR teams won't have to spend time on shortlisting and interviewing candidates who may not be a good fit.
Encouraging existing employees who are qualified and meet the requirements of an open role to apply for a role change is also a great way to increase employee retention.
Learn More: Why the Manufacturing Sector Should Prioritize Digital HR in 2023
Invest in local talent
In recent times, manufacturing companies have recognized the need to look for talent locally, in the region their manufacturing plant or office is based. Often, employees who move to a city or a town from elsewhere quit after a little while and move back home. To fix this, and hire locally, manufacturing companies can form alliances with colleges and training institutes within the community/city their manufacturing centre is in.. That way, the company-institute collaboration can help train candidates who are not only interested in joining but also are eager to remain with the organization. Further, by collaborating with local schools and interacting with them even outside the campus recruitment process, manufacturers can guarantee that new employees come with the exact skill sets that they're looking for.
Strengthen the company leadership
Ask yourself - does everyone in your organization have the skills and talent necessary to support HR's vision and mission? Do they know how to retain talent in manufacturing?
In the manufacturing sector, it is particularly important to see the business as a structured unit. Everyone, particularly those in managerial positions, must think strategically and concentrate less on routine tasks. This, however, requires training the senior employees and managers to develop and hone leadership skills. A good leader will do their best to ensure that all members of the team are happy at work, and aren't considering quitting their jobs to join competitors. Focusing on leadership development is among the most effective methods for employee retention in the manufacturing industry.
Invest in setting up a top-notch upskilling program
Upskilling is undoubtedly the No.1 priority for companies in the manufacturing sector today. With the industry evolving and changing continuously, employees must constantly upskill themselves to be successful and productive in the new world of work. Businesses must execute a well-defined plan for upskilling employees at all levels. Otherwise, it may cost businesses significant time and money. Generally, upskilling projects fail because employees lack access to opportunities they want or feel they are too busy to enroll in intense training programs. To fix this, manufacturing companies need to be more flexible with employee development and personalize the learning track for each employee's needs.
Create a culture that promotes employee recognition
People are far less likely to quit their jobs when they're acknowledged for their contributions; yet there aren't many manufacturing companies that promote individual achievements. While incentives and benefits are preferable, a simple message from a peer or a manager saying "well done", or any other such verbal token of appreciation can be a game-changer. A statement to the whole department, a small award, and even additional time off are all easy to do, and can have significant impact on employee retention in the manufacturing sector.
Address issues around toxic management
A toxic boss can cause considerable harm to an organization and bring down the levels of employee retention in the manufacturing industry considerably. Companies must keep a check on this proactively, and have processes in place to identify and eliminate toxicity in the workplace. For example, skip-level meetings with employees will help understand what employees feel about their managers. "" Also, considering the management and leadership abilities of a manager during their performance evaluations will help. It's also important to not miss trends and abnormal patterns in employee behavior. For instance, if you see a high turnover rate among workers who belong to the same management team, that's a definite red flag that needs to be addressed.
Build a safe work environment
The manufacturing industry is one where ensuring a safe workplace is extremely important and is a major factor that will have an impact on employee retention. . Keeping safety standards at their very best, ensuring regular maintenance, and ensuring that staff are both informed and compliant is critical for manufacturing companies. Companies in the manufacturing sector should adopt HR technology to promote safety and employee well-being in the workplace.
Learn More : How Aarti Industries Improved Workplace Safety Using Darwinbox
Promote smooth, easy communication between employees, managers, and the HR team
Even in the best workplaces, accidents occasionally happen, equipment sometimes malfunctions, processes do not always work as expected, and employees turn unhappy about something. In such situations, are employees able to easily communicate with managers and supervisors? Do they have the modes/channels of communication and the freedom to reach out to managers whenever necessary? Ensure that you have both the culture of open communication, and the logistics necessary for smooth, transparent communication between employees and their managers or the HR partners. This will help avoid workplace misunderstandings, enhance job satisfaction, and increase employee retention in the manufacturing industry.
Encourage peer-to-peer communication and internal social networking
Individuals are social animals. If you have the ability to foster an organizational culture that prioritizes meaningful interactions between employees, , you will almost certainly be able to build a work environment that inspires employees to stay on. The HR department should take the initiative to promote internal communications and networking. This could include introducing the concept ofpeer-to-peer recognition in addition to manager-to-peer recognition. Adopting advanced HR technology and providing internal social networking on the HRMS platform is another way to promote peer-to-peer communication which will result in ""employee retention in the manufacturing industry. Set aside time for coworkers to interact in ways unrelated to work, whether via workplace picnics, sports, or some other type of team-building exercise.
Learn More: Digital Foundation For A Future-Ready Workforce
Modernize your performance management process
Managers can keep employees motivated and reduce churn by working with them on their long-term career goals. Are they looking to acquire additional job skills? Do they desire to climb the hierarchical ladder and have a management position some day? Discussing points such as these will help managers create a roadmap to help employees achieve their goals.
In addition, having a goal enhances motivation – you're not simply at work to complete tasks; you're there to advance your profession and achieve long-term successHR leaders must encourage managers and supervisors to discuss long-term objectives with each individual they oversee and create a detailed strategy for achieving those objectives.
Adopt modern HR technology
Investing in employee-focused technologies that streamline their tasks will go a long way toward ensuring employee retention in the manufacturing industry. This applies to both production equipment and administrative tasks, such as the use of integrated technologies that deliver real-time updates and precise data, making the lives of employees easier and more productive. A digitally-enabled workforce will help improve efficiency in processes, and also boost your employer brand, which can improve retention and also attract top talent.
Continuously track and measure the impact of retention initiatives
Strategies and initiatives for employee retention should be incorporated into your organization's mission statement; they should not be considered a one-time project. Moreover, it is important to see how well the different employee retention programs have performed, what worked and what didn't, and tweak the strategy accordingly.
How HR Tech Can Help Manufacturing Companies
HR technology can be an important enabler, and can help implement the strategies to attract and retain talent. Modern, next-gen HR tech can streamline recruitment so that you can get the most suitable talent, and it can help constantly gauge worker sentiment to ensure high employee retention.
If you would like to know how employee-focused HRMS platforms can help with employee retention in the manufacturing industry, schedule a demo with Darwinbox now!