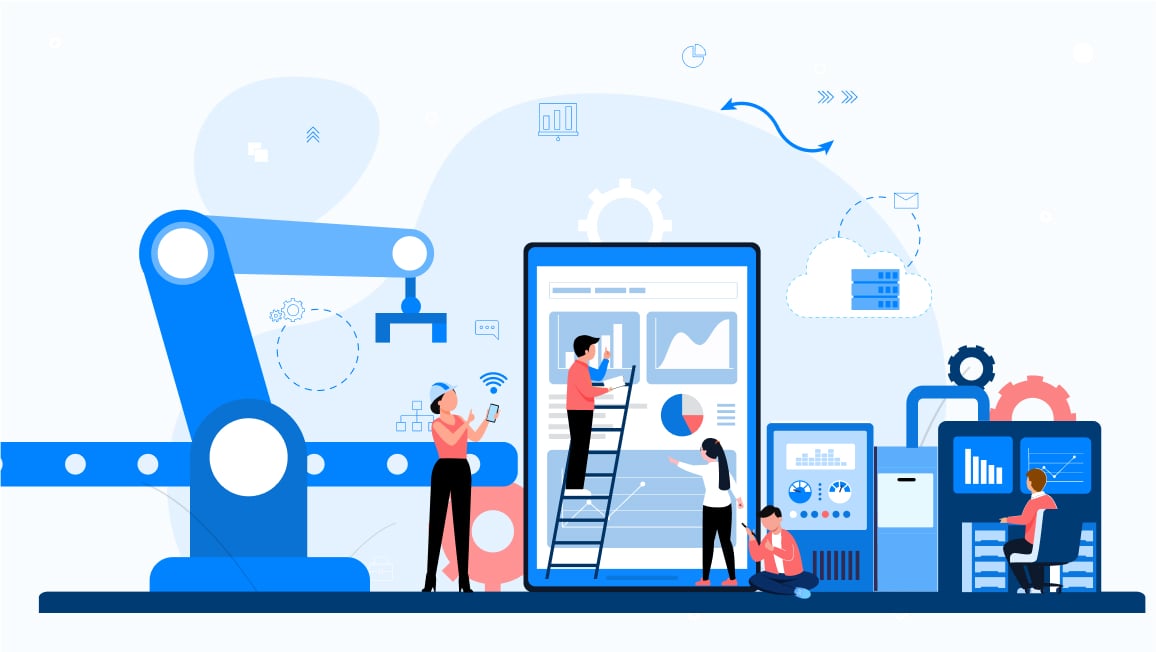 The manufacturing sector supports millions of jobs every year, and it is vital that companies stay compliant, improve employee experiences, and maximize productivity. That is why the role of HR in the manufacturing sector deserves more attention. In this article, we discuss 12 major HR issues in the manufacturing industry, how to go about solving them, and the strategic role the HR management plays in the manufacturing sector.
When the COVID-19 pandemic struck, the manufacturing industry was one of the hardest-hit industries, worldwide . Activities had been partly or completely suspended due to safety regulations and lockdowns, and while the sector is slowing getting back to normalcy now that the peak of the pandemic is behind us, it will take far longer than originally anticipated for a majority of the organizations. That is one of the key reasons why the role of HR in the manufacturing sector is so important.
What is the Role of HR in the Manufacturing Sector?
Using machinery, equipment, and labor to manufacture products for sale or use is a broad definition for manufacturing. The term manufacturing may apply to a variety of human activities, ranging from handcraft to advanced technologies, but it is most often used to describe industrial output, wherein raw materials are turned into completed commodities on a large scale.
Around 5.8 million non-manufacturing jobs rely on or are assisted by the global manufacturing industry. While the sector provides millions with jobs, HR leaders at these manufacturing companies struggle with several aspects of managing the workforce. Workers, both blue-collar and white-collar, are the greatest resource for a manufacturing firm, and the HR function is responsible for their recruitment, training, evaluation, and ensuring sustained productivity.
In industrial enterprises, the HR function is often involved with payroll, administrative duties, and as a liaison between management and employees. In times of strikes and labor unrest, manufacturing firms often rely on the HR department.
These duties of an HR team at a manufacturing company will include:
Payroll

: For a manufacturing unit to operate efficiently,

payroll management

is essential. The purpose is to guarantee that wages and salaries are given to workers on schedule, and ensure the timely payment of payroll-related taxes. Payroll is contingent on the regular attendance, shift schedules, and hours worked by employees, therefore, HR departments must have an attendance management system to ensure smooth operations.

Recruitment

: HR teams in manufacturing companies play a crucial role in recruiting the right talent, particularly on the factory floor. For instance, there might be some equipment that require specialized knowledge, or the functioning of certain digital systems may require a specific level of competence. HR teams are responsible for identifying the right candidates for these roles, handle training, and ensure that they're ready to get started with work at the manufacturing unit.
Benefits administration

: Often, manufacturing facilities offer bonus rewards to their employees, for additional work hours they put in. However, evaluating overtime work and verifying that the additional hours of work have been fairly compensated is a tedious process.. HR teams at manufacturing companies are responsible for this. Using HR technology designed to track and manage this data can be of great help for HR professionals in the manufacturing sector.

Reporting

: For a manufacturing company to function properly, it is critical to track data, compile reports and guarantee that all equipment is operating at peak efficiency. In addition, HR teams are responsible for verifying that the workforce adheres to workplace safety guidelines. To guarantee every one of these, regular compliance reports and forms must be prepared, filled out, and submitted, making reporting a key responsibility of the HR department.
With increasing demands and growing investment interest, the industrial sector requires a full-fledged human resources department more than ever before. Currently, both small and large enterprises recognize the significance of the HR function for their overall organizational success. The role of HR in the manufacturing sector can span intergenerational employee experiences, diversity & inclusion, workplace safety and compliance, managing contractors, and so much more.
In an evolving, dynamic global market, human resource management in the industrial and manufacturing sector needs more attention and emphasis than at any other time in the past.
Learn More: Why the Manufacturing Sector Should Prioritize Digital HR in 2023
How Is the Role of HR in the Manufacturing Industry Different From That in Other Sectors?
Before we look at the key challenges facing HR in manufacturing, it is important to understand how the HR function's role in a manufacturing company differs from that in a corporate context.
The factors that highlight the unique role of HR in the manufacturing sector:
A worker leaving the company would have an immediate impact on output

: Often, manufacturing companies spend a great deal on the training and accreditation of their personnel, therefore, an employee leaving their job can be an expensive incident for the company. Although human resource managers seek to foster lengthy career commitments amongst manufacturing employees, a limited pool of certified/licensed applicants fosters intense rivalry between companies leading to employees jumping ship and joining competitors. Such an incident could hit the company's output and revenues hard, until a replacement for the role is found.

The benefits landscape is completely different from that in other sectors

: Non-monetary advantages, like flexible hours and work-from-home alternatives are common in the corporate sector and are considered essential employee benefits. They, however, don't work for manufacturing companies. Manufacturing companies instead manage their budgets in other innovative ways to ensure competitive compensation, retirement benefits, and healthcare contributions that meet the demands of labor unions and help retain talent.

Pre-employment training opportunities may be limited

: With the advancement of technology, it is now possible for corporate recruiters to target passive individuals with specific skill sets. Recruiters and HR professionals in the manufacturing sector don't have this option of selecting candidates from a wide pool of skilled and experienced candidates. As a result, several firms recruit and educate their workforces via on-the-job training, paid internships, and collaborations with technical colleges.
Learn More: How to Overcome the Skilled Labor Shortage in the Manufacturing Industry
Issues Faced by HR Teams in the Manufacturing Sector, and How HR Tech Can Help
HR departments in manufacturing companies typically have to constantly navigate the following issues:
A war for trained, experienced talent
The pool of candidates available for manufacturing companies to hire from is shrinking. This is because of an insufficient number of graduates trained in the relevant subjects/fields, outmoded workplaces that aren't safe or progressive, and the misunderstanding among younger generations that salaries at manufacturing companies aren't competitive or up to market standards. This issue is exacerbated by an aging workforce.
Also, there is a challenge in identifying and recruiting appropriately competent individuals who do not require extensive training and schooling to get started.
Human resources departments in manufacturing should actively try to tackle the labor shortage, and adopt HR tech to assist them in the talent management process. This includes using technology for sourcing resumes, collaborating with schools and training institutions, identifying qualified individuals, and scheduling job interviews. This helps attract a larger candidate pool, and, in turn, combat talent shortage.
Voluntary attrition among workers
With severe shortages in their employment and recruitment capacities at this time, manufacturing companies must minimize attrition at all costs. The sector is prone to a high turnover rate since individuals are naturally tempted to seek new and interesting prospects, and professional advancement opportunities within manufacturing companies are sparse. .
In the manufacturing industry, there is a pervasive notion of stagnating incomes, lackluster perks, and a poor work environment. This makes overcoming high rates of staff turnover a tough task.That is why the role of HR in the manufacturing sector has to pivot – away from only compliance and throughput, to employee experience and engagement. Using the right HR technology, manufacturers can monitor the state of job satisfaction and work to re-engage their top talent and ensure talent retention.
Other tactics that can simplify the role of HR in the manufacturing sector include:
Offering lateral work opportunities that aren't as physically demanding.

Providing mentorship and learning programs where experienced employees can share their expertise and skills with younger employees.

Ensuring that your workers have the competencies they are going to require in the future; encouraging them to take advantage of any and all digital training the company offers.

Improving the company's capacity to attract and hire outstanding applicants by boosting the employer brand.
Safety risks in the workplace
Given the need for machines, planers, lathes, and other forms of production equipment, individuals in the manufacturing industry are often at risk getting into accidents at work. While manufacturing batteries, for instance, employees deal with hazardous chemicals and may be exposed to lead in the way of particles or fumes and end up with chronic illnesses. Others working with large heavy equipment might be at risk of injury from improper use of the machinery or defective machinery.
Whether operating on elevated platforms, cherry pickers, scaffolds, or in any other elevated place, employees are at constant risk. Even the sound from industrial machinery may cause hearing loss if experienced over a period of time.
In order to solve this issue, it is essential for manufacturing companies to advocate workplace safety, and this must extend beyond just giving employees a safety manual or guidebook. Creating a culture that is devoted to and focused entirely on health, safety, and accountability is the primary objective. HR must proactively work towards avoiding, decreasing, or eliminating risks before an unfortunate accident actually happens.
To address this necessity, manufacturers must emphasize protection and accountability. Investing in a flexible and relevant training program may also contribute to disaster/risk mitigation.
Learn More : How Aarti Industries Improved Workplace Safety Using Darwinbox
Declining employee engagement levels
To fully empower their workforce, and help them achieve optimum productivity, the manufacturing sector must significantly improve their work environments. However, HR departments in the manufacturing industry face a unique challenge to get this done, because they don't have the information and employee feedback they need to provide employees the kind of work environment they want.
The sheer scale of the workforce in the manufacturing sector further accentuates the difficulties HR teams face every day.. The workforce isn't just massive, but is spread across multiple sites and geographies. In many businesses, the leadership and top management may be based in a different region, state, or even country, when compared to the majority of the organization's employees.
The solution to this problem lies in setting up strong communication channels between employees and the HR department.
To reduce the possibility of a decline in employee engagement, manufacturers must maintain a continual and healthy relationship with labor (or trade) unions that are so critical to management-employee communications. Companies must also establish channels for workers to connect and interact with the leadership, which can be achieved through next-gen digital platforms.
The absence of continuous employee skill development
Rapid technological innovation requires workers to be adaptable, agile, and quickly learn to use the latest technology and tools to complete their tasks. This is essential for enhancing the company's productivity. However, a large section of the workforce in the manufacturing sector is not trained to work with next-gen technology and the latest machinery.
By putting a continuing developmental strategy in place, and conducting career advancement and skill development programs, manufacturers won't have to replace current employees with new hires who are familiar with new technologies. Given the labor shortage in the manufacturing industry, continual recruiting isn't always possible, and upskilling/reskilling employees is important. Another way to handle this HR issue in manufacturing companies is by tracking people data abd using people analytics to identify skill development opportunities.
Learn More: Digital Foundation For A Future-Ready Workforce
Issues around employee welfare
Employee welfare is a distinctive aspect of the HR role in the manufacturing sector. The workforce has, in the past, suffered as a result of the suspension of operations, layoffs, pay cutbacks, and in some instances, the closing of companies. This has a direct, negative impact on the well-being of employees. Manufacturing companies can address this by instituting better employee welfare programs, such as medical aid and compensation increases, . Words and phrases reinforcing positivity and beneficial adjustments to the work environment fosters feelings of loyalty and provides workers with the necessary impetus, and improves the overall well-being of employees.
7. Daily shifts and changing labor demand
A constantly shifting work schedule is difficult on both the HR department and employees. The absence of regular shift schedules, inadequate notice for planned work hours, and last-minute shift adjustments can dampen employee morale. As is frequently the case in the manufacturing sector, the lack of a regular work schedule may result in an uncertain, unstable work environment.
At factories that run 24 hours a day, seven days a week, for instance, the HR department should allocate shifts evenly throughout the day and night. The HR department must concentrate on ensuring low absenteeism and decreasing redundancy, while facilitating the efficient use of both human effort and machines.
A sophisticated workforce management (WFM) solution can tackle these HR issues. It can provide real-time training, task monitoring, and complicated shift-swapping tasks, while minimizing human error.
The task of allotting and managing schedules in a manufacturing facility is too complex to perform manually. Consequently, it is essential for the HR function in the manufacturing industry to digitize their workforce management with HR tech platforms with WFM capabilities .
The need to improve Diversity, Equity, and Inclusion (DEI)
The industry is dominated by men, and the lack of diversity is a key HR issue in the manufacturing sector. According to Deloitte, just under a third (30%) of today's manufacturing sector employees are female. According to the research, one in four women are contemplating quitting the sector due to the absence of flexible hours and a lack of work-life balance.
With Industry 4.0 and smart factories coming in, manufacturing companies have to also take steps to attract candidates from various cross-sections of society and improve diversity.
One of the easiest ways to improve DEI is to offer flexible work hours. Flexibility in manufacturing companies can be as easy as allowing people a two-hour window to begin the workday as opposed to mandating a uniform start time. Allowing employees to switch shifts with certain other workers, with management consent, is another option. Another idea is to permit reduced work weeks but with longer workdays.
AI can be used to assist human resources (HR) teams in manufacturing to prioritize talent over just staffing volumes. By excluding details like name, residence, age, and gender, which tends to foster prejudice, it enables decisions about potential and competency that are devoid of bias.
The lack of employer branding
Most manufacturing companies acknowledge that the sector isn't popular among the younger generations.They regard the industry as hierarchical and archaic in the use of technology.
Manufacturers must proactively take the initiative to inform candidates that they could earn high salaries in the manufacturing sector, and without a postgraduate degree.Manufacturing companies need to rebrand the sector, and break the perception among people that manufacturing companies are boring, obsolete, and uninventive. Companies in the manufacturing sector need to brand themselves as places that offer candidates opportunities to earn, learn, and grow, just like they would at companies in other sectors.HR teams in manufacturing need to appeal to younger potential workers by highlighting the value of the work they would do and the contributions they can make to the company, the society and the economy. .
Finding employees skilled to succeed in the new world of work
A couple of decades ago, a lot of the work done in the manufacturing sector was physically arduous. Now, with the advancement of technology, these jobs do not need physical labor, and this opens up opportunities for creating more diverse, modern workplaces and manufacturing units. Several businesses in the sector are investing in technology solutions that will help them create connected and intelligent factories. Consequently, the kind of skills that will be required, and the way these companies operate, will change.
For instance, with the adoption of technology and the use of automation, employees in a manufacturing floor won't have to engage in physical labor but will have to learn to manage the machinery and robots. The number of employees with these kinds of skills is quite small at the moment – which is a challenge for HR in the manufacturing sector.
How, then, can HR teams find this talent? What can they do to recruit, retain, and inspire a digital workforce while preserving the present manufacturing systems? One solution is to deploy digital literacy programs for manufacturing workforces. HR teams will also need to fully comprehend the IT roadmap for their individual businesses in order to update job descriptions as well as staffing strategies.
Modern HRMS platforms can assist HR leaders with handling all these tasks, and preparing their workforce for the new world of work and for Industry 4.0.
Global competition
With the enormous growth in global competition, the HR function in manufacturing has become increasingly more important and complex.Companies must now be able to effectively compete with multinational enterprises (sometimes with a price advantage) in order to recruit talent and maintain profitability.
Given the much-reduced labor costs paid by companies in less developed nations, HR leadersmust do all they can to increase throughput.
This implies that HR teams must create the kind of work environment that can maximize employee productivity and improve employee engagement. The ability to adopt and embed advanced technologies in manufacturing workflows can also improve the bottom line for manufacturing businesses without adding headcount, provided HR teams invest in upskilling, talent development, and change management.
Managing compliance
The risk of noncompliance is one of the key HR issues in the manufacturing industry, given the number of laws and regulations governing manufacturing companies and factories. Manufacturing faces some of the highest accident rates amongst industries, and these injuries may trigger state and federal regulations protecting employees' rights while they recuperate.
Compliance with workers' compensation regulations, and other laws governing manufacturing companies is essential. It is however a complex process prone to errors, which is why the role of HR in the manufacturing sector is so important.
To prevent violations of government laws, it is best to be thoughtful and considerate, rather than being staid and reactionary. Employers must follow the necessary procedures to establish when they may lawfully ask an injured employee to return to work. Compliance may also include workplace modifications, like taking on a new role with different responsibilities.
Learn More: Mapping the Evolution of HR in 2023 And Beyond
The Role of the HR function in Modern Manufacturing Companies
Until recently, the HR function at manufacturing companies wasn't considered important enough to be part of the organization's strategic planning and management. Business requirements drove HR strategy and initiatives, and the HR team had a limited role in the company. Now, the HR department can no longer be a passive link in this system; it must also participate in policy making.
The HR function plays a larger role, and HR planning in manufacturing companies are expected to handle and take responsibility for the following:
Ensuring compliance and adhering to safety standards

Harmonizing corporate culture and work conditions with company requirements
Understanding every department's operations and staff duties

Facilitating effective communications between floor personnel and senior management
The HR department also plays a crucial role in a manufacturing company's business strategy, and nurturing the company culture.
At every step of the way, the right HR technology and resources can help improve and simplify the role of HR in the manufacturing sector, alleviating the major issues that the industry faces.
A cloud-based HRMS platform, designed keeping manufacturing companies in mind can help HR leaders at manufacturing firms handle the challenges and ensure growth and success for the company. To learn more about how HR tech can help manufacturing companies, schedule a demo with Darwinbox today!