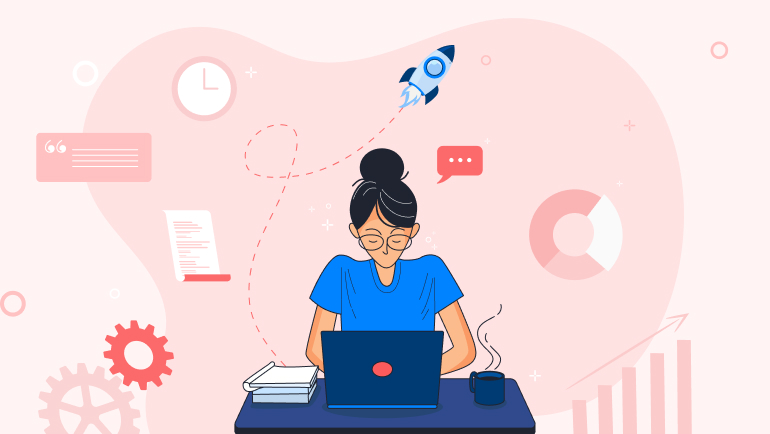 HR tasks are often a challenge for startups, given the administrative work involved, legal regulations to be adhered to, and the long-term impact that the initial policies will have in setting the direction in which the HR function grows. So, starting out with the right policies in place is essential, even if it requires additional investment and extra effort. It can help you grow faster, strengthen your brand, and attract talent that pushes your startup to the next level. This article discusses the 18 essential HR policies for startups and how to execute them.
The right talent can make all the difference to startup success. But as your company grows, you need clearly outlined HR policies to govern employment, workforce happiness, and productivity. To achieve this, you need 18 essential HR policies for startups – but first, let us explore what such a policy would entail.
HR Policy for Startups – An Overview
An HR policy for startups is the formal documentation of the rules to be followed at the workplace, both by the employer and its employees, with the aim of driving productivity, improving the employee's wellbeing, staying legally compliant, and adhering to the culture code that the startup has outlined at the time of its founding.
A smart HR policy will prioritize workers and organizational culture, encourage positive behavior and connect employees with the future vision of the startup. Particularly in startups and small teams, having a defined structure in place ensures that everyone understands the employment relationship and provides a solid platform for more strategic HR activities.
Early-stage companies are often unstructured, agile workspaces centered on customer and product development, so it's not surprising that they spend little effort in the beginning on employee paperwork and HR policies. However, there will come a period when the need for a more rigorous HR strategy becomes apparent, often, whenever something goes wrong. So, it is essential to have an HR policy for startups, however simple they may be.
As the startup grows, the focus of HR policies changes from basics such as meeting legal requirements to long-term aspects such as employee growth, retention, and overall compensation.
Why Are
HR Policies for a Startup Company
So Important?
By establishing a separate department of human resources, a company will be able to set clear and effective standards, prepare for short-term demands, and mitigate long-term risks. Positive HR practices enhance the employee experience and reduce the company's liabilities. In several thriving startups, HR policies establish unambiguous ground rules for individuals and protect employer rights.
Eventually, the benefits of your HR policies can be felt in the company's work culture, its valuation, the ease with which you raise funding, and even stock prices after an IPO. Therefore, robust HR practices are essential for a startup. Managing various company demands, such as recruiting, onboarding, training, or payroll, may be challenging without the help of policies and a separate HR department.
There are seven reasons why HR policies at startups are so important:
HR regulations will describe in detail a specific code of conduct for your startup.

Having a well-defined framework for conduct helps to bind every person to the business. It also facilitates the uniform and equitable application of these rules all through the company.

It clarifies misconceptions between workers and employers about their rights, responsibilities, as well as other workplace procedures.

It lets business owners save time and money on policy disagreements or legal challenges.

The lack of HR standards for startups may lead to a fall in employee morale, a drop in employee loyalty, and a high risk of legal consequences.

HR policies help establish a company's culture and push workers to adhere to the anticipated ethical conduct.

Clear HR rules promote focused and unified commitment toward business success and allow for efficient performance management.
The most critical HR practices for a startup are those that guarantee that the organization is capable of handling any kind of workplace problem.
Detailed HR policies enhance the ROI from the HR function, covering worker productivity, profitability, employee satisfaction, a positive working environment, and the ability to attract exceptional talent to the company. This is particularly important when the organization is just starting out.
If you're a young startup, drafting an HR policy and creating a set of rules and procedures or broad recommendations from scratch might seem overwhelming. Here's how to handle it while also ensuring that you're focusing on getting your product right and getting the business in order. The following sections will guide your ideas around essential HR policies for startups that will help establish a strong foundation for the HR function.
Learn More: Hiring Strategies for Startups
How to Craft the
Essential HR Policies for your Startup
There are multiple HR policies that are deemed vital for each workplace. They often include regulations for workplace harassment, wage parity, contingency preparations, accessibility, work hours, hiring, and termination.
As you draft the HR policy, be sure to have it evaluated by a legal expert and ensure that your policies comply with applicable laws and do not introduce avoidable risks. Having a legal expert on your side can also help you remain abreast of employment law developments.
After the fundamentals are in place, you will have to update your HR policy to address common problems that occur in a growing startup. This will entail overtime, flexible work, leaves of absence, performance management, conflicts of interest, electronics use, and travel & expense management.
Here's what you need to do as you set out to create a comprehensive document of the essential HR policies for your startup:
Assemble the key voices from across functions
Developing an HR policy document for the startup should be a collaborative effort. It is an important, essential document for any startup, and needs input from all key stakeholders in order to establish a feeling of shared responsibility and accountability. Assigning the job to a single individual and considering it as a mere administrative task devalues the HR policy document and and could leads to inefficient communication and the failure to adopt the policies.
The stakeholders who would be responsible for the formulation, communication, and upkeep of the HR policy framework include:
The individual who initiates policy development discussions with the C-level leadership and other relevant stakeholders.

The one who composes the appropriate guidelines and supporting documentation.

The person in charge of disseminating data to the startup workforce and providing frequent updates.
The stakeholder liable for evaluating the policies and recommending any necessary updates, as well as for paperwork and execution.
Take stock of your legal obligations as an employer
Legislations and regulations impose considerable obligations on businesses with regards to their workers, and it is crucial to adhere to these requirements. These regulations and legal requirements typically cover the fundamentals of employment, such as pay, hours of labor, overtime, and vacation; remember. These regulations and labor laws vary across countries, regions, and types of companies. Every startup must be aware of these legal requirements, employee rights, and the employer's duties towards the employee in terms of health and safety. Similarly, entrepreneurs must be aware of the laws of equal treatment and harassment prevention. This will enable you to proactively identify potential trouble spots.
As the startup grows, it is important to keep tabs on the legislations and regulations and make any necessary changes or additions to your HR policy. In the HR policy, it is important to define and detail anticipated behaviors and actions that constitute a violation of the code.
Craft a short summary that's easy to read
Consolidating all of your HR regulations and standards with a short overview that establishes the context for your overall strategy and offers business culture indicators is essential to ensure that every employee understands and adheres to the startup's HR policy. .Policy documents can turn into long, jargon-heavy documents that may be difficult for all employees to read and understand correctly. A synopsis of the material simplifies the regulations for them and also makes it easier for the leadership to enforce the regulations and policies.
It will help to plan question-and-answer sessions to address all of your workers' potential concerns so they can absorb and appreciate the startup's HR policy and.
Learn More: The Future of Hybrid Work: 11 Key Trends
18 Essential
HR Policies for Startups
to Consider
Every startup must ensure that the HR policies consistently represent the company's values, goals, and aspirations. Human resource policies must facilitate equitable performance management and simplify employee development processes. In addition, they must foster confidence among employees, assure clarity, and encourage openness and equity in the workplace.
Here are the 18 HR policies that every startup must have as part of its HR policy document:
Policies that determine the offer letter
As a young startup, it is exciting to send out your first few job offers to the founding team. It is important that your tone of voice reflects this enthusiasm and makes them feel valued as an early member of a startup.
Once that is done, you will have to notify the employee of important job details, such as their start date, pay, probationary term, supervisor, holiday allowances, work hours, and notice period. Together with the offer letter, it might be beneficial to include the employment contract for clarification. It is ideal to disclose this information beforehand and respond to any inquiries the candidate may have.
Some countries make clarity part of statutory compliance. For instance, as part of the UK government's Good Work Strategy, the right to a declaration of documented particulars will become an official pre-employment duty from April 6, 2020.
Policies around the employment contract
This is the most important document outlining your relationship with your workers, detailing their rights and benefits while safeguarding your company from any liability. Especially if you are just beginning to expand the business, it is crucial to strike the proper balance within your contracts.
Include rigorous provisions safeguarding your intellectual property and specifying post-employment restrictive covenants in your contract (like clauses against competing, soliciting, poaching).
Regular working hours policy
Startups are often known for flexible yet long working hours. The structuring of the company's working hours and days is one of the most essential HR policies for any startup. Employers must ensure that this information is documented clearly and communicated effectively for employees to achieve a work-life balance.
A company's working hour policy must be developed in line with the business hours prescribed by the labor laws of the countries in which the startup operates, and must account for overtime, extra hours, deadlines, etc.
If you are looking for HR policies for a startup company in India PDF documents, this law may be of interest: The Factories Act of 1948 stipulates that each and every worker is eligible for a half-hour interval break and that no more than five hours of labor shall elapse before such a break. According to Section 51, no worker covered by the Act shall be compelled to work more than 48 hours per week.
Policies around the work culture
Startups, through clearly defined HR policies, should make it clear to all individuals that ethical conduct, equitable opportunity, and respect for one's coworkers are fundamental to the employment agreement.
This part of the HR policy document must establish guidelines on dress codes,, sexual harassment, customer misconduct, coworker disrespect, and breach of confidence (data leakage).
The company's right to amend any guideline at any moment should be made explicit. Using polls and surveys, you may engage your community in the creation of your HR policies. You could seek inputs from your employees on what should be included, and including employee voices can help you enforce the policies better.
Employee code of conduct
This is among the most essential HR policies for startups. The code of conduct guideline reinforces the organization's cultural values and translated them into practical rules/codes that employees should follow. It should outline the conduct that workers are supposed to uphold and the business culture that must be maintained. This policy must also indicate how violations of the code are to be reported.
With the execution of this policy, empathy and mutual respect must be fostered among individuals.
Policies for interpersonal relationships in the workplace
The HR department must clearly define the company's policies on interpersonal relationships and commercial transactions between employers and workers. The policy must outline the roles and responsibilities of higher-ranking employees, and their involvement in motivating and leading other employees.
Some companies may discourage personal relationships between co-workers, while others have certain rules governing them. It is best to lay this down clearly in the employee manual/handbook, which makes this an essential HR policy for startups.
Total rewards policy
Among the many essential HR rules for a startup is ensuring that workers are aware of their compensation and other benefits. Enterprises, particularly startups, must guarantee that their workers fully comprehend the salary structure, bonus, and other benefits.
This is necessary to prevent misunderstandings and confusion when the individual begins working for the organization. Payments, promotion, bonuses, travel insurance, compensation claims, etc., are among the essential elements that must be addressed in this policy.
Policies applicable to the probation period
Often, all new employees are required to complete a probationary term, particularly in India. This allows the employee to get acquainted with the company's work environment and job roles. During the probationary period, the employer must explicitly state bonds, notice periods, and termination protocols.
So, it is essential to have an HR policy that specifies the duration of the probationary term and the method for evaluating the probationary period before an employee is eligible for permanent employment. It will also enhance the startup's employment process reputation.
For individuals interested in an HR policy for an Indian startup (PDF), the Industrial Employment (Standing Orders) act or IESO stipulates a 3-month probationary term; this is also often observed by enterprises not subject to the IESO. The prevailing norm in India is for a 3- to 6-month trial or probationary period, particularly in the services and technology industries.
HR policies to prevent and redress sexual harassment in the workplace
Every business must implement measures to provide a secure work environment for both women, and men. This is particularly crucial for startups, since they may prioritize other business goals, like finance or product launches and HR policies on sexual harassment and safety might fall through the cracks.
Sexual harassment regulations aren't merely a legal obligation but also a moral responsibility. In India, the United States, the United Kingdom, and around the globe, legislations have already been amended to make workplace safety for women a top priority.
The 2013 Sexual Harassment of Women in the Workplace Act is among the most applicable HR policies for a startup company in India (PDF). Any organization with more than ten workers is required by law to establish an Internal Complaints Committee, that has to be part of any startup's developmental strategy.
Employee joining and exit policies
There must be no uncertainty about the terms and conditions governing the commencement and closure of employment for startup employees. HR should define clear and comprehensive guidelines that employees must adhere to when joining your startup,.
Likewise, you should declare that any party may terminate employment at any moment and that no corporate policy implies a contractual duty on workers (unlike the case of shareholders). Notice period, employee and employer obligations, and other exit formalities should also be part of this essential HR policy for startups.
Learn More: How to Build and Implement an Effective People Analytics Strategy
HR policies governing the use of company resources
This primarily concerns the use of technology assets such as a laptop, and the internet. Some startups choose to respect the private space of your workforce and allow them to use it at their choice, so long as they properly manage their time and meet deadlines, while some impose tight restrictions on the use of the company resources outside wotk as well. For tech startups, it is absolutely essential to establish an HR policy around who owns IP created using company resources.
Paid time off (PTO) and leaves policy
There must be no ambiguity on the amount of leaves permitted, their terms of use, and the circumstances linked with paid and unpaid leaves. Regardless of the size of the business, compliance with labor laws and other regulations must be maintained.
Different countries may have different rules in this regard. Technically, India has public holidays during which no company is permitted to conduct business. Yet, companies such as factories, hospitals, or travel agencies are excluded and permitted to function 365 days a year. So, make sure you determine the jurisdiction under which your startup will operate, as well as employee sentiment and the company's culture.
Menstrual leave policy
This HR policy is something that has recently started gaining prominence andcan give your startup an edge as an employer brand. As per this policy, women are also given the option to take a paid or unpaid leave of absence from their jobs if they are unable to report to work due to menstrual cramps or other related issues. This helps improve the overall employee experience for women.
As for the HR policies for a startup company in India (PDF) around this issue, the Menstruation Benefits Bill was introduced in 2017. Under the proposed legislation, women enrolled with the Central and/or state authorities would be eligible for two days of menstruation leave every month.
The policy stipulates that all women must get the specified leave, and no prejudice must be made based on the nature of their job.
Work From Home (WFH) and hybrid work policy
A work from home contract or hybrid work policy is an arrangement between a company and an employee that allows the employee to work from outside the company's official office space. A robust hybrid work policy E stablishing a clear and precise policy is essential, and it should elucidate the job schedule, deliverables, and methods of communication.
. It must provide the mechanism by which an employee may work from home and specify who is qualified for certain rights. Here's a ready-to-use hybrid work policy template that can be plugged into the overall HR policy for a startup company in India.
Performance management, appraisal, and rewards and recognition policy
The objective of the performance management policy is to provide employees with a clear picture of what is expected of them. It offers a framework within which an employee's performance may be monitored and reflected in their yearly or biannual evaluation, promotions, and/or wage increases.
This is one of the essential HR policies for a startup company because it guarantees that employees are incentivized to improve their performance, communication, conduct, and other skills. In addition to serving as a basis for performance evaluations, the HR policy should inspire workers and provide complete clarity.
The performance management policy can aid startups in identifying, measuring, managing, and developing the performance of an organization's human resources.
In connection with this, a rewards and recognition strategy seeks to provide workers with a one-time incentive or an award for exceptional achievement. It is designed to inspire workers to improve their individual or collective performance. The incentive may be financial or non-monetary. The recognition milestones are set in accordance with your company's overarching vision and purpose by following a well-defined structure as per the HR policy.
Hiring policy
A hiring policy outlines the regulations and obligations that all workers must adhere to while seeking candidates, conducting interviews, and making hiring decisions. These rules might vary based on the organization, since they are often modified to meet the requirements of the startup.
However, the hiring policy must be compliant with laws prohibiting discrimination. For example, India's the Rights of Persons with Disabilities act, 2016 lays down rules for equal opportunity for employment – so make sure to check out the relevant HR policies for startup companies in India (PDF) or in your specific country when formulating or revising this policy.
Gratuity and provident fund
A gratuity is awarded to an employee who has completed five years of service with the company. As an employee retires, they get their gratuity, which is mostly provided as a token of gratitude for their service to the organization. According to the Payment of Gratuity Act of 1972, it is a legal requirement to pay workers gratuity.
Similarly, the Workers' Provident Fund Act of 1947 offers retirement income security to employees. You can go through this document with HR policies for startup companies in India (PDF) , explore different pension funds in the US, or an equivalent of this policy in your region. Notably, only organizations with over 10 workers are required to maintain a provident fund.
Disciplinary policy
This essential HR policy will give startups a mechanism to manage employee performance or conduct. It could include any kind of performance, behavior, or conduct that falls under a list agreed-upon by the key stakeholders. Often, most of the things that are part of this may be resolved informally. Yet, it is strongly advised that you establish a formal procedure for possible disciplinary concerns, like a performance improvement plan (PIP).
As you draft this part of the HR policy, consider the procedures you may want to undertake if disciplinary measures are required. They often involve several degrees of warnings, suspension, demotion, and termination.
Inform your workers of their rights to be escorted to disciplinary proceedings. As a component of the disciplinary policies, you should also consider compiling a non-exhaustive checklist of behaviors that constitute gross insubordination.
Learn More: Employee Engagement: Definition, Importance, Benefits, Best Practices
Challenges You May Face With the HR Policy for Your Startup
Enforcing policies is one of the key challenges a startup will face. Since startups are usually small, they may not always have a full-fledged legal and HR team to manage the many policies it needs. This may lead to the following challenges:
Hurdles in policy implementation

: The process of translating intent into action is difficult. It takes time and consensus to introduce a fresh code of conduct and a set of norms. In order to circumvent this, some companies solicit employee feedback and incorporate employee input in the policy..

Challenges in measuring the benefits of HR policies

: Employees may sometimes question the relevance of investing time in creating a detailed HR policy for a startup. You may also be tasked with determining if HR strategies and policy guidelines are actually being efficient. This is where a robust HR technology system – complete with reports and dashboards – can help. It visualizes the performance of HR and how the policies are benefiting employees as well as your startup.
How to overcome HR Policy Pitfalls
A robust HR capability is the feather in the cap of any emerging HR startup. And a flexible, easy-to-use HRMS platform designed for startups can help overcome the challenges mentioned above, and ensure that all HR policies are enforced efficiently.
With the right tools, you can begin your organization's journey on the right foot and execute all the essential HR policies for startup success. Schedule a demo with Darwinbox demo to learn how.