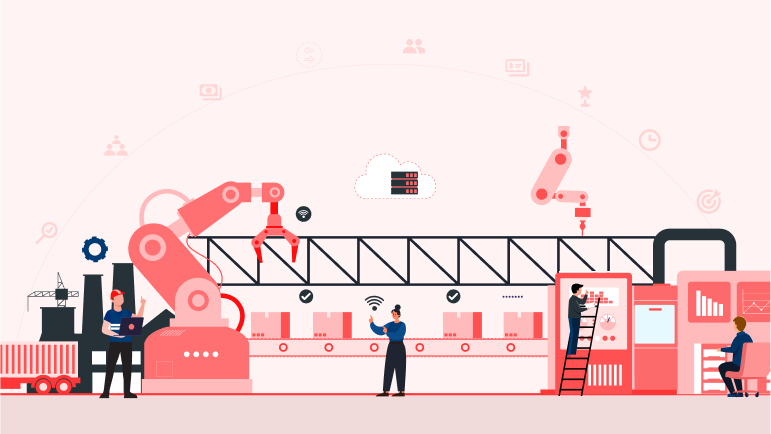 Performance management in manufacturing is about evaluating a worker's performance over a fixed period of time as per pre-decided parameters to offer constructive feedback, rewards & recognition, and career development pathways. This article explains the importance of performance management for manufacturing companies and the best practices you should follow. We have also included templates you can use for talent management at your manufacturing firm.
Performance management is a vital component for the success of any organization, regardless of industry. But the fast-paced and repetitive nature of manufacturing makes it far more challenging. With numerous shifts and supervisors frequently dispersed across multiple locations, it is hard to figure out where people are thriving or underperforming. Often, outcomes are generated at a speed that is difficult to evaluate and assess correctly.
So, how do you create a plan that can keep up with the requirements of a manufacturing company, factory, warehouse, or production site? First, you need to know the meaning and importance of performance management in manufacturing.
Defining Performance Management in Manufacturing
Performance management serves as both a tool and a human resources (HR) technique that helps managers examine, appraise, and ultimately improve the performance of their workers.
It employs a strategic approach to create a sustainable environment where individuals may become more productive, producing work of the highest possible quality more efficiently and effectively. Typically, performance management in manufacturing focuses on employee competencies, training, and resources to maintain and improve outcomes consistent with organizational objectives.
Since a happy and productive workforce is the cornerstone of manufacturing organizations, it is necessary to have the right people working on various operations. Performance management in the manufacturing sector also contributes to developing a secure and productive work environment.
In the manufacturing industry, performance management will encompass the following:
Supervisor involvement: To ensure success, leaders are accountable for defining expectations, including sharing feedback, coaching, and acknowledging productivity.
Goals: In addition to shift workers, team and individual workers must prioritize achieving goals consistent with business objectives and organizational values.
Ongoing conversation: Managers should foster a robust and productive organizational culture wherein employees participate in ongoing conversations about various performance criteria and attributes.
Training: Employees must possess the technical expertise, experience, and skills necessary to execute their responsibilities more effectively, based on the organizational objectives.
Feedback: Supervisors must offer prompt feedback and training to employees to help them self-evaluate their progress and performance.
Learn More: Recruitment Life Cycle: Importance and Stages
7 Reasons Why Performance Management in the Manufacturing Sector Is So Crucial
Performance management plays a key role in increasing productivity, engaging employees, and creating a sense of job satisfaction for the employees. It provides a clear understanding of what is expected from employees, aligning their individual goals with the organization's objectives, and providing regular feedback to improve performance. Performance management also helps identify areas where employees may require additional training or support to improve their skills, which can lead to improved job satisfaction and engagement. Moreover, performance management helps managers to recognize high-performing employees and provide rewards and recognition, leading to increased employee morale and retention rates. Here are seven reasons that illustrate the importance of performance management in a manufacturing set-up:
1. Reveal and guide workforce training
Performance leadership is an excellent tool for supervisors to identify areas where workers might improve their performance and gain from additional training. Creating a space for conversation and assessing employees helps identify other problem areas, such as communication skills or new tech adoption. This enables enterprises to determine the required learning pathways and enhance operational performance.
2. Know which employees to promote
Supervisors are capable of correctly recognizing individuals whose performance merits promotions. Similarly, it allows you to create opportunities that would provide individuals greater autonomy and the flexibility to focus on areas they wish to work in, like working multiple shifts or with specialized machines. As a consequence, performance management in manufacturing facilitates the assignment of sensitive tasks to the most qualified individuals.
3. Aid in strategic workforce planning
Performance management enables shift managers to create more efficient schedules. Suppose there are places wherein workers are failing. In that case, managers may use performance management and workforce planning to identify the most efficient strategies to establish a mix of skills and competencies unique to the company's individual requirements.
4. Improve goal-setting and its impacts
In accordance with performance management strategy, goal-setting lets you split organizational objectives across divisions, groups, schedules, regions, and individuals. With a clear understanding of the objectives, each division of a manufacturing organization applies targeted effort and helps their coworkers in achieving team objectives. This improves collaboration and communication even between geographically dispersed employees.
5. Increase engagement among manufacturing workers
Using a performance management system, manufacturing companies may nurture a more engaged workforce. This is due to the fact that it allows you to offer individuals a feeling of purpose in their daily tasks by offering continuous feedback and clearly outlined goals. Workers from the factory to the fields can appreciate how their contributions impact the company's objectives, fostering a sense of greater relevance and purpose. This is particularly important given the manufacturing industry's attrition problem, and the urgent need to engage and retain its workers.
6. Drive a data-driven manufacturing culture
A fundamental tenet of effective performance management in manufacturing is "what gets measured, gets done."
Remember, a business creates an avalanche of metrics and goals, from its high-level strategic priorities down to the everyday actions of its frontline employees — if the execution actually works. Supervisors continuously monitor these KPIs and communicate with their teams on a regular basis to review their progress in achieving these goals. Excellent performance is rewarded, whereas poor performance triggers corrective action. This is the main importance of performance management in manufacturing.
7. Build a safer, less accident-prone workplace
With successful employee performance management, manufacturing companies may address a secondary concern — of equal importance — notably safety. Furthermore, performance concerns often cause injuries and accidents, and checking workers' awareness of safety standards on a regular basis helps prevent these problems. Also, a safe workplace lowers absence rates.
Learn More: Refine Your Recruitment Process to Attract the Best Talent
What Are the Challenges You Might Face?
While the benefits are clear, HR teams, managers, and employees may face a few challenges when trying to implement a structured performance management approach across the entire manufacturing company. Some of these challenges include:
1. Inaccurate KPIs to measure performance
The measurements implemented by a company must facilitate the desired performance. Often, this can only be accomplished by integrating all of them into a well-calibrated scorecard.
Nonetheless, some factories continue to operate with a siloed mindset. For instance, you might keep setting separate productivity goals for each shift. The incentives for each shift are dependent only on that shift's success, and not on the performance of any and all shifts for the whole day.
Now, if they believe they can, an individual will begin and finish a unit.
However, if they don't, they may slack off or stop working completely at the conclusion of the shift, since the following shift would get the recognition for their unfinished job anyway! Accurate KPIs are an essential part of performance management in the manufacturing sector and must be revisited if you are following a legacy manufacturing system.
2. Targets that do not hit the mark
Target selection is both an art and a science. If they're overly simple, they will not boost performance. If they're out of reach, employees will not even attempt to hit them. The best goals are reachable yet require a reasonable share of difficulty.
Often, manufacturing businesses must overcome cultural hurdles in order to establish such goals. In certain countries, for instance, failing to meet goals is seen as very humiliating, therefore, managers prefer to set them excessively low. In contrast, in some places, it may be judged inappropriate to establish a lower objective than the one attained in the prior quarter, even though there are solid reasons for the adjustment.
The "sweet spot" would be to make production targets slightly challenging, but with sufficient recognition for reaching them, and constructive criticism instead of strict penalties for underperformers.
3. No clear line of accountability and transparency
Employees must believe that their targets support meaningful accomplishments. When measurements and goals trickle through an organization, the connection between individual action and business objectives can sometimes be obfuscated or blurred. In an effort to improve their own status or prevent underperformance elsewhere, different managers at different levels can introduce buffers into targets. Metrics at one tier or stage may have no logical relationship with metrics at some other tier.
This is a major challenge faced in performance management in the manufacturing sector, since these organizations tend to have complex org charts and multi-layered hierarchies, with varying levels of responsibility for performance.
In the most effective performance management systems, the entire company functions as per a single, credible version of the truth, and all workers are aware of both the organization's overall performance and their individual contributions.
Learn More: 16 HR Trends in the Manufacturing Industry in 2023
7 Performance Management Best Practices for Manufacturers
To overcome the above challenges and make the most of the benefits of performance management (which is why this function is so important for the manufacturing sector), you can follow these best practices:
1. Adopt a performance-centric approach to talent management
A talent management system that places employee performance evaluations at the center enables manufacturing businesses to assess important outcome areas. This involves product quality, verifying that certifications are updated, and demonstrating employee proficiency, among other factors. This performance-centric strategy also helps manufacturing businesses develop ISO-compliant logical workflows and a process map, which may afterward drive lean or Six Sigma projects.
2. Automate the routine aspects of performance management
Currently, you have access to automated tools that generate data on past development and training effectiveness metrics. As a consequence, manufacturers may consolidate all the documentation necessary to demonstrate to ISO inspectors that HR and training criteria are fulfilled. Bear in mind that ISO and other comparable compliance standards are crucial to the success of the manufacturing industry. The removal of time-consuming and costly manual procedures for HR as well as for the business as a whole, is particularly compelling for lean organizations.
3. Don't just set goals; also develop improvement plans
Create a performance management system in conjunction with overall goal-setting. In the manufacturing industry, year-long objectives fail because they are excessively ambitious, and employees may feel overwhelmed before they even start.
A performance strategy helps individuals envision their path, increasing the likelihood of reaching their hourly, daily, weekly, and monthly objectives. They will also know the consequences of not meeting their goals (like undertaking new training, being put on a PIP, or changing roles), so they will be incentivized accordingly.
4. Define clear guidelines
As part of the first phase of the performance management cycle, guidelines for each position should be developed. These regulations or guidelines should specify specific areas for exploration, research, and experimenting, or their limitations. When there are clear instructions to follow, employees execute their jobs better. In a large manufacturing company, with so many roles and multiple shifts to manage, a guidelines document clarifies the expectations from a worker early on, with little effort from you.
5. Hold workshops with cross-organizational participation
Cross-functional seminars assist workers and supervisors in comprehending what the other departments work on, how they think, and their respective strengths and limitations. Students may learn something new and make valuable contacts for their future careers. At a multi-departmental manufacturing firm, there are several lessons to be learned!
By bringing individuals together, this best practice also helps develop a performance-led culture. In turn, a feeling of shared values, beliefs, and expectations promotes a more harmonious workplace. At these workshops, employees must be dedicated to the ideals and goals established by senior leadership.
6. Stick to hard numbers and facts
It is tough for both managers and workers to provide less-than-stellar feedback; this is one of the reasons why performance evaluations are often the least-preferred task. Managers should concentrate on workplace conduct and production outcomes rather than individual traits when making an evaluation.
For instance, pointing out that somebody often clocks in late for their shift is feedback on a habit. That the person's tardiness is due to their indolence is criticism concerning a trait. To support this best practice, you can use digital performance management systems that keep track of day-to-day production and employee performance, with undeniable data.
7. Don't ignore supervisor or manager performance management
Managerial positions in manufacturing also require training. Coaching and offering constructive feedback aren't really simple tasks, which explains why there are numerous specialized coaches available. For managers to be effective leaders, training in these specific skills is essential. Manager evaluations may be used to determine training requirements.
Learn More: Highlights from Darwinbox's HR ChangeMakers Club Session: Digital Foundation for A Future-Ready Workforce
Performance Management Frameworks for the Manufacturing Sector
The manufacturing sector is highly competitive, and companies must continuously strive for higher efficiency, productivity, and quality levels to remain competitive. A Performance Management Framework (PMF) can help organizations achieve these goals by providing a systematic approach to setting targets, monitoring progress, and giving feedback to improve performance. Here are a few popular PMFs manufacturing leaders and team managers/shift supervisors should consider following when planning their performance management approach:
1. The line shift goal-setting framework
A line shift is the coordinated relocation of all manufacturing processes over an assembly line. As tasks become routine, however, one might lose motivation or experience burnout. Team and individual objectives provide employees with a sense of purpose that revitalizes their workplace environment. The goals that attract the greatest attention from your employees are those that have been communicated the best. If your objective is safety, for instance, urge individuals to tidy their workstations to avoid trips and falls. Establish a target that specifies the expected quantity of product generated every hour if the aim is, in this case, output.
2. Business alignment framework
Leaders should use data analytics and open communication to align the everyday duties of individuals with organizational objectives.
By providing workers with insight into the company's larger purpose, they will better understand the significance of their actions. As a result, their motivation and output increase as they see the results of their efforts. This can be difficult in a sector like manufacturing, so internal communications are all the more important. A company-wide rewards & recognition program is a good way to positively reinforce the alignment between employee efforts, manufacturing production, and organizational success.
3. Check-ins and 1-on-1 communication framework
Regular check-ins are a critical component of any successful strategy for performance management in manufacturing. Teams and executives in any business should communicate frequently to share agendas, obstacles, targets, and accomplishments.
Use in-the-moment conversations to develop high-performing production teams. Where feasible, this involves shift meetings, rewards, and short team meetings. The rapid speed of the manufacturing business may make one-on-one meetings tricky. Therefore, it is essential to schedule monthly talks with each employee. It could be a simple 2-to-5-minute chat to enquire about the well-being of individuals.
4. Employee development framework
Training managers to function as coaches is another effective method for fostering employee growth. This can supplement other learning & development (L&D) initiatives. By offering certifications, retraining, and opportunities to learn, you may overcome internal skill gaps.
Through internal mobility, provide individuals with the option to acquire new skills, polish their existing ones, or locate an alternate position better suited to their abilities. For instance, someone who has been injured or is unable to perform manual tasks may be trained for administrative positions, in technology, or in other fields in which they show potential. This helps workers believe they have a future with the organization and demonstrates that you recognize their true potential.
5. Active performance management (APM) framework
Active performance management in manufacturing (also known as APM) is a new idea that may be more likely to provide sustainable results versus conventional techniques. It is designed specifically for the manufacturing industry and focuses on three areas: real-time visibility of performance, continuous performance planning, as well as end-to-end accountability.
McKinsey advises low-volume, high-mix manufacturers to integrate the APM performance management program into their standard workflows. By dividing every shift across two- to three-hour performance blocks, the APM process utilizes a more detailed view of production.
Learn More: 18 Tips to Retain Talent in the Manufacturing Industry
Using Software Tools for Your Performance Management Needs
To consolidate all aspects of your people strategy, one can introduce integrated performance management as well as HR software. This engages and motivates manufacturing workers to achieve their best work. You provide administrators with the necessary visibility into the workforce, performance, and personnel risks.
To support performance management in manufacturing companies, consider platforms that offer the following features:
Goal-setting tools: Clarify objectives and synchronize individuals as well as teams across geographies, departments, and organizational levels. Effective tools will enable managers to establish critical stages and monitor progress on a platform that is accessible to the entire manufacturing company.
Virtual 1-on-1s: The finest one-on-one platforms offer customizable templates to confirm that almost all areas of interest are addressed in each conversation.
Feedback channels: They enable you to provide and obtain feedback that influences the most essential performance indicators. Excellent feedback platforms implement a two-way model wherein supervisors and staff members can both provide and receive feedback.
Recognition: Utilize a platform for

peer-to-peer recognition

to boost morale and recognition right from the top to the bottom.
Surveys: Realistic and meaningful strategies, processes, and mechanisms can be developed by management and administrators who look after their workforce. The best platforms offer regular surveys to keep leaders cognizant of the needs and recommendations of their employees.
People analytics: Data dashboards increase visibility and comprehension of what is occurring across the workforce. A truly robust platform will make historical and real-time employee data visible so that risks and opportunities can be identified.
Learn More: The Role of HR in the Manufacturing Sector: Issues and Solutions
Conclusion
The majority of manufacturing companies have an abundance of data regarding the efficacy of their operations and, consequently, the performance of their employees. But how should businesses best utilize this data? Instantaneous feedback cycles, regular performance meetings, and routine performance evaluations, assisted by powerful software tools, are a crucial part of the solution.
Sustaining the willingness and ability to integrate these structured performance-management systems into the cadence and flow of daily work isn't simple; it frequently necessitates a change of perspective — away from short-term, cost-saving aims. On the other hand, it is the most efficient way to achieve genuine, long-term gains from performance management in manufacturing.
Ask for a Darwinbox demo to learn how to get started.