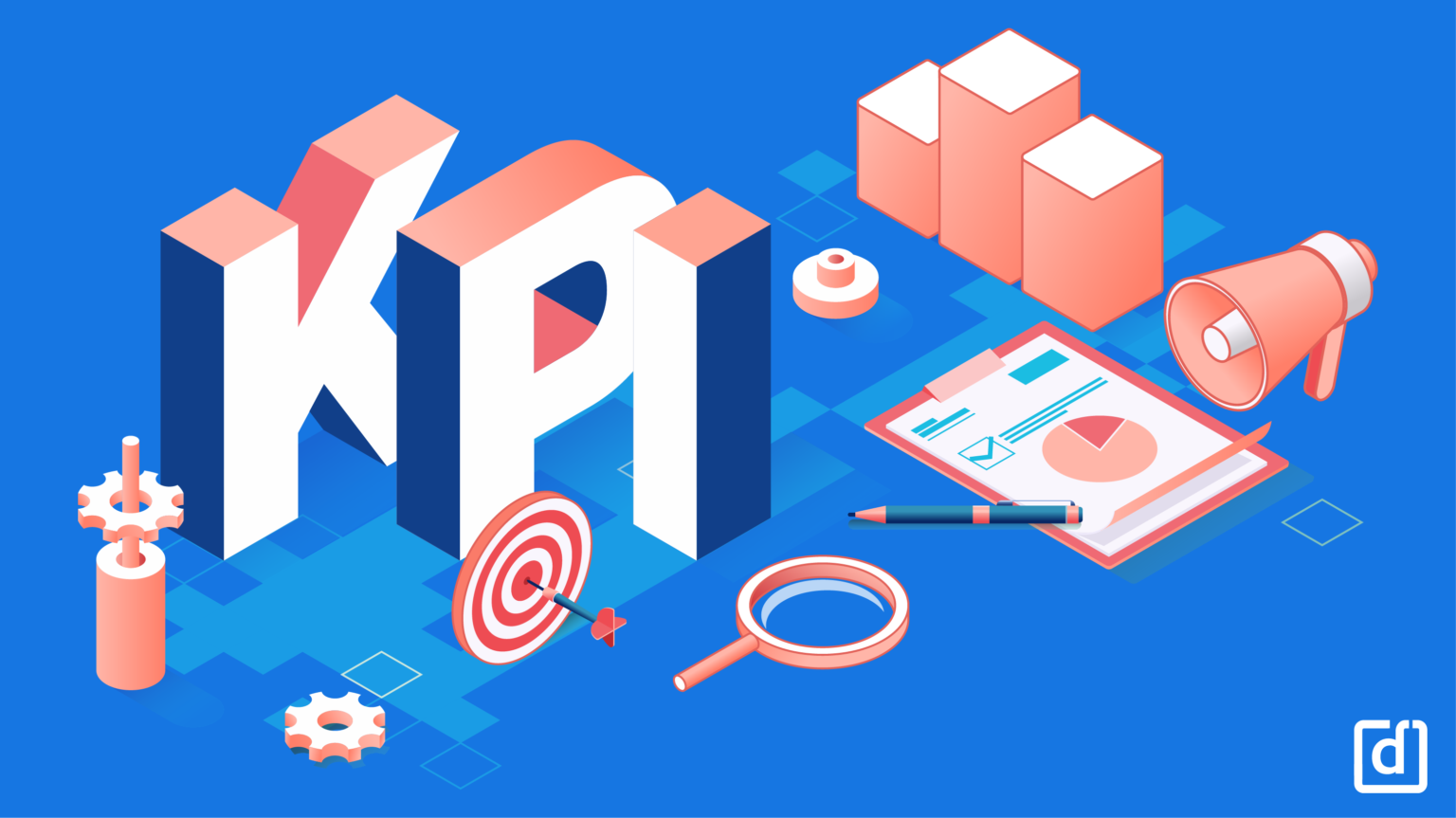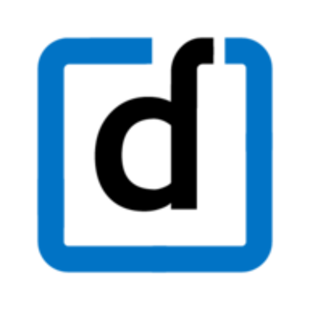 What is Performance Management?
Performance management is the process of creating a work environment in which employees are enabled to perform to the best of their abilities. It is a continuous process rather than a one-time event, to monitor, influence and manage the performance of an employee.
It involves developing a clear job description and key responsibility areas, providing effective new employee orientation, offering ongoing training, coaching and feedback on a continuous basis, providing career development opportunities, ensuring a compensation system that rewards employees for their contributions to the business, and more.
Given that today's workforce is a dynamic and ever-changing one, measuring performance with accuracy during one single annual meeting in a year is impossible.
In today's complex business world, human beings are the most valuable assets. The attitude/behaviour of a human being is much more volatile as it is subjected to many experiences and situations. In such a scenario one needs to measure how human resources perform for the purpose of reward, assessment and identification of skill set in an organisation.
The annual system of reviews, appraisals and performance management dates back to post World War 2 era when the world was trying to get back to normalcy and stabilize the economy. The focus then was mainly to get things back in place and working. Needless to say, it has changed a lot ever since, and today it'll be no less than an anomaly if we don't talk about performance.
From the informal beginning to the modern-day practice:
The internet refers to WD Scott as the pioneer of performance appraisals. However, it wasn't until around mid-century that more formal appraisal systems were implemented by a large number of organisations. The 1960s saw a great uplift and promotion of self-appraisals across several organisations. It was individual-centric and focused more on the future as opposed to focusing on employee's appearances and personalities at the time of assessment.
The 1970s saw a lot of ups and downs where a number of petitions were filed by the employees seeking help to the court of justice. A lot of this boiled down to how subjective and opinion-based appraisal systems were, and therefore as the years progressed, companies started including a lot more psychometrics and rating scales to ensure a more scientific approach to it. The gap between compensation and development of skill-set became a heated topic of discussion for many. It was during the period 1980s that the realisation for a more comprehensive approach to manage and reward employees based on their performance was sensed.
The next 2 decades saw an increase in businesses focusing on employee motivation and engagement, which led to a more holistic approach to performance management. Companies started coming up with new metrics as part of their appraisal process. Many of these are still very relevant in performance reviews to this day like teamwork, professional conduct, ability to resolve conflict etc.
In recent years, performance management has evolved even further, focusing on a more equal and nurturing working environment, heightened productivity and engagement with robust rewards programs and thereby, mental wellbeing for employees. This has led to an increase in usage of performance management systems that not just seek a 360-degree approach but also continuous and unbiased one.
What are the benefits of Performance Management?
A comprehensive performance management system works towards the betterment of the organisation and helps in achieving the larger goals of the business. Here are certain benefits of the performance management process:
Ensuring that the employees understand the importance of their contributions to the organizational goals and objectives.
Promoting transparency and the sense of 'equals' amongst employees across the organisation.
Expectations are set right from Day 1 and discovering whether they possess the required skills and support for fulfilling such expectations.
Facilitating effective communication and engagement throughout the organisation.
Discussions on goals and priorities, how to approach a project, and assessment of progress happen more frequently, which allows for more rapid course correction.
Facilitating a cordial and a harmonious relationship between the employer and the employee.
Helping in identifying the top performers which can facilitate in focusing on retention strategy and plan for succession.
Facilitating manpower planning for the org.
It is the only prominent tool based on which promotion, compensation, transfer or layoff decisions are taken.
What are the different stages of Performance management?
According to Schneier, Beatty and Baird (1987), the key elements of a performance management system are classified into planning, managing, reviewing and rewarding phases.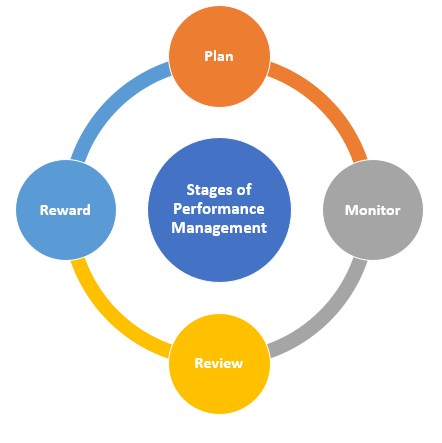 1. Planning:
This is the first stage in the performance management cycle and thus builds the foundation for an effective process. It includes outlining plans for evaluations, setting objectives and getting commitment activities. Planning is a continuous process in performance management and should be executed with SMART goals. It helps in encouraging commitment and understanding by linking the employees' work with the organization's goals and objectives. This phase involves communicating the vision and working towards achieving it as a whole.
2. Monitoring:
The next step is very action-driven and all about working towards achieving the larger business goal. This step involves consistently measuring performance and providing ongoing feedback to employees towards achieving their goal. It includes maintaining a positive approach to work, requesting feedback from a supervisor, providing feedback to a supervisor, suggesting career development experiences, and employees and supervisors working together, managing the performance management process. In other words, it facilitates enhancing communication within an organization for employees to be aware of objectives and contribute to future development.
3. Reviewing:
It includes assessing the milestones an employee has achieved towards his set goals. A more continuous approach to reviewing the performance of an employee is the growing trend of this era. It is important to keep the process of giving and receiving feedback simple and accessible to keep the conversation real-time. Also, it's crucial to ensure that the process of requesting and nudging for feedback is easy and user-centric, making an employee the owner of the process. In an ever-evolving landscape, technology has become the hot spot and can be leveraged to enable employees to share feedback instantly and anonymously. In instances where there is a reservation to share critical feedback, they can securely do so by using systems which can be highly configured.
4. Rewarding:
Rewarding performance is the last phase which involves recognizing and compensating employees for good performance. Rewards can no longer work in silos, but in close congruence with one's performance and compensation. It encourages you to celebrate a culture of appreciation and recognition by building an engaged workforce. It also helps in building and demonstrating a dynamic relationship between employee and employer. However, compensation is not the only vital factor. A 360-degree reward strategy is by far the most appreciated one, a strategy that can attack talent, recognise and build a career path, boost employee productivity at the same time can help in retention and employee motivation.
Methods of Performance Management: Traditional vs New-age
When you travel using an Uber or an Ola, just after finishing your trip, the smart app asks for your feedback, so is the case with ordering food on Zomato. When rating your app is so time-bound, then why should rating or evaluation of one's performance at the workplace be any different? Gone are the days of doing performance evaluation just for the sake of doing a discussion with your employee once in a whole year. Organisations have now become more dynamic, and therefore goals and competencies keep changing throughout the year. Thus, a more open and holistic approach to evaluation is the need of the hour.
Given the way workforce has evolved in the past few years, there is a crying need to innovate employee performance management. Therefore, many companies have started taking a new and innovative approach to performance reviews, something which provides value and is more data-driven and less intuition-based. They are moving to, or evaluating, continuous performance methods that are more engaging to employees and impactful to the business.
Research reports that annual reviews are astonishingly time-consuming, with managers spending an average of 210 hours a year and employees each taking 40 hours a year on these activities.
In fact, a 2017 McKinsey Global Survey found that 54% of respondents said their performance reviews had no positive impact on performance. Some respondents found their organization's performance management process to actually do more harm than good.
According to a Gartner report, 96% of managers are dissatisfied with their organisation's current performance management practices.
Considering these above stats, the need of the hour is definitely a more dynamic and constructive approach that includes Continuous Feedback, Multi-Stakeholder Feedback, Periodical Check-ins and Goal Cascading. This article will double-click on various aspects of Performance Management to set a clear direction on the benefits, stages and best practices to follow and how to go about leveraging it to engage and retain your best employees.
Best practices of Performance Management
Technology companies such as Adobe, Dell, Microsoft, and IBM have led the way towards a modern and a holistic performance management approach. They've been joined by a number of professional services firms like Deloitte, Accenture, PwC and General Electric. Here are a few examples listed down showcasing some large companies who have taken a step towards a more continuous approach using Darwinbox's performance management system.
Netflix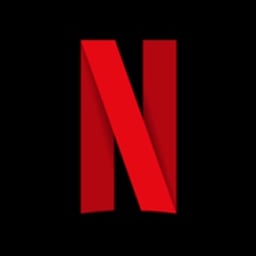 Objective: One of the world's largest internet companies believe in the fact that people can handle anything as long as they're told the truth. As a result, this online media firm takes a radical, 'no holds barred' approach to performance management. People are thus encouraged to have performance conversations across the organisation.
Result: Everyone in the company undergoes a 360-degree performance review where they're able to provide feedback to everyone else across the organisation.
Delhivery
Objectives: One of India's largest logistics players wanted to leverage Continuous Feedback exclusively for their technology team. In a highly competitive talent zone such as technology talent, it is essential that the high performers are retained by appreciating and sharing feedback on time. Their technology team often works on multiple projects in a year and interfaces with various teams. So, to be able to analyze and evaluate their performance on dynamic projects with multiple stakeholders, it was imperative to adopt continuous feedback.
Results: With the new performance approach employee satisfaction score for the PMS process has increased from 2.5 to 4 (according to an internal survey conducted 6 months after implementing continuous feedback)
Paytm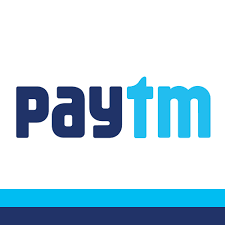 Objective: India's largest e-commerce payments player was experiencing rapid growth and their leadership were working on extremely dynamic & cross-functional projects where annual KPI's weren't relevant. Therefore, Paytm wanted to adopt Continuous Feedback to evaluate their sr. leadership and high performing employees and help them perform better by giving constructive feedback on a timely basis.
Result: 60% of their employees have engaged in continuous feedback on the system for either giving or receiving feedback within the first year of implementation.
Indian Pharma Giant:
Objective: One of the leading pharma players extended the design of Continuous feedback allowing employees to engage in a conversation on top of any feedback received. This encouraged employees to share constructive feedback. It also allowed the recipients to clarify, defend their part of the story along with seeking further information or needed expertise from the reviewer to work on the areas of improvement highlighted in the feedback.
Result: It helped them facilitate a frequent dialogue among the employees thus increasing the rate of engagement and adoption of continuous feedback.
Here's an ultimate guide to master continuous feedback for you to deep drive and explore some of the interesting cases on the topic.
What's going to shape the future of performance management?
1. Employee wellbeing will become a part of performance conversations:
Stress and anxiety are debilitating in the workplace today. The challenges presented by stress and mental health problems are growing considerably for organisations as well as individuals. HR, therefore, must tackle wellbeing as a priority. According to Josh Bersin: "Wellbeing is still a big part of HR. It's not surprising that productivity is suffering when stress levels are high; employees feel overwhelmed and they're getting less work done. We're losing approximately £42 billion a year because of stress at work, much of which manifests itself in presenteeism,". Source
Today businesses are taking it seriously as employees have started being more vocal about it. Businesses are expected to put measures in place to promote healthy, clear minds.
2. Employee Feedback will be supported by regular coaching conversations:
Over the recent past, performance management conversations have focused heavily on the importance of frequent, real-time feedback. However, companies want to achieve genuine performance gains, frequent feedback needs to be accompanied by regular coaching conversations. A more focused career development plan for every employee should reflect on the feedback that has been given, using it to discover strengths and highlight areas for development. And that will be the focus of the future.
3. Performance conversations will become meaningful and human:
One major criticism of performance appraisals or performance reviews is that they are strained and superficial, and not authentic. They are too focused on box-ticking and sandwiching, and don't seem to be relevant to the employees' day-to-day activities. Here's an article on 3 principles for creating a profitable company culture which focuses on authentic performance conversations and building a culture which is more human and meaningful.
4. AI will get personal in performance management:
AI is quickly emerging as a new key tool for HR. It is highly expected to impact performance conversations as well. The heart of AI in HR is to enhance business decisions, therefore, the growth of AI in HR will ultimately provide clear and connected data that will guide decisions such as who to promote, whom to provide additional training to enable better performance while combating workplace bias. Requesting and giving feedback using voice bot is already in trend as Darwinbox is proud to have taken the lead on this front last year when we introduced Darwin, our HR voice bot to the world. Here is a quick recap of all actions that managers or employees can do by just interacting with our voicebot – Darwin: HR Voicebot
It is no longer about functioning in isolated silos. Modern-day performance management systems that aim to be enablers for your workforce will by default be an extension of your engagement methods as well. By prompting employees to regularly record achievements, ask for & receive feedback; organizations can lay rock-solid foundations of a culture that is employee-centric and engagement-driven.
Here are a list of Top 10+ performance appraisal softwares that you should really look out for in 2020.
"If you are someone who is in the middle of altering attitudes around performance as a philosophy and maybe considering introducing OKRs, then you are on the right track! And we want to give your efforts a leg up. Here's your OKR Starter Kit with best examples for different functions and a ready-to-use template to design your own OKRs.".